The Geospatial Research Facility supports innovative research projects with customized Collaborative Project Ecosystems, managed and maintained on the ArcGIS Enterprise servers and portals. Our team of experts is here to lay the foundation and provide technical support for large-scale, collaborative, interdisciplinary research projects.
OVERVIEW
Project data management can be overwhelming, especially when a project is conducted by multiple research partners, from various academic disciplines, hailing from distinct institutions. Often praised in the business world, one proven project management strategy is to organize the project within the context of a Collaborative Project Ecosystem. A Collaborative Project Ecosystem supersedes geographic and institutional boundaries by providing researchers, from across the globe and disciplines, access to a cooperative geospatial platform to collect data, disseminate information, and visualize results.
ENTERPRISE GIS TECHNOLOGY
Collection: Location-based data collection apps and field surveys for data collection
Dissemination: training material, web maps, websites, and GIS dashboards for distributing project data and accessing information, via a project-specific GIS data portal
Visualization: Web viewer apps and StoryMaps for showcasing and sharing research findings
EXAMPLE PROJECTS
---
Francophone Migration Partnership Grant
The Geospatial Research Facility is currently collaborating with over 50 academic partners and dozens of heritage and community partners from all across North America to study experiences of Francophones as they settled across the continent.
This partnership project, funded by the Social Sciences and Humanities Research Council of Canada (SSHRC), explores the genesis and evolution of French-speaking populations on the North American continent (1640-1940), nourishing reflections on the issues of immigration, cultural diversity, and living together.
The Geospatial Research Facility is taking a leading role supporting the geospatial technology capabilities of the Francophone Migration project through the creation and management of the Voyageur portal. Voyageur is a public facing repository for data of all kinds, that supports all of the project partners in creating and serving their findings both spatially through powerful mapping tools, hosting documents, presentations, and photos.
Website: https://www.historicalgis.com/migration.html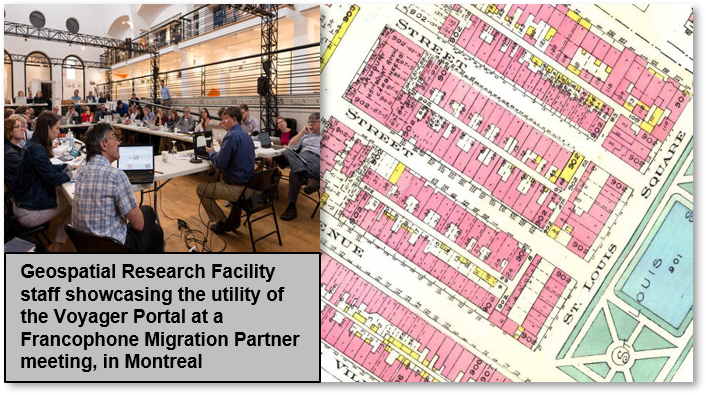 ---
Michigan Community Anishinaabe Renewable Energy Sovereignty (MiCARES)
Contributing to the growing interest in sustainability research, the Geospatial Research Facility is currently supporting a NSF Growing Convergence Research project that brings together a diverse team of scholars to explore the social, cultural, and technological dimensions of energy system transitions to renewable energy resources in rural and indigenous communities.
Specifically, the Geospatial Research Facility contributes by developing the geospatial systems, data repository, and analysis tools for the MICARES project, accessed and managed on the MICARES portal. The MICARES portal supports all of the project researchers by providing a web-based platform to collect data, disseminate information, and visualize results.
Website: https://portal1-geo.sabu.mtu.edu/mtuarcgis/apps/sites/#/micares