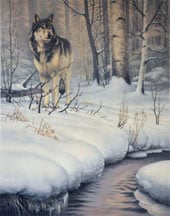 Exhibit
Eighty-five prints
Five original watercolors
Hours
8 a.m. to 5 p.m., Monday–Friday
About the Artist
Born in Germany, Dietmar Krumrey emigrated to America with his family at age three. They lived in Chicago before relocating to Michigan's Upper Peninsula, where Dietmar developed the deep affection and respect for wildlife so evident in his art. Trained at Chicago's American Academy of Art, he was an artist for Hallmark in Kansas City, Missouri before a freelance career that brought him back to the UP to live and paint near the forests and lakes that inspire his work.
The 1999 Michigan Duck Stamp competition winner knows how many feathers a bird has, what their plumage looks like at different times of the year, and in what kind of habitat they can be found.
The realist's works are part of many private collections and prestigious exhibits, including the Smithsonian Institute and National Wildlife Art Exhibit in Kansas City.