09/27/19 - Lactate Racemase and its Novel Nickel-Pincer Cofactor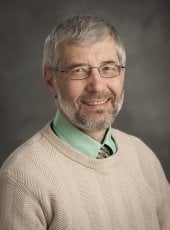 Presenter: Robert Hausinger, University Distinguished Professor
Department of Microbiology and Molecular Genetics
Department of Biochemistry and Molecular Biology
Michigan State University
Abstract:
Lactic acid, a central metabolic intermediate of many cells, occurs as L- and D-isomers that are interconverted by lactate racemase. The enzyme from Lactobacillus plantarum, LarA, harbors a tethered nickel-pincer nucleotide (NPN) coenzyme derived from niacin. Synthesis of the enzyme-bound cofactor requires LarB, a carboxylase/hydrolase of nicotinic acid adenine dinucleotide (NaAD); LarE, a Mg·ATP-dependent sacrificial sulfur insertase; and LarC, a CTP-dependent nickel insertase or cyclometallase. This seminar will summarize recent studies related to NPN synthesis and its function in lactate racemase and other enzymes.
Biography:
The Hausinger laboratory investigates microbial physiology and enzymology related to transition metals including the mechanisms of catalysis by metalloenzymes and the biosynthesis of protein metallocenters. One area of major emphasis focuses on characterization of the most recently discovered nickel-containing enzyme, lactate racemase. Ongoing studies examine the enzyme mechanism, the biosynthesis of this unique nickel-pincer nucleotide (NPN) cofactor that requires three helper proteins, and the function of the NPN cofactor in other enzymes. A second area of investigation involves several ferrous ion and 2-oxoglutarate dependent hydroxylases. Included are studies of the sulfonate-metabolizing TauD, the paradigm of this enzyme family, using a variety of spectroscopic and other approaches. In addition, current efforts focus on the characterization of an ethylene-forming enzyme found in certain bacteria and fungi.
10/04/19 - Criminal Minerals! Investigating Minerals that Break the Law (…the Laws of Crystallography)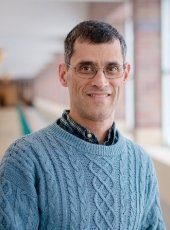 Presenter: John A. Jaszczak, Professor
Professor of Physics
Director and Curator, A. E. Seaman Mineral Museum
Affiliated Professor, Materials Science and Engineering
Michigan Technological University
Abstract:
As naturally occurring crystalline materials, most minerals are assumed to obey the classical laws of crystallography. Nobody, and no mineral, is perfect, however, and minerals routinely "break the law" by hosting imperfections and impurities due to entropy and growth conditions. Many minerals get into frequent trouble with the law but yield wonderful outcomes with phenomena like twinning. It is increasingly recognized, however, that many minerals are just incorrigible! They seem systematically and consistently to break the laws of classical crystallography. Using unconventional illustrations, this talk will begin with perfect and somewhat mischievous minerals, including mistakes, defects and twins. It will then explore the wilder world of more hardened criminal minerals investigate incommensurate crystals (calaverite, franckeite, cylindrite, merelaniite) and the newly discovered natural quasicrystals.
Biography:

John A. Jaszczak is interim chair of the Department of Chemistry and professor of physics at Michigan Technological University where he specializes in nanotechnology education and computer modeling of materials properties. He is also adjunct curator at the A. E. Seaman Mineral Museum at Michigan Tech. He has had an avid interest in minerals and mineral collecting since his youth, which inspired him to become a scientist. His mineralogical interests currently focus on the mineralogy of graphite and the minerals from the gem deposits near Merelani, Tanzania. In 2016 he helped to describe the new mineral merelaniite, which was selected by the International Mineralogical Association as the 2016 Mineral of the Year.
10/25/19 - Celebrating D. I. Mendeleev and the Periodic Table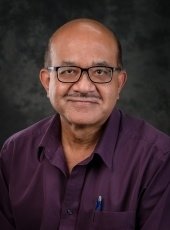 Presenter: Rudy Lin Luck, Associate Professor
Associate Professor, Chemistry
Michigan Technological University
Abstract:
The Periodic Table, possibly the world's most important and famous scientific image, is 150 years old. For that reason the United Nations declared that 2019 is the International Year of the Periodic Table. The American Chemical Society's (ACS) local chapter will feature an abbreviated history of the origins and distribution of the elements including allotropes, the periodic table and its significance. Difficulties in the conversion of dinitrogen into ammonia, featuring the reaction between two elements (i.e., nitrogen and hydrogen) will be featured.
Biography:
Rudy Luck obtained all of his degrees from the University of Toronto and engaged in postdoctoral research at Texas A&M University. As of 1997, he was employed at Michigan Technological University where he is now an Associate Professor of Chemistry. His research interests include inorganic syntheses, catalysis and characterization of single crystals by X-ray diffractometry. This fall 2019 semester he is teaching Inorganic Chemistry I (3 cr h), Inorganic Chemistry Laboratory (2 cr h) and a course on Chemical Safety (1 cr h). He will be teaching courses on group theory (in Inorganic Chemistry II, CH 4320, 3 cr h) and Senior Seminar (2 cr h) during the Spring 2020 semester.
11/01/2019 - Aromatic Donor-acceptor Interaction Based Supramolecular Catalyst Assemblies for Asymmetric Catalytic Reactions
Presenter: Yu Liu, Associate Professor
Associate Professor, Chemistry
Northern Michigan University
Abstract:
Aromatic donor-acceptor interaction has emerged as a new driving force for the assembly of supramolecular catalysts. In this study, three generations of Co(III)-salen complexes containing aromatic donor/acceptor units were synthesized. These complexes assemble into a bimetallic supramolecular catalyst through aromatic donor-acceptor interactions, and showed high catalytic activity and selectivity in the asymmetric ring opening of various epoxides. The aromatic donor-acceptor interaction was verified by NMR spectroscopy titrations, UV-vis spectroscopy titration, mass spectrometry, and X-ray crystal structure. This research shows that the aromatic donor-acceptor interaction can be a valuable noncovalent interaction in the supramolecular catalyst development.
Biography:
Dr. Yu Liu received his B.S. and M.S. at Tongji University in Shanghai, China. He received his Ph.D. under the direction of James Canary and Nadrian Seeman at New York University. After completing his postdoctoral training at New York University with Marcus Weck, Dr. Liu joined Northern Michigan University as a tenure-track assistant professor in 2011. He was promoted to a tenured associate professor in 2017. Dr. Yu Liu's research interests are in the areas of organic synthesis, catalysis and supramolecular chemistry. Currently, his research focuses on the assembly of supramolecular catalysts and their applications in asymmetric catalytic reactions.
11/15/19 - Unraveling Preferences and Applications of Fructose Transporters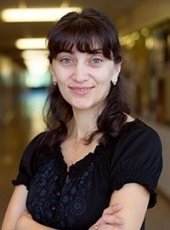 Presenter: Dr. Marina Tanasova, Associate Professor
Associate Professor, Chemistry
Graduate Program Director, Chemistry
Michigan Technological University
Abstract:
Facilitative glucose transporters play a significant role in supplying cells with carbohydrates. The 14 members of the GLUT family have differential expression in the body that alters upon the development of metabolic disorders, including cancer. While the apparent link with diseases highlights GLUTs as important biomedical targets, the advances in using GLUTs for disease diagnosis or therapy are limited. The limitation arises from the challenges associated with specific targeting of individual disease-relevant GLUTs. Our research team has undertaken a challenge to enable specific targeting of GLUT5 – a transporter linked with various types of cancer and absent in the corresponding normal tissues. Through developing GLUT5-specific molecular probes, we aim to understand better the factors that govern substrate selection by various GLUTs and apply this knowledge to developing agents that could be used for cancer diagnosis or work as sugar uptake inhibitors for cancer therapy. In this presentation, our endeavors and successes towards designing transporter-specific probes and their potential applications as biochemical and biomedical tools will be discussed.
Biography:
Dr. Tanasova received her Ph.D. degree in chemistry, with an emphasis on Organic Chemistry and Spectroscopy, from Michigan State University in 2009 under the supervision of Prof. Babak Borhan. She then moved to the Department of Medicinal Chemistry at the University of Minnesota for postdoctoral training with Prof. Shana Sturla and worked on developing DNA repair inhibitors to potentiate the effect of DNA-targeting chemotherapeutics in breast cancer, sponsored by Suzan G. Komen Postdoctoral Fellowship. Shortly, she moved to the Swiss Federal Institute of Technology to continue her postdoc with Dr. Sturla, where she continued her research in breast cancer and expanded her expertise towards Chemical Biology through working on evaluating impacts of DNA alkylation on DNA transcription and replication. Dr. Tanasova currently holds the Assistant Professor position at the Chemistry Department of Michigan Technological University. Her research group focuses on the development of GLUT-specific molecular probes and new bioactive compounds
12/06/19 - Using APXPS to Probe the Solid/Gas and Solid/Liquid Interface Under In Situ and Operando Conditions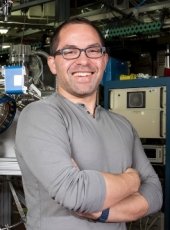 Presenter: Dr. Ethan Crumlin, Scientist
Advanced Light Source and Chemical Sciences Division
Lawrence Berkeley National Laboratory
Abstract
Interfaces play an essential role in nearly all aspects of life and are critical for electrochemistry. Electrochemical systems ranging from high-temperature solid oxide fuel cells (SOFC) to batteries to capacitors have a wide range of important interfaces between solids, liquids, and gases which play a pivotal role in how energy is stored, transferred, and/or converted. This talk will focus on our use of ambient pressure XPS (APXPS) to directly probe the solid/gas and solid/liquid electrochemical interface. APXPS is a photon-in/electron-out process that can provide both atomic concentration and chemical-specific information at pressures greater than 20 Torr. Using synchrotron X-rays at Lawrence Berkeley Nation Laboratory, the Advanced Light Source has several beamlines dedicated to APXPS endstations that are outfitted with various in situ/operando features such as heating to temperatures > 500 °C, pressures greater than 20 Torr to support solid/liquid experiments and electrical leads to support applying electrical potentials support the ability to collect XPS data of actual electrochemical devices while it's operating in near ambient pressures. This talk will introduce APXPS and provide several solid/gas and solid/liquid interface electrochemistry examples using in situ and operando APXPS including the probing of a Pt metal electrode undergoing a water-splitting reaction to generate oxygen, CO2's interaction with Cu and Ag metal surfaces, and the ability to probe the electrochemical double layer (EDL). Gaining new insight to guide the design and control of future electrochemical interface
Biography:
Dr. Ethan J. Crumlin is a Career Staff Scientist at the Advanced Light Source (ALS, a 3rd generation synchrotron facility) and in the Chemical Sciences Division at Lawrence Berkeley National Laboratory (LBNL) in Berkeley California. He received his Ph.D. in Mechanical Engineering from the Massachusetts Institute of Technology (2012). Afterward, he joined ALS as a postdoctoral fellow and subsequently progressed to becoming a Research Scientist (2014) and then a Career Staff Scientist (2017). As a scientist at ALS, Dr. Crumlin helps researchers from all around the world to conduct leading X-ray-based experiments to answer challenging scientific questions. His research group focuses on the utilization and development of ambient pressure X-ray photoelectron spectroscopy (APXPS) to study chemical and electrochemical reactions at the solid/gas, solid/liquid, and solid/solid interfaces for catalysts, batteries, corrosion, and electrochemical CO2 reduction and water splitting electrocatalysis all under in situ and operando conditions. He has been recognized for his scientific achievements receiving the International Solid State Ionics Young Scientist Award, The American Ceramics Society Ross Coffin Purdy Award, the Department of Energy Early Career Award, the LBNL Director's Award for Exceptional Early Scientific Career Achievement, and the International Society of Electrochemistry-Elsevier Prize for Experimental Electrochemistry.