Ashutosh Tiwari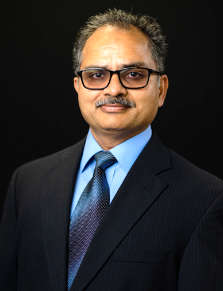 Contact
906-487-1840
Chem Sci 402B
Associate Dean for Graduate Research and Education, College of Sciences and Arts
Faculty Fellow (Research Integrity), Office of the Vice President for Research
Professor, Chemistry
PhD, Jawaharlal Nehru University, New Delhi, India
Biography
Dr. Tiwari is a broadly trained protein chemist and cell biologist. His research is in the area of 'protein aggregation diseases' with special emphasis on age related neurodegenerative disorders such as Amyotrophic Lateral Sclerosis (ALS), Alzheimer's disease (AD), Parkinson's disease (PD), prion diseases, and Huntington's disease (HD). In these diseases, misfolded proteins are observed as intracellular or extracellular aggregates at the end stage of the disease. However, the underlying mechanism(s) by which these aggregated proteins impair cellular function(s) and cause toxicity is not clear and is a subject of intense debate. Tiwari laboratory is applying unique biochemical and biophysical approaches (including novel fluorescent molecules) to characterize the inherent vulnerability and instability of proteins associated with different neurodegenerative diseases. The long-term research goal of Tiwari lab is to understand consequences of protein misfolding and aggregation in vitro and how it relates to misfolding and aggregation in vivo, and its implication for neurodegenerative diseases.
Links of Interest
Research Interests
Identify experimental conditions that can generate diverse aggregated protein structures from the same proteins.
Develop novel tools and techniques to differentiate amongst the varied aggregated species of proteins.
Understand the relationship between aggregated protein species and its associated cellular toxicity.
Select Peer-reviewed Publications
Tiwari lab students/postdocs; AT as corresponding/co-corresponding author*
Adhikari R, Yang M, Saikia N, Dutta C, Alharbi WFA, Shan Z, Pandey R, and Tiwari A*. Acetylation of Aβ42 at Lysine 16 Disrupts Amyloid Formation. ACS Chem Neurosci.(2020)11(8):1178-1191. DOI: 10.1021/acschemneuro.0c00069. PMID: 32207962
Mazi W, Adhikari R, Zhang Y, Xia S, Fang M, Luck RL, Tajiri M, Tiwari A*, Tanasova M, and Liu H.Fluorescent Probes with High pKa Values Based on Traditional, Near-infrared Rhodamine, and Hemicyanine Fluorophores for Sensitive Detection of Lysosomal pH Variations. Methods (2019) 168: 40-50. DOI: https://doi.org/10.1016/j.ymeth.2019.07.012
Chen T-H, Zhang S, Jaishi M, Adhikari R, Bi J, Fang M, Xia S, Zhang Y, Luck RL, Pati R, Lee H-M, Luo F-T, Tiwari A*, and Liu H. New Near-Infrared Fluorescent Probes with Single-Photon Anti-Stokes-Shift Fluorescence for Sensitive Determination of pH Variances in Lysosomes with a Double-Checked Capability. ACS Appl. Bio Mater. (2018) 1(3): 549-560. DOI: 10.1021/acsabm.8b00020
Zhang J, Li C, Dutta C, Fang M, Zhang S, Tiwari A*, Werner T, Luo F-T, Liu H. A novel near-infrared fluorescent probe for sensitive detection of β-galactosidase in living cells. Analytica Chimica Acta(2017) 968: 97-104.
Zhang S, Adhikari R, Fang M, Dorh N, Li C, Jaishi M, Zhang J, Tiwari A*, Pati R, Luo F-T, and Liu H. Near-Infrared Fluorescent Probes with Large Stokes Shifts for Sensing Zn(II) Ions in Living Cells. ACS Sensors (2016) 1(12): 1408-1415. DOI: 10.1021/acssensors.6b00490. No PMID
Dorh N, Zhu S, Dhungana KB, Pati R, Luo FT, Liu H, Tiwari A*. BODIPY-Based Fluorescent Probes for Sensing Protein Surface-Hydrophobicity. Sci Rep.(2015)5: 18337. DOI: 10.1038/srep18337. PMID: 26679512
Dutta C, Yang M, Long F, Shahbazian-Yassar R, and Tiwari A*.Preformed Seeds Modulate Native Insulin Aggregation Kinetics. J. Phys. Chem. B (2015) 119(49): 15089-15099. DOI: 10.1021/acs.jpcb.5b07221. PMID: 26560632
Yang M, Dutta C, and Tiwari A*. Disulfide-Bond Scrambling Promotes Amorphous Aggregates in Lysozyme and Bovine Serum Albumin. J. Phys. Chem. B (2015) 119(10): 3969-3981. DOI: 10.1021/acs.jpcb.5b00144. PMID: 25689578
Vegesna G,Janjanam J, Bi J, Luo F-T, Zhang J, Olds C, Tiwari A*, and Liu H. pH-activatable near-infrared fluorescent probes for detection of lysosomal pH inside living cells. J Mater. Chem. B (2014)2(28): 4500-4508. DOI: 10.1039/c4tb00475b. No PMID
Tiwari A*, Liba A, Sohn SH, Seetharaman SV, Bilsel O, Matthews CR, Hart PJ, Valentine JS, and Hayward LJ. Metal deficiency increases aberrant hydrophobicity of mutant superoxide dismutases that cause amyotrophic lateral sclerosis. J Biol Chem. (2009) 284(40): 27746–27758. DOI: 10.1074/jbc.M109.043729. PMID: 19651777
Tiwari A and Bhat R. Stabilization of yeast hexokinase A by polyol osmolytes: Correlation with physicochemical properties of aqueous solutions. Biophys Chem. (2006)124(2): 90-99. DOI: 10.1016/j.bpc.2006.06.003. PMID: 16828962
Low HP, Tiwari A, Janjanam J, Qiu L, Chang C-I, Strohsnitter WC, Norwitz ER, Tam SW, Evans JE, Green KM, Paulo JA, Lambe M, and Hsieh CC. Proteomic screen of umbilical cord blood plasma from pregnancies complicated by preeclampsia, an epidemiology-actuated model of decreased breast cancer susceptibility. Genomics Proteomics Bioinformatics(2013)11(6): 335-344. DOI: 10.1016/j.gpb.2013.09.009 PMID: 24296084
Tiwari A, Xu Z,and Hayward LJ. Aberrantly increased hydrophobicity shared by mutants of Cu/Zn superoxide dismutase in familial amyotrophic lateral sclerosis. J Biol Chem. (2005)280(33): 29771-29779. DOI: 10.1074/jbc.M504039200. PMID: 15958382. (Featured in August 19, 2005 issue of the Journal of Biological Chemistry as 'Paper of the Week' (J Biol Chem. (2005) 280: e99939))
Tiwari A and Hayward LJ. Familial ALS Mutants of Cu/Zn Superoxide Dismutase are Susceptible to Disulfide Reduction. J Biol Chem. (2003)278(8): 5984-5992. DOI: 10.1074/jbc.M210419200. PMID: 12458194
Agency: National Institutes of Health (Grant # 1 R15 GM148964-01)
Topic: Are all Protein Aggregates Toxic?
Project Period: September 22, 2022 to August 31, 2025
Principal Investigator: Ashutosh Tiwari, Ph.D.
Objective: The goal of this project is to identify unique physicochemical properties of aggregates, shared by a large number of structurally diverse proteins (e.g. Aβ42 peptide, insulin and lysozyme), that are toxic.
03/17/2017: "Protein instability, aggregation, and toxicity: Disulfide-bond integrity holds the key." in Biological Sciences at Michigan Technological University, Houghton, MI.
03/15/2017: "Understanding the role of protein misfolding in neurodegenerative diseases." "Tech Talks 2017" at Michigan Technological University, Houghton, MI.
01/14/2016: "Scrambling of Disulfide Bonds Promotes Insulin Aggregation and Toxicity". 15th Annual Convention of the ISVPT on "Nutritional Pharmacology and Toxicology beyond Calories". January 14-16, 2016. NDRI, Karnal, Haryana, INDIA.
03/10/2015: "Disulfide-Bond Scrambling Promotes Amorphous Aggregates in Proteins at Physiological pH". Computational Science Campaign Meeting. March 10-11, 2015. Army Research Lab, Aberdeen Proving Ground, MD.
10/23/2014: "Amorphous Protein Aggregates at Physiological pH: Disulfide Bond Scrambling Holds the Key". BRC Research Forum. October 22-23, 2014. The Biotechnology Research Center, MTU, Houghton, MI.
10/23/2012: "Protein Aggregation at Physiological pH: Is Disulfide Bond Integrity Key to Protein Stability?" Department of Anatomy and Cell Biology, University of Illinois at Chicago, Chicago, IL.
03/05/2012: "Novel fluorescent probes for mapping hydrophobic surface of proteins." Tenth International Consortium on Superoxide Dismutase and Amyotrophic Lateral Sclerosis, March 4-5, 2012. University of Liverpool, Liverpool, UK.