Kathryn A. Perrine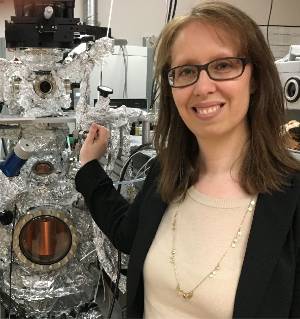 Contact
906-487-3214
Chem Sci 402C
Assistant Professor, Chemistry
Postdoctoral Scholar, University of California, Irvine
Visiting Scientist, California Institute of Technology
PhD, University of Delaware
BS, University of South Carolina
Biography
The Perrine research group focuses on understanding reactions and processes at surfaces and interfaces, from pure metals, oxides, minerals to heterogeneous materials. Understanding surface chemical reactions at the molecular level, from adsorption of molecules in the gas phase and in the condensed phase, will help unravel surface mechanisms and transformations of materials in controlled conditions.
We also design meso- and nano-architectured materials using surface functionalization methods for next-generation heterogeneous catalysts . A variety of surface analysis instruments are utilized to understand surface chemistry, including vibrational spectroscopy, electron spectroscopies, mass spectroscopy, scanning electron microscopy, and atomic force microscopy. Our program is multidisciplinary encompassing research in chemistry, physics, materials science and engineering. Our aim is to understand fundamental physical and chemical processes than impact the fields of heterogeneous catalysis and environmental science.
Links of Interest
Positions are open for undergraduate, masters, and PhD students.
Research Interests
Surface chemistry and interfacial science
Bridging reactions at the gas/solid and liquid/solid interfaces under model (ultra-high vacuum) and real (near ambient pressure) conditions
Designing metal-oxide architectures and nanostructures on various substrates; Atomic Layer Deposition and tailored growth approaches
Growth, properties, and reactions on heterogeneous structures for energy and environmental applications
Select Publications
Trought, M. A.; Perrine, K. A. Investigating the Relationship between Adhesion Forces and Surface Functionalization using Atomic Force Microscopy. J. Chem. Educ.

98

, 5,

2021,

1768–1775.

de Alwis, C.; Perrine, K. A. In Situ PM-IRRAS at the Air/Electrolyte/Solid Interface Reveals Oxidation of Iron to Distinct Minerals. J. Phys. Chem. A., 124 33, 2020, 6735–6744.
de Alwis, C.; Leftwich, T. R.; Perrine, K. A. New Approach to Simultaneous In Situ Measurements of the Air/Liquid/Solid Interface Using PM-IRRAS. Langmuir,

36

, 13

,

2020 3404–3414.
Trought, M. A.; Wentworth, I.; Leftwich, T. R.; Perrine, K. A. Unraveling Surface Oxidation Mechanisms of Functionalization of Highly Oriented Pyrolytic Graphite. preprint on ChemRxiv 10.26434/chemrxiv.12907604.v1.
Degaga, G.; Trought, M. A.; Nemsak, S.; Crumlin, E., Pandey, R.; Seel, M.; Perrine, K. A. Investigation of N2 Adsorption on Fe3O4(001) using Ambient Pressure Photoelectron Spectroscopy and Density Functional Theory. J. Chem. Phys. 152, 2020 054717.
de Alwis, C.; Leftwich, T. R.; Mukherjee, P.; Denofre, A.; Perrine, K. A. Spontaneous Selective Deposition of Iron Oxide Nanoparticles on Graphite as model catalysts. Nanoscale Advances 1, 2019 4729-4744.
Trought, M. A.; Wentworth, I.; de Alwis, C.; Leftwich, T. R.; Perrine, K. A. Influence of surface etching and oxidation on the morphological growth of Al2O3 by ALD. Surface Science, (690) 2019 121479.
Perrine, K. A., Parry, K. M., Stern, A. C., Van Spyk, M. H. C., Makowski, M. J., Freites, J. A.; Winter, B., Tobias, D. J., Hemminger, J. C. Specific cation effects at aqueous solution-vapor interfaces: surfactant-like behavior of Li+ revealed by experiments and simulations. Proc. Natl. Acad. Sci. U.S.A. 114(51) 2017 13363–13368.
Perrine, K. A.; Van Spyk, M. H. C.; Margarella, A. M.; Winter, B.; Faubel, M.; Bluhm H.; Hemminger, J. C. Characterization of the acetonitrile aqueous solution/vapor interface by liquid-jet X-ray photoelectron spectroscopy. J. Phys. Chem. C, 118(50) 2014 29378–29388.
Margarella, A. M.; Perrine, K. A.; Lewis, T.; Faubel, M.; Winter, B.; Hemminger, J. C. Dissociation of sulfuric acid in aqueous solution: determination of the photoelectron spectral fingerprints of H2SO4, HSO4- and SO4- in water. J. Phys. Chem. C, 117(16) 2013 8131-8137.
Perrine, K. A.; Lin, J.-M..; Teplyakov, A. V. Controlling the formation of metallic nanoparticles on functionalized silicon surfaces. J. Phys. Chem. C, 116(27) 2012 14431-14444.
Perrine, K. A.; Teplyakov, A. V. Metallic nanostructure formation limited by the surface hydrogen on silicon. Langmuir, 26 (15) 2010 12648-12658.
Perrine, K. A.; Teplyakov, A. V. Reactivity of Selectively Terminated Single Crystal Silicon Surfaces. Chem. Soc. Rev., 39(8) 2010 3256 – 3274.
Recent Funding
Michigan Space Grant Consortium Faculty SEED Grant (2020)
Research Excellence Fund – Research Seed Grants (REF-RS), Michigan Technological University "Measuring in situ Surface Corrosion and Reactions on Interfaces to address Water Quality Challenges" (Spring 2020)
College of Engineering Cross-cutting Initiative "2D materials transfer by dielectrophoresis for flexible electronics" College of Engineering Cross-cutting Initiative(2018)
David J. and Valeria L. Pruett Graduate Research Fellowship (2018)
National Science Foundation – Major Research Instrumentation "MRI: Acquisition of an Atomic Force Microscope for Force Measurement, Single-Molecule Manipulation and Other Applications" (2017) #CHE 1725818
Research Excellence Fund – Research Seed Grants (REF-RS), Michigan Technological University "Designing tailored metal oxide mesostructures using functionalized carbon surfaces"(Fall 2017)
Presentations
American Chemical Society (ACS) Colloid and Surface Science Symposium, June 2021
Materials Research Society (MRS) Meeting, Spring 2021
#ChemistsLive American Chemical Society (ACS) cross divisional (virtual, invited) event, September 2020
American Chemical Society (ACS) Meeting (invited), Fall 2020
American Vacuum Society (AVS) Meeting, 2018
American Chemical Society (ACS) Meeting, Fall 2018
Minnesota AVS chapter Meeting, May 2017
Teaching Experience
CH3511 - Physical Chemistry I Labs
CH3521 - Physical Chemistry II Labs
CH5665/MSE5665 - Surface and Interface Science
CH1153 - University Chemistry Recitation
CH3510 - Physical Chemistry I
CH5520 - Chemical Kinetics