Shiyue Fang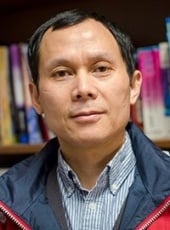 Contact
906-487-2023
Chem Sci 620C
Postdoctoral, Purdue University, West Lafayette, Indiana
PhD, University of Missouri, St. Louis, Missouri
Biography
Dr. Shiyue Fang is a synthetic organic chemist. He obtained PhD in organometallic chemistry and conducted postdoctoral study in nucleic acid chemistry. Currently, projects in his research group include the development of technologies for sensitive DNA and RNA synthesis and non-chromatographic purification of DNA and peptide, synthesis of mono-disperse polyethylene glycol and derivatives, discovery of new organic transformations, and the use of organic synthesis to address fundamental physical chemical and biological questions.
Links of Interest
Research Interests
Organic Synthesis
Nucleic Acid and Peptide Chemistry
Organometallic Chemistry
Mechanochemistry
Epigenetics and Chemical Biology
Antisense Drug
Recent Publications
Bhaskar Halami, Dhananjani N. A. M. Eriyagama, Komal Chillar, Zack Nelson, Lucas Prehoda, Yipeng Yin, Bao-Yuan Lu, Brett Otto, Liam Haggerty, Shiyue Fang. Linear Oligosulfoxides: Synthesis and Solubility Studies. Tetrahedron Letters, 2019, 60, 151306
Shahien Shahsavari, Dhananjani Eriyagama, Jinsen Chen, Bhaskar Halami, Yipeng Yin, Komal Chillar, Shiyue Fang. Sensitive Oligodeoxynucleotide Synthesis Using Dim and Dmoc as Protecting Groups. The Journal of Organic Chemistry 2019, 84, 13374-13383
Shahien Shahsavari, Dhananjani N. A. M. Eriyagama, Bhaskar Halami, Vagarshak Begoyan, Marina Tanasova, Jinsen Chen, Shiyue Fang. Electrophilic Oligodeoxynucleotide Synthesis using dM-Dmoc for Amino Protection. Beilstein Journal of Organic Chemistry 2019, 15, 1116-1128.
Dhananjani N. A. M. Eriyagama, Shahien Shahsavari, Bhaskar Halami, Bao-Yuan Lu, Fengping Wei, Shiyue Fang. Parallel, Large Scale and Long Synthetic Oligodeoxynucleotide Purification Using the Catching Full-length Sequence by Polymerization Technique. Organic Process Research and Development 2018, 22, 1282-1288
Bhaskar Halami, Shahien Shahsavari, Zack Nelson, Lucas Prehoda, Dhananjani N. A. M. Eriyagama, Shiyue Fang. Incorporation of Sensitive Ester and Chloropurine Groups into Oligodeoxynucleotides through Solid Phase Synthesis. ChemistrySelect 2018, 3, 8857-8862
Shahien Shahsavari, Chase McNamara, Mark Sylvester, Emily Bromley, Savannah Joslin, Bao-Yuan Lu, Shiyue Fang. Amine Protecting Groups Deprotectable under Nearly Neutral Oxidative Conditions. Beilstein Journal of Organic Chemistry 2018, 14, 1750-1757.
Shahien Shahsavari, Travis Wigstrom, James Gooding, Chase McNamara, Shiyue Fang. dM-Dim for Carboxylic Acid Protection. Tetrahedron Letters 2018, 59, 1763-1766
Patents
Purification of Synthetic Oligonucleotides; US Patent; January 26, 2016; Patent Number 9,243,023.
Purification of Synthetic Oligomers; U.S. Patent; December 14, 2010; Patent Number 7,850,949.
Teaching Experience
Organic Chemistry (CH2420)
Organometallic Chemistry (CH4490, CH6490)
Intermediate Organic Chemistry (CH4430)
Spectroscopy of Organic Chemistry (CH4412)
Advanced Organic Chemistry (CH5420)
General Organic and Biochemistry (CH1140)
Chemistry Orientation (CH1130)