Put Engineering Ideas into Action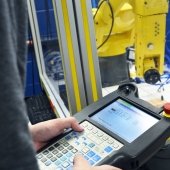 Mechatronics, robotics, automation and control, instrumentation, data acquisition. Graduates who understand these concepts are in-demand worldwide. Electrical Engineering Technology majors immerse themselves in these topics, top to bottom, through hands-on system design and implementation.
---
What You'll Do
Master fundamental electronics and electrical systems
Gain hands-on engineering know-how
Design, program, troubleshoot, and maintain automated systems
Operate new, industry-grade learning equipment designed, constructed, and funded by Donald Engineering and other major companies
Build the knowledge and skills essential for launching and advancing a career in the automation industry
Expertise in Programmable Logic Controllers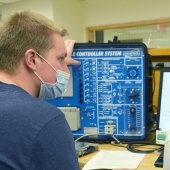 Programmable Logic Controllers are the most commonly-used computers being used in industrial settings. Using advanced Amatrol mechatronics and process control stations, recently gifted to the College to the College by Leidos, you'll gain hands-on engineering knowledge operating industry-grade equipment. And, you'll operate, program, and troubleshoot the same industrial FANUC robotic arms used in dozens of industrial applications.
---
I enjoy learning by doing; that's why the EET program at Michigan Tech was a perfect match for me. I went from building simple electronic circuits in my first year to creating complex controls systems for a company my senior year. ... I highly recommend the EET program to any student looking to pursue skills in robotics and controls and who enjoys building, designing, and learning by doing.
Industry Partners
The College of Computing works closely with industrial advisory partners to ensure that the EET curriculum is current and relevant. You'll earn a FANUC Robotic Automation Industrial Certificate—a huge advantage in your employment search.
Undergraduate Research
EET majors pursue funded research with faculty mentors as they learn to design, program, and maintain automated systems, experience that makes EET graduates highly-sought candidates for employment in industries including pharmaceutical, food, automotive, manufacturing, and others.
Conducting research taught me CAD designing, wiring, assembling, market analysis, PLC and FANUC robot programming, and developed my communication skills. Getting research experience was incredible.
Starting Salary for EET Graduates
Michigan Tech Average: $68,390
National Average (bls.gov): $58,080
Job Placement Rate: 100 percent
Industrial control and automation is big business, and Michigan Tech EET graduates are highly-sought candidates for employment in pharmaceutical, food, automotive, manufacturing, and other industries.
Jobs held by EET graduates
System Engineer
Systems Test Engineer
Product Engineer
Software Engineer
Quality Control Engineer
Applications Engineer
Process Engineer
Employers of EET graduates
AT&T
Black & Veatch
Consumers Power
FANUC Robotics America
Ford Motor Company
Harley-Davidson
Mayo Clinic
Recent Internships: CNSA, Cybersecurity, EET
Alliance Laundry Systems

Boise Cascade

C Jackson Electric and Automat

Caterpillar, Inc.

CCI Systems, Inc

Consistacom, Inc.

Cooper Power Systems

CSX Transportation

Doosan

DTE Energy

Enterforce

Expera

Extreme Engineering Solutions

GE Aviation

General Motors

Georgia-Pacific Corporation

Harley-Davidson Motor Co

Hitachi Global Storage Tech

Johnsonville Sausage, LLC

Los Alamos Nat'l Lab

Mass Electric Construction Co.

Material Handling Services, LL

Mercury Marine

Michigan Consolidated Gas Co

Michigan Tech

MTU Systems Admin Svcs

Nemak

NewPage Corporation

Northern Star Industries

Nucor Steel

Packaging Corp. of America

Parr Instrument Co.

REMC#1

Sentry Insurance A Mutual Comp

Systems Control

Toyota

USG Interiors, Inc.

Wausau Paper
---