Start Your Health Informatics Career at Michigan Tech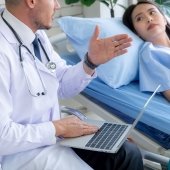 The Health Informatics field is robust and growing.
Demand is being fueled by the health care industry's sharp focus on evidence-based medicine, quality improvement, and data security and accessibility.
These great data prove it.
Employment of medical and health services managers--the BLS sector into which Health Informatics falls, is expected to grow by 32% through 2029, with professionals earning a median average salary estimated at $100,980 per year (bls.gov)
---
Gain the training and tools you'll need.