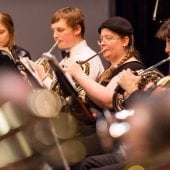 Keweenaw Symphony Orchestra
Register for: MUS3500
Audition Required
Founded in 1971, the Keweenaw Symphony Orchestra is the Upper Peninsula's oldest orchestra. The KSO is a college-community ensemble comprising Michigan Tech students, faculty and staff, and community musicians. Most of the musicians pursue something other than music as a career, with engineers, scientists, mathematicians, educators, and retirees filling the roster. Students occupy about 60% of the orchestra; none are music majors. The KSO presents 4-5 concerts per year - including choral-orchestral, opera, ballet, and pops - in the Rozsa Center for the Performing Arts.
MUS 3500 - Keweenaw Symphony Orchestra
The KSO is a college-community orchestra comprising Tech students, Tech faculty, and community musicians. The ensemble performs the great orchestra, opera, and ballet masterworks. The orchestra presents 4-5 yearly concerts, including periodic concert tours. Audition required.
Credits: 1.0; May be repeated
Lec-Rec-Lab: (0-0-3)
Semesters Offered: Fall, Spring
Auditions
Contact Dr. Joel Neves, Music Director of the Keweenaw Symphony Orchestra, for information on orchestra auditions in the fall. All orchestral instruments (strings, woodwinds, brass, percussion) are accepted for audition.
KSO Videos
---
KSO Audio
---