Drawing, sculpture, ceramics, and watermedia—Michigan Tech's Art Minor (FAAR) adds dimension and depth to your Michigan Tech education. You'll learn the basics of art history, and get into the studio right away. Develop skills, refine techniques, and sharpen perspectives.
There is a space here for you.
Our program emphasizes new and creative ways to develop spatial skills and awareness, which makes it a great choice for engineering majors. It's also an innovative complement to studies in science, technology, business, and other concentrations. 

Galleries and studios offer space to share, view, and critique work—there's also the Visual and Performing Arts Scene Shop and pop-up exhibits on and off campus.
Expand outside the classroom with outdoor sessions including our summer sculpture course. Join the vibrant Copper Country Arts community with its active galleries and special events or consider Michigan Tech's more than 200 student organizations
Whatever you want to make.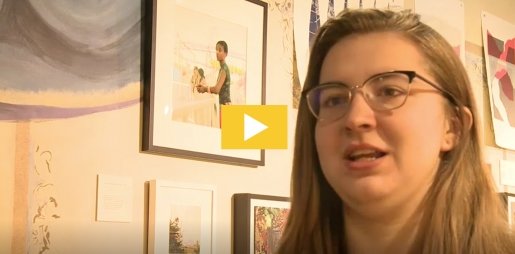 "Working at OLO [Ohio Light Opera] gave me professional design experiences outside of Michigan Tech, even before I took the official production design class."
Working interdisciplinary, Samantha Palumbo helped faculty and gallery director Lisa Gordillo design the gallery exhibit Salon!, a mix of contemporary art from over 20 artists and was interviewed by TV6 Fox UP for her work, Historical art tradition open to public on MTU's campus.