Success Coaches are peer advisors trained to assist with time management, study habits, social interaction, and more. Our coaches come from a variety of backgrounds and majors, but they all share the same goal: help their fellow students succeed at Michigan Tech.
Meet the Success Coaches
Arlethia Bell
Hometown: Detroit, MI
Year at Tech: Fourth
Major: Environmental Engineering
Interests: Singing, Reading, Exploring Nature, Crafts
My Experience at Michigan Tech: Throughout my time at Michigan Tech, I have had the opportunity to immerse myself into a community like no other and become a more well-rounded individual! As a peer mentor and the president of the Black Students Association and National Society of Black Engineers, I have also been able to t help other students learn and grow. I feel that I will leave Michigan Tech with a wealth of experiences, knowledge, and opportunities to reach my future goals.
Kevin Hoefer
Hometown: Midland, MI
Year at Tech: Third
Major: Operations and Supply Chain Management
Interests: Running, skiing, swimming, racquetball, watching sports, and Bracketology
My Experience at Michigan Tech: I believe the best part about being a Husky is the community that comes along with it. Finance Club, SENSE Enterprise, The Lode, and intramural sports have allowed me to find my own communities and develop numerous friendships. There are so many ways to get involved at Michigan Tech and make the most of college life! All you need to do is seek it out.
Natalie Howard
Hometown: Kalamazoo, MI
Year at Tech: Fourth
Major: Applied Ecology and Environmental Science
Minors: Plant Science and Sustainability Science and Society
Interests: Hiking, Kayaking, Tennis, and Jigsaw Puzzles!
Tech Experience: I am involved with the Wahtera Center, Tennis Club, and Mind Trekkers! My experience at Michigan Tech has taught me that winter sports can be fun, and it is okay to seek help if you need it!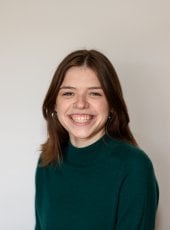 Anna Kavanaugh
Hometown: Berkley, MI
Year at Tech: Third
Major: Sustainability Science and Society
Minor: Sustainable Bioproducts
Interests: Hiking, Skiing, Mountain Biking, Cooking, Photography, Yooperlite Rock Hunting
My Experience at Michigan Tech: My experience at Michigan Tech has been one of community. Everyone I have worked with has shown me acceptance and support in whatever I might need. I've been provided many opportunities through Michigan Tech, whether that be attending a COP in Egypt, holding a leadership position, or seeing the northern lights right outside my bedroom window. There is no place quite like the Keweenaw or Michigan Tech, and there is definitely no other place I's rather attend college.
Jozie Opela
Year at Tech: Second
Major: Biochemistry and Molecular Biology
Minor: Spanish
Double Minor: Pre-Health
Interests: Hockey, Lacrosse, reading, movies, and being outdoors.
My experience at Michigan Tech: I love Michigan Tech! I came here because of all the hockey opportunities, but also because I love the snow! I would have to say it is a magical experience to have snow always falling from the sky. While the classes are hard here at Tech, the fact that we are immersed in nature makes everything just feel okay. Tech has also helped to push me out of my comfort zone, and to try many new things that I do not think I normally would have in the past! Michigan tech has become my home.
Anderson Piercey
Hometown: Shelby Township, MI
Year at Tech: Fifth
Major: Business Management
Minor: Psychology
Interests: Hockey, hiking, photography, reading, video games, and playing broomball.
My experience at Michigan Tech: I've been here five amazing years, and there's really no place I'd rather be than the Copper Country. The people are friendly and the culture is amazing. It's truly a one-of-a-kind experience to be in a college town but know that nature and all its beauty is only a 10-minute drive away. Getting to find myself and a major that fits me has been nothing short of a wonderful ride. If you gave me a chance, I'd do it all over again - and I wouldn't change a single thing.
Sophie Smit
Hometown: Ann Arbor, MI
Year at Tech: Fourth
Major: Biology.
Interests: Hiking, exploring, playing trombone, skiing, and pretending I can bike.
My experience at Michigan Tech: My time at Tech has been marked by a lot of time adventuring in the Keweenaw. When not exploring the great unknown, I participate in Cru and club soccer where I have found some amazing, goofy friends.
Lucy Straubel
Hometown: Beulah, MI
Year at Tech: Third
Major: Theater and Electronic Media Performance
Interests: Writing, hiking with my dog, art, history
My experience at Michigan Tech: I have had a wonderful experience at Tech. I have made some lifelong friendships and memories I will never forget. I enjoy the community feel on campus and the multiple traditions that make Michigan Tech so unique. I am forever thankful for my time here.