2021 Award Recipients
President's Award for Leadership
Award Recipients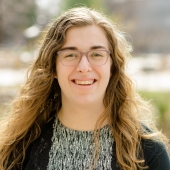 Anna Browne
B.S., Electrical Engineering with a Concentration in Electric Power Engineering
Recipient's Bio
Anna, who is pursuing a degree in Electrical Engineering with a concentration in Electric Power has shown excellent success during her time as a student. Her involvement and contributions to Michigan Tech's campus are numerous and cast such a wide net.
Anna has:
Had multiple internships at Black & Veatch and Westwood Professional Services.

Served in the project and team leader roles with the Alternative Energy Enterprise on projects like the Baraga Community Solar and On-Campus Mine Water Geothermal System.

Been an active part of the Residence Education and Housing Services community as a Senior Resident Assistant and Resident Assistant for three years.
Anna has left a mark on Michigan Tech's community. In her essay, she writes how she strived to be a role model for others through community building.

"Through my Michigan Tech experience, my values of leadership, community, openness, and integrity have been demonstrated through every aspect of my involvement. In trying to create a supportive community, I have strived to give a sense of comfort and belonging to those without a place. Michigan Tech has helped me find my values and my identities, and I hope through my involvement that I have left as positive of a mark on Michigan Tech as it has left on me."
The President's Award for Leadership is given to a student who is chosen from an outstanding group of nominees that have provided leadership for their peers in their activities while a student at Michigan Tech.
Provost's Award for Scholarship
Award Recipients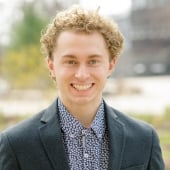 Thomas Basala
B.S., Human Biology with a Minor in Public Health
Recipient's Bio
This year's recipient of the Provost's Award for Scholarship is Thomas Basala from Biological Sciences.
His department states in support of Thomas: "He [Thomas] is one of the most conscientious, reliable, and appreciative students I have met."
Thomas is an EMT with our Emergency Medical Services.

President of Triangle Fraternity

Member of Pavlis Honors College Undergraduate Student advisory Board

Holds a 4.0 GPA
We are proud to recognize Thomas with the Provost's Award for Scholarship.
The Provost's Award for Scholarship is given to a senior who best represents student scholarship at Michigan Tech. This outstanding student is considered excellent not only by academic standards, but also for participation in research scholarship activity, levels of intellectual curiosity, creativity, and communication skills.
Dean of Students Award for Service
Award Recipients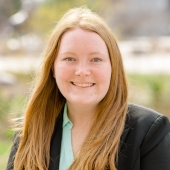 Lydia Savatsky
B.S., Mathematics with a Concentration in Business Analytics and Minor in Global Community Development
Recipient's Bio
Lydia is pursuing her Bachelor of Science in Mathematical Sciences, with a minor in Business and Global Community Development. Lydia is actively involved on campus.
Lydia has served as the President of the Tech Tutors and Women's Leadership Council.

Served as the volunteer coordinator for the Appalachia Service Project, a non-profit home repair project, to plan the work scope for 13 repair projects over a seven-week period.

Involved on campus as an Orientation Team Leader, LeaderShape Institute Graduate, Mont Ripley ski instructor, and the philanthropy chair for Delta Phi Epsilon.

Participated with IT Oxygen Enterprise on the DENSO North American Foundation-sponsored project to predict spot market prices of semiconductors 30 days into the future.
In her essay, Lydia stated, "I realized being a leader is not always about you, but rather it is about the people you are serving. Participating in a variety of service opportunities taught me that to be a leader, one should understand other perspectives, encourage growth in others, and recognize the importance of collaboration to reach a larger goal."
Lydia has been able to serve those around her by contributing both to the campus and the community in extraordinary ways.
The Dean of Students Award for Service is given to an undergraduate Michigan Tech student who has performed volunteer services which have provided both benefits for the people served, as well as valuable learning experiences for the student.