2020 Award Recipients
President's Award for Leadership
Award Recipients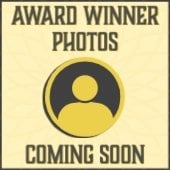 Zachary Smith
B.S., Biochemistry and Molecular Biology with a Minor in Microbiology
Recipient's Bio
Zachary, who is pursuing a degree in Biochemistry and Molecular Biology with a Minor in Microbiology, has shown excellent success during his time as a student.
Zachary has:
Served in multiple Executive Board roles on Wadsworth Hall Association and Inter-Residence Hall Council.

Connected leaders in the residence halls with learning and programming opportunities by affiliating Michigan Tech with the Regional and National Association of College and University Residence Hall Associations.

Elected as the Conference Chairperson for the Great Lakes Regional Business Conference in 2019 and was integral in hosting the conference at Michigan Tech.

Serves as a Bringing in the Bystander Peer Educator.
Zach has left a mark on Michigan Tech's community. In his essay, he writes how life-changing his time and involvement has been at Michigan Tech.
"I can say with utter certainty that my experience at Tech would not have been the same without the leadership opportunities that I have had. These experiences shaped who I am over four years and set me on a path that I find very fulfilling and exciting." After graduation, Zach will be pursuing a career in Student Affairs and Higher Education.
The President's Award for Leadership is given to a student who is chosen from an outstanding group of nominees that have provided leadership for their peers in their activities while a student at Michigan Tech.
Provost's Award for Scholarship
Award Recipients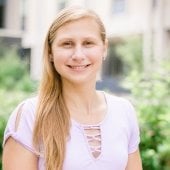 Kaylee Meyers
B.S., Biomedical Engineering
Recipient's Bio
This year's recipient of the Provost's Award for Scholarship is Kaylee Meyers from Biomedical Engineering.
Kaylee's department writes: "She is driven by a sharp intellect, an inexhaustible work ethic, and an insatiable need to learn and understand. From the start, her level of seriousness, intellectual curiosity, and attention to details were hallmarks I have seen in only our very best students."
Kaylee works on an NIH funded project that has led to novel cell and molecular mechanism data regarding tendon repair.
Co-Authored two review papers.

Received competitive research awards, including a summer undergraduate research fellowship and the Charles Steger Global Internship Award.

Prepared and presented peer-reviewed abstracts.

Actively involved in Summer Youth Programs and serving at Little Brothers Friends of the Elderly.
We are proud to recognize Kaylee with the Provost's Award for Scholarship.
The Provost's Award for Scholarship is given to a senior who best represents student scholarship at Michigan Tech. This outstanding student is considered excellent not only by academic standards, but also for participation in research scholarship activity, levels of intellectual curiosity, creativity, and communication skills.
Dean of Students Award for Service
Award Recipients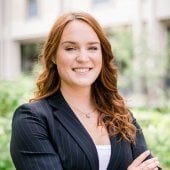 Dana Anderson



B.S., Biochemistry and Molecular Biology
Recipient's Bio
Dana is pursuing her Bachelor of Science in Biochemistry and Molecular Biology. Dana is actively involved both in her field and on campus.
Dana is an Undergraduate Microbiology Research Student

Serves as an Academic Success Coach and a Peer Health Advocate

Volunteered over 1000 hours as a Michigan Tech Volunteer EMT

Executive Board member of her sorority, Theta Chi Epsilon

Active with her church teaching pre-school aged and younger children

She is a member of multiple honor societies including Phi Sigma – Biological Science Honor Society, Order of Omega – Greek Honor Society, and Alpha Epsilon Delta Pre-Health Society.

Dana is also involved on campus as a member of the Biochemistry and Molecular Biology Club, Love Your Melon and Women's Rugby Team.
In her essay, Dana explored the question, "Who am I?" and was confidently able to say that Michigan Tech allowed her to strengthen her leadership skills and become the person she is today.
Dana has certainly proven her willingness to serve the campus and the community in extraordinary ways.
The Dean of Students Award for Service is given to an undergraduate Michigan Tech student who has performed volunteer services which have provided both benefits for the people served, as well as valuable learning experiences for the student.