2022 Award Recipients
President's Award for Leadership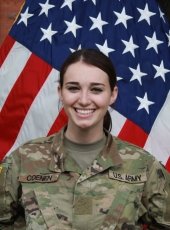 Emma Coenen
B.S., Applied Ecology and Environmental Science
The President's Award for Leadership is given to a student who is chosen from an outstanding group of nominees that have provided leadership for their peers in their activities while a student at Michigan Tech.
Recipient's Bio
Emma who is a graduating senior in Applied Ecology and Environmental Science and a cadet in Michigan Tech's Army ROTC program, was also recognized as the departmental scholar in Military Science.

While at Michigan Tech, Emma has also been:
An active member of the Practical Pistol Club
A tutor and mentor for other students in the College of Forest Resources and Environmental Science as a member of Xi Pi National Honor Society
An instrumental chair of the planning team for the Husky Alpine Mountain Run
and the Facebook and Instagram manager for the Arctic Warrior Battalion
all while maintaining a stellar academic record, working part-time in town, and excelling in the ROTC program.

As a student leader in ROTC, Emma has mentored incoming members, planned service activities, and ensure a safe and welcoming space for her fellow female cadets. Her nominator, Major Daniel Gwosch, stated, "The most sought after Army branch, Infantry, was the last combat arms branch to be gender neutralized. After Emma graduates, she will accept a commission on Active Duty as an Infantry Officer. Emma is a tremendous leader and has proven that she has the highest qualities and attributes that the army seeks in its future leaders. Second Lieutenant Coenen has unlimited potential and will be a great future Michigan Tech alumnus as she blazes her path for years to come."

Emma elaborated in her own essay, "It is an honor to join this branch and prove that women are reliable assets in our nation's defense."
Provost's Award for Scholarship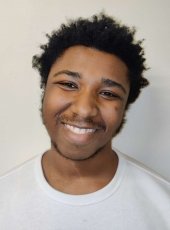 Christian Johnson
B.S., English and Human Biology with a Pre-Health Professions minor
The Provost's Award for Scholarship is given to a senior who best represents student scholarship at Michigan Tech. This outstanding student is considered excellent, not only by academic standards, but also for participation in research, scholarship activity, levels of intellectual curiosity, creativity, and communication skills.
Recipient's Bio
Christian Johnson is pursuing a double degree in English and Human Biology with a pre-health professions minor. His diverse passions and accomplishments led to his selection as the Departmental Scholar for both Humanities and the Pavlis Honors College.

His passion for creative writing has led to his recent essay, "Je t'aime," being accepted for publication by Free Spirit publishers in their book, Love Stories. The essay is about taking chances, developing independence, and finding love. With his passion for health sciences, he has also served as an undergraduate research assistant in Qing-Hui Chen's Cardiovascular Physiology lab in Kinesiology.

On top of this scholarly endeavors, Christian has also repeatedly embrace opportunities as a student mentor. He has served as:
A peer coach in Michigan Tech's Writing Center, sharing his expertise in writing for both humanities and STEM contexts
A resident assistant with Residence Education
A Husky Connect Mentor with the Center for Diversity and Inclusion, and
A volunteer with Dial Help
Additional examples of his leadership and involvement include serving on the executive boards for Alpha Epsilon Delta (the pre-health honor society) and the Pre-Health Association, and being an active member of Michigan Tech's Blue Key National Honor Society.
Dean of Students Award for Possibilities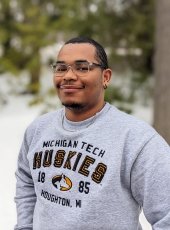 Jemel Thompson
B.S., Environmental Engineering
The Dean of Students Award for Possibilities recognizes a student that embodies our possibilities value statement: "We inspire the exploration and creation of all possibilities through innovative use of our skills and knowledge."
Recipient's Bio
When Jemel Thompson arrived on campus, he struggled to see himself in anything at Tech, so he decided to forge the community he sought on his own. This was the inspiration to revive the Society of African American Men (SAAM) with the help of his fellow brothers. Jemel went on to become the first Minister of Direction (President) of the organization since its reinstatement providing resources and support for men of color on campus.

As one of his nominators shared, "Throughout his career at Michigan Tech, Jemel has continued to try new things, take chances, and engage meaningfully with everyone he meets. He has engaged with a wide variety of Tech experiences from working in curriculum development with Residence Education, re-establishing the Society of African American Men on campus, attending and on-site coordinating for the LeaderShape Institute, volunteering with the Tech Traditions committee, serving as a Husky Connect Mentor with the Center for Diversity and Inclusion, and a variety of other involvements in between. In each of these experiences, Jemel unabashedly asks everyone 'why' and 'how can we improve.' To him nothing is stagnant and it has pushed me and our Michigan Tech community forward."
William and Josephine Balconi Community Service Award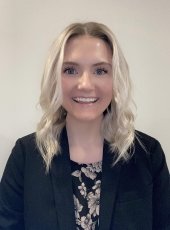 Bella Menzel-Smith
B.S., Human Biology
The William and Josephine Balconi Community Service Award is presented to a student who demonstrates community service with lasting and meaningful impact during their time at Michigan Tech, regardless of background or area of study.
Recipient's Bio
Bella's dedication to service stretches both far and wide. While at Michigan Tech, she has:
founded and led the Pre-Health Mentoring Program,a program that connects first and second year pre-health students with third and fourth year students for guidance
founder and led the "Winter Warm Up" program which helps collect winter jackets for those in need
served as a crisis text counselor for a national organization committed to promoting well-being for others
assisted elderly and low-income community members with finding resources to help them at the height of the pandemic
created a student Pen-Pal program to combat the isolation many students felt during the lockdowns
served as a point person for the Green Bandana Project
mentored middle school girls with the goal of empowering them to set-goals and improve their self-esteem
After graduation, Emma intends to attend Physician Assistant school with the goal of becoming a healthcare advocate in rural, medically underserved areas.