2023 Award Recipients
President's Award for Leadership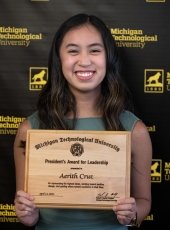 Aerith Cruz
B.S., Management Information Systems
The President's Award for Leadership is given to a student who is chosen from an outstanding group of nominees that have provided leadership for their peers in their activities while a student at Michigan Tech.
Recipient's Bio
Aerith is a senior in Management Information Systems with a minor in Statistics and countless layers of involvement across campus. Throughout each of those involvements, you will find one common goal - to create opportunities for others that they may not even see as possibilities for themselves.

This goal starts with supporting prospective students in their journey to select Michigan Tech. As a Leading Scholar recipient, Aerith has continued to support the program by volunteering at eleven unique events and serving as a "Tech Pal" mentor to five students. But supporting prospective students wasn't enough. Aerith has also supported her peers as an Orientation Team Leader and as an ExSEL Peer Mentor with the Waino Wahtera Center for Student Success.

Aerith's goal of creating opportunities even filters down to her hobbies. As a past varsity fencing player, she was determined to make fencing accessible at Tech. She introduced beginner lessons, taught at community events, and created competitive training regimens. Under her leadership as president, over 200 participants have tried the sport for the first time and active membership in the group has increased by 500%.

Aerith's goal of creating opportunities has also meant championing diversity, equity, and inclusion within STEM. She has served on the Center for Diversity and Inclusion's President's Council where she has been pivotal in mentoring other leaders in guiding their organizations and advocating for the needs of students. Perhaps her most notable service to campus, however, has been serving as the President of the Society of Women Engineers, a student organization with over 200 members. Throughout her term she has sponsored many campus-wide initiatives, such as hosting the event Breaking Stereotypes for Women Engineers; furthering the cycle project which aims to provide menstrual products on campus; and creating fundraisers for local Keweenaw organizations. The culminating achievement from her years of service with SWE has been the establishment of the SWE Endowed Scholarship, which will award a scholarship annually to a SWE member beginning in 2026.

It is clear that Aerith's leadership on campus has had a deep and meaningful impact, but even greater than that - it is clear that her leadership will have reverberations in our community for years to come.
Provost's Award for Scholarship
The Provost's Award for Scholarship is given to a senior who best represents student scholarship at Michigan Tech. This outstanding student is considered excellent, not only by academic standards, but also for participation in research, scholarship activity, levels of intellectual curiosity, creativity, and communication skills.
Recipient's Bio
Emma is a Biomedical Engineering student who has shown her academic excellence both in the classroom and through her research involvement. She has been working in Dr. Muhammad Rizwan's research laboratory for over a year, allowing her to gain experience in biomaterials synthesis, 3D cell culture, cellular growth assays, protein measurement assays, mechanical characterization of hydrogels, and data analysis. Her passion for learning is evident each time she shares critical reviews of recent literature in the field of biomaterials during group meetings that go far beyond her coursework. Emma is also a collegial team player and has trained and supported other undergraduate students in the lab.

Over her time in research, she has immensely improved in data analysis and her presentation skills. She recently presented a research poster demonstrating the development of a new hydrogel formulation for improved 3D cell culture at the Health Research Institute student forum. Additionally, she is finalizing a manuscript draft in which she will be the first co-author.
Dean of Students Award for Possibilities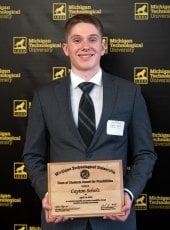 Cayton Scholz
B.S., Electrical Engineering
The Dean of Students Award for Possibilities recognizes a student that embodies our possibilities value statement: "We inspire the exploration and creation of all possibilities through innovative use of our skills and knowledge."
Recipient's Bio
As a cadet in the Air Force ROTC program, Cayton Scholz has served as Wing Commander, the highest level of student leadership within the MTU program, for 57 cadets fostering an environment of positivity, communication, and collaboration. He was selected to receive this award not only for the possibilities he has created for himself, but those he has created for the team he leads.

In this role, he oversaw the facilitation of up to ten hours of weekly ROTC activities. This includes a total of 42 hours of physical fitness training, 18 hours of team-building events, and 35 hours of practical military training over the entire semester. Through his encouragement, he has helped countless cadets in achieving their own specific goals.

Cayton also volunteered to lead his Senior Design team project whose goal was to develop a drone-mounted transceiver that enables live video to be streamed over the cellular network to remote viewing displays. After two semesters of challenging research and development, the team created a working prototype that will provide new possibilities for gathering intelligence within the United States Army Special Operations Command and the Department of Defense.

Cayton shared in his essay, "These experiences pushed me to grow as a leader, problem solver, and servant in the community. As I move on from MTU to a career in the U.S. Air Force, I will use my developed vision to identify and create possibilities for myself and those around me."
William and Josephine Balconi Community Service Award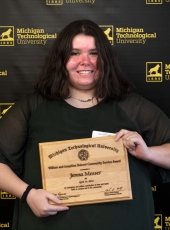 Jenna Messer
B.S., Social Sciences
The William and Josephine Balconi Community Service Award is presented to a student who demonstrates community service with lasting and meaningful impact during their time at Michigan Tech, regardless of background or area of study.
Recipient's Bio
Jenna was nominated for this award by multiple faculty members due to her strong commitment to community both here on campus and within the Keweenaw Bay Indian Community. On campus, she has worked to ensure the community research projects completed in her courses are inclusive of all community members and of Anishinaabe perspectives. She has been commended by her nominators for her leadership in facilitating community meetings and for ensuring, modeling, and progressing ethical community-based research practices.

Within KBIC, Jenna has actively supported a wide variety of community events including Water Walks, DIGS Community Garden Days, Manoomin (Wild Rice) Camp, and Waawaashkeshi Camp. As one nominator explained it, "She plants seeds that grow and create pathways for others."

Jenna stated in her essay, "I want to be someone committed to being an active community member to help them progress to a better future."