Rehab Alhajjar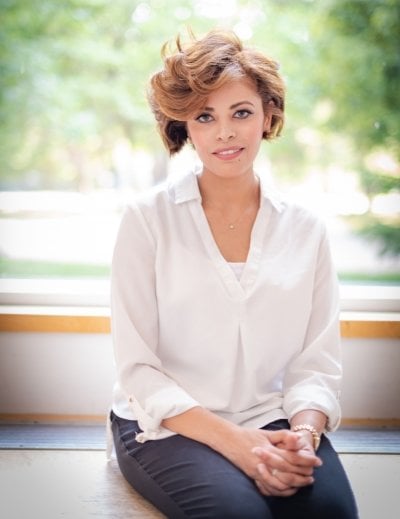 I'm an environmental microbiology PhD student. My research focuses on the impact of nanoparticles on the microbial community. Stephen Techtmann is my advisor. I have a lot of respect for him. Before I applied to Michigan Tech, someone mentioned Stephen Techtmann and the University on Twitter. I was interested in water research and I thought being near the Great Lakes would be the best place to study water, so I said, "Okay, I will go there then!" I contacted Dr. Stephen and he accepted me into his lab. I have been here for almost two years so far and have another two years to go to the finish.
When I was in my country, Saudi Arabia, I never thought I would leave. But my dream made me go for it. I'm the kind of person who follows her dreams and doesn't give up easily. I have studied biology all my life and I enjoy it. Since I was a child I've wanted to be a science teacher and I did it. When I finished my bachelor's, I searched for a job, but I couldn't find any job at the time, so I applied for a master's, but the university didn't accept me the first time. But, I applied the following year and they accepted me. After I finished my master's, I got a job—it was my dream job, but it was a temporary position. While I was working, I heard about Michigan Tech's scholarship requiring a high GPA and other things; I had everything they required, so I just applied, and they accepted me, and I said, "Okay, I'll go then!" It was not easy and it took a long time to prepare to come but I was patient and I did it.
I love being here. It's a quiet place. The nature is so beautiful and the people here are so nice. I have friends from all over the world here. It's great. When I came to the US my brain just expanded! I know so much more about myself, how much I can do, how to be a leader; developing as a person is more important than getting a job.
During these past two years, I have been involved in many activities on and off campus. I have collaborated with the International Programs and Services in their ambassador to the world program. As an ambassador to the world, I share my culture with the local community in a way to make people understand and accept other cultures. In 2017 I gave a presentation on the Rotary International Nonprofit Organization about the appreciation of cultural values. I was the biology representative in the Graduate Student Government (GSG). I attended Center for Diversity and Inclusion discussions as GSG representative and am involved in many campus diversity challenge discussions. In addition, I am the founder and president of the Saudi club. In my organization, my goal is to enhance social communication and facilitate great experiences among students. I tried to achieve this goal when I organized social, cultural, and community service events on campus, such as Parade of Nations, a makeup competition, women-only activities, learn Arabic language, and Saudi Night. I love to volunteer for everything that helps people. That's the kind of thing I like to do. I feel better if I give more than I take. Finally, I want to say that being nice and asking people for help if you need it is important. People here are nice, but you need to ask; no one will know anything about you if you don't speak up.
Michigan Technological University is a public research university founded in 1885 in Houghton, Michigan, and is home to more than 7,000 students from 55 countries around the world. Consistently ranked among the best universities in the country for return on investment, Michigan's flagship technological university offers more than 120 undergraduate and graduate degree programs in science and technology, engineering, computing, forestry, business and economics, health professions, humanities, mathematics, social sciences, and the arts. The rural campus is situated just miles from Lake Superior in Michigan's Upper Peninsula, offering year-round opportunities for outdoor adventure.