Mayra Morgan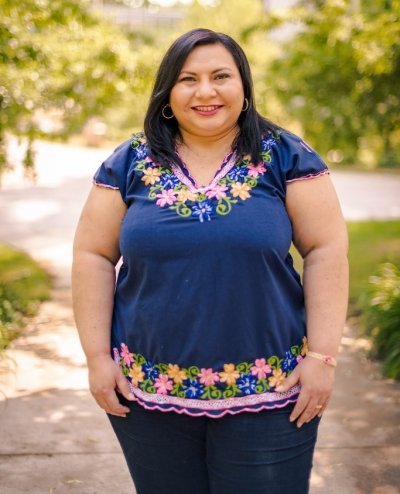 One day I stopped at a grocery store in Merida, Mexico, and met a man who I would later find out was Dr. Richard Donovan of Michigan Technological University's Sustainable Futures Institute.
He was lost and needed directions. I took him where he needed to go. He asked me about my background and I told him I was completing my master's in social anthropology while working for an NGO and teaching in a college. I told him I wanted to do my PhD in the environment and human rights someday and he said, "We should talk." But, he was a stranger! I was just trying to help someone; it's something I like to do—if a person or an animal needs help and I can do it, I do it.
Two or three days later I got an email from the man introducing himself. His email said, "I'm very impressed with your background. You said you wanted to do a PhD and Michigan Tech just opened this new program called environmental policy, so I would like to talk to you more about it." I was shocked! We had a first interview and I remember he told me about a project he was working on and asked me what I thought about it. I was very honest because it was something I cared about. He said, "I'll give you a recommendation letter." That's how I heard about Michigan Tech and I started my adventure here.
This summer I am completing my PhD in Environmental and Energy Policy. It has been a long and overall rewarding journey. I have had great professional and personal experiences at Tech, I have met great people here, I also met my husband here. He got his bachelor's in computer science. We had our wedding in the MUB in 2016. Part of why I love Michigan Tech is because I have a family here. My friends are my family and they are from all over the world. You can feel the love and community here and that is significant.
My research is about ecotourism and women's empowerment in rural Mexico. Currently, I am looking for full-time opportunities in academia and elsewhere. Because I have diverse experience, I know there are different paths I can do. Academia is one. But I also like nonacademic positions like working for an NGO that works with environmental conservation, community development and outreach, or women's empowerment. Honestly, I would love to work in diversity and inclusion at a college. Since 2015 I have worked part time in the Graduate School processing applications and doing some outreach with potential students. I love that job. I also have been part of several student organizations in leadership positions and organized many events. I love salsa dancing, which I do on campus every week. I have also performed a few times on campus. I hope I can find a job opportunity soon. I'm just going to keep trying. Progress, not perfection. That's what I remind myself. You aren't always going to feel okay (that's perfection); just move forward (that's progress); that's what I believe.
Michigan Technological University is a public research university founded in 1885 in Houghton, Michigan, and is home to more than 7,000 students from 55 countries around the world. Consistently ranked among the best universities in the country for return on investment, Michigan's flagship technological university offers more than 120 undergraduate and graduate degree programs in science and technology, engineering, computing, forestry, business and economics, health professions, humanities, mathematics, social sciences, and the arts. The rural campus is situated just miles from Lake Superior in Michigan's Upper Peninsula, offering year-round opportunities for outdoor adventure.