Below you will find all the specifications you need to know about the James and Margaret Black Performance Hall at the Rozsa Center for the Performing Arts.
General Information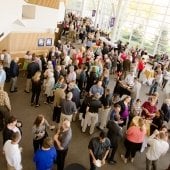 Rentals
Our Rozsa Rental Coordinator is happy to assist you with all of your reservation questions and requests. Please fill out this form if you are interested in renting the Rozsa Center.
Time Zone
The Rozsa Center for the Performing Arts is located in the EST (Eastern Standard Time) time zone.
Travel Directions
From US-41
When arriving from the southeast end of Houghton:
The Portage Lake Golf Course is on your left, and Portage Lake is on the right, as you arrive in Houghton.
Take the first right as you approach the Michigan Technological University campus, and turn left into the Rozsa Center Parking Lot #8.
---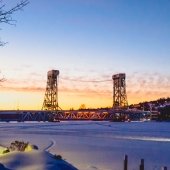 From M-26
When arriving from the southwest end of Houghton:
Drive down the Copper Country Mall hill, which is M-26, and head toward the Portage Lake Lift Bridge.
Stay in the right lane and follow the signs for US-41 South.
Follow US-41 through Houghton. US-41 heads east along Montezuma Avenue, College Avenue, and then turns into Townsend Drive.
As you pass through the Michigan Technological University campus, the Rozsa Center will be on your left.
Turn left after passing the Rozsa Center and then left again into Parking Lot #8.
---
Parking
Bus and truck parking is available in Parking Lot #8, which is located off of Cliff Drive on the south side of the road. Please contact the Production Manager with the number and types of vehicles before arrival.
Load-in Area
Note: Docks are at ground level, all loading and unloading must be done via ramps, to be provided by the tour.
Loading Dock 1 (Primary Dock)
Door: 10' 2" Wide x 14' 1" Tall
Equipped with a lift platform 7' 8" Wide x 12' 4" Long
Loading Dock 2
Door: 10' 2" Wide x 14' 1" Tall
Use of this door will need to be worked out two to four weeks in advance.
Stage Door
Stage doors from Loading Dock: 9' 11" Wide x 14' Tall
No shore power is available at this time.
Carpentry
Seating Capacities
| Location | Seats | Wheelchair Seating |
| --- | --- | --- |
| Orchestra Pit | 62 | |
| Orchestra | 497 | 6 |
| Tier | 503 | 4 |
| Total | 1062 | 10 |
Stage Dimensions
Stage Floor: Sprung wood with ¼" masonite painted black in gently used condition
Proscenium Width: 39' (theatre mode)
Proscenium Height: 30'
Height to Cloud: 24'
Height to Sound Cluster: 19' 5"
Height from Stage Floor to Seating Floor: 3' 5"
Plaster Line to Back Wall: 33'
Apron from Plaster Line to Pit: 7'
Pit Depth: 12' 10"
Wing Space from Centerline: 40' SR, 53' SL
Grid Height: 65' from Deck to Steel
Orchestra Pit: Spiral Lift
Height: 13' 6"
Width: 49' 5"
Depth: 12' 10"
Depth at Orchestra Level: 23' 3"
Soft Goods
House Curtain: Purple velour located 1' 6" from Proscenium. Guillotine or Fly.
Legs: 6 sets, black, flat. 16' Wide x 30'
Borders: 4 sets, black, flat, 57' Wide x 10'
Traveler: 2 sets, black, 57' Wide x 24' with fullness and pulley
Scrim

1 black 60' Wide x 30'. Some damage to pipe pocket, repaired whole
1 black, new 2018, 57' Wide x 30'
1 white, new 2018, 57' Wide x 30'

Cyclorama: 1 seamless filled scrim, natural, 60' Wide x 30'
Backline
9 section StageRight Choir Shell: 6' Wide x 12' Tall, eggshell
Wenger Versalite Platforms

Leg Heights: From 8" to 48"
15 @ 4' x 8' Decks
12 @ Wedge Decks for Orchestra Setups

9 section 4-Step StageRight Alla Breve Choral Risers
Orchestra Chairs

114 Gray Wenger orchestra chairs
8 cello chairs

Music Stands: 69 Mixed Manhasset and Wenger
Lecterns: 2 Speakers Choice, light oak veneer finish
Dance Floor: 6 sections of Rosco Dance Floor, 63" x 43'
1 Fender Twin Reverb
2 Bass Rigs: GK-800RB heads with Eden Electronics 1x15 and 4x10 cabinets
1 Pearl Maple Custom Drum Kit

Rack-style stand
22" kick
16" floor
10, 12 & 14" toms and snare
Collection of Zildjian Cymbals

1 Johannus Monarcke Organ
Fly Rail
Located Stage Right
26 lines are available for scenery. Some obstructions due to the proximity of 3rd electric.
Sound
Control
Yamaha CL5 Mixing Console: FOH
Midas M-32 Mixing Console: Monitors and Backup
Midas M-32 Mixing Console: Recording Studio
Midas Pro2-C: Monitors and McArdle Theatre
Collection of Analog Consoles is available upon request
Installed Speakers and Amps
Proscenium System (one speaker per side)

Standard Configuration: JBL CBT100's, with Custom Subs, P1200A Amps
Tier: D&B Audiotechnik C4, P1200A Amp, D&B Audiotechnik C4 Sub, P1200A Amp
Rock Shows: D&B Audiotechnik C7, E-PAC Amp, D&B Audiotechnik B2 Sub, A1 Amp

Center Cluster

Orchestra: (2) D&B Audiotechnik C6, P1200A Amp
Tier: (2) D&B Audiotechnik C4 Tops, P1200A Amp
Portable Speakers
10 EV T221M Monitor Wedges
4 MacPherson M12BP Monitor Wedges
1 EAW SM5001V Drum Monitor
2 Meyers UPM-2P Powered Speakers
2 EAW KF695
2 EAW KF640
Microphones
7 Shure Beta57
6 Shure Beta58A
4 Shure Beta87A
2 Shure SM81-LC
1 AKG C414B-XLS
1 AKG D224E
3 AT8533
2 Encore Blue100
1 EV US890 Gooseneck Podium Microphone
4 Sennheiser E604
1 Sennheiser E905
4 Shure SM57
3 Shure SM58
1 Shure Beta52A
2 Shure KSM109
1 AKG D112
2 AT 857QMLA Podium Microphone
6 Crown PCC160
5 Encore Blue100i
2 Octava MC012
2 Sennheiser E609
2 Sennheiser MD421
3 DPA d:vote 4099 Instrument Microphone
Wireless Microphones
1 Sennheiser EM3032-U Dual Wireless System
8 Sennheiser EW500 Single Wireless System

Handhelds and body backs available for each channel
Various elements available

8 Sennheiser EW500 Single Wireless System in Portable Racks
Wardrobe
Dressing Rooms
All dressing rooms include stage monitoring via audio and closed-circuit video.
Capacity
Sinks
Toilets
Showers
Mirrors
2 Star Dressing Rooms
2 performers
2
1
1
2
2 Chorus Dressing Rooms
15

performers

3
3
2
15
Wardrobe Room
No specific room is designated. The choir room across from the chorus dressing rooms can be reserved and used for wardrobe with a two month reservation to displace classes. Washers and dryers are available in the adjacent building.
Lighting
Control
ETC Ion 1x20 Fader Bank

Generally operated from the center house control table
Electrical
All circuits use 20A twist-lock connectors.
FOH Catwalk 60' from Proscenium, 27' above deck. 30 circuits per side
There is no center hang position on the FOH catwalks
2 Box Booms each side at 10' and 20' from the Proscenium line. 15 circuits per boom.
1st Electric: 3' 10", 40 circuits
2nd Electric: 11' 5", 24 circuits
3rd Electric: 18' 4", 24 circuits
4th Electric: 23' 9", 40 circuits
96 additional overhead circuits available via drop boxes.
Instruments
Inventory is shared with McArdle Theatre. Check with the Production Manager for availability.
44 ETC S4-10
20 ETC S4-19
75 ETC S4-26
65 ETC S4-36
40 ETC S4-Par
50 ETC S4-ParNel
44 Selecon Pacific 26-50 Zoom
6 Selecon Aurora 4-Cell Cyc Lights
8 MR-16, 3-Circuit Zip Strips
6 VariLite VL2416 Wash Lights
2 Chauvet Rogue R2
Ample collection of cables, two-fers, adaptors, gels, frames, template holders, etc.
Specialty Equipment
2 Lycian SuperArc 400 Follow Spots
22 Choma-Q Mark II Color Scrollers
6 Wybron Forerunner Color Scrollers
4 Apollo Simple Spin Gobo Rotator
1 ReelFX DF-50 Hazer
1 Rosco 1500 Fog Machine
Large supply of Rosco and Lee Gels
Limited collection of Gobos
Rep Plot
4 FOH Washes each using (10) S4-10
3 Back Washes each using (20) 24-Pars and S4-Parnels
4 Side Washes (2 from each side) each using combination of S4-19, S4-26, S4-36
4-Color Cyc Wash
40 Channels of Specials
Complete matching system of colors for the Orchestra Pit/Apron
Projection
Christie WX-10K-M Projector, 10,000 lumens
Roland V-40HD Multi-Format Video Switcher
Denon DBT-1712UD BluRay Player
3 Sharp PG-D50X3D DLP Portable Projectors, 5000 lumens
2 Asus VS239H-P, 23" ISP LED Backlit Confidence Monitors
Power
2 400A Disconnects: One USL, One USR
2 Lex DB100A Power Distro
3 - 200A Disconnects: Two USL, One USR
Light Plot
Seating Chart
Emergency Numbers
Public Safety
906-487-2216
206 MacInnes Drive
Emergency Room
Portage Health
906-483-1000
500 Campus Drive
Fire
906-482-0009
1400 Gundlach Road
Chiropractic Clinic
Keweenaw Chiropractic
906-553-2045
301 W. Lakeshore Drive
Houghton Police
906-482-1700
616 Shelden Avenue
Dental Clinic
Copper Country Family
906-482-0808
502 Shelden Avenue
Ambulance
906-482-0932
119 Franklin Street