Our Rozsa Rental Coordinator is happy to assist you with all of your reservation questions and requests. Please fill out this form if you are interested in renting the Rozsa Center.
The 80,000-foot view. Theater spaces. Galleries. Mezzanines. Conference areas. From the soaring 160-foot glass wall and 20-foot ceilings that greet you in the Samuel and Grace Horner Lobby to intimate meeting spaces for small groups, every inch of Rozsa Performing Arts Center is engineered for special occasions.
We love finding the optimal form for your function in this extraordinary building on Michigan Technological University's beautiful campus.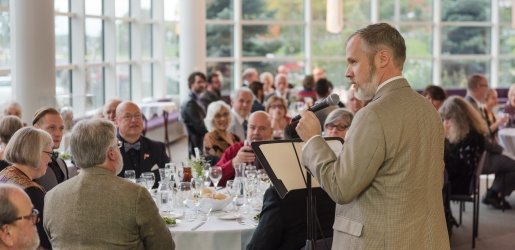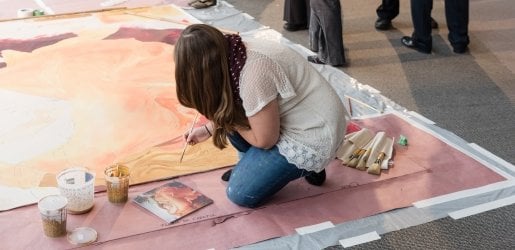 Wedding, reception, memorial? Dinner, dance, award ceremony? Recital, fundraiser, expo?
We do it all, professional conferences to self-development retreats. On-site catering and event coordination available. Michigan Tech Catering is the exclusive cater for the Rozsa Center for the performing Arts.
Stage your performance here.
Beyond generous spaces, our venues offer backstage facilities: dressing room accommodations for more than 50 performers, rehearsal and warm-up rooms, and loading dock space for easy load-ins and -outs. Outstanding production services, technical support, and amenities are a Rozsa hallmark. Let us help make your performance everything it's meant to be.
Plan your visit. Whether it is parking and directions, additional dining options and hotels, or accessibility, we can assist with your needs.
About our Spaces
The arts and state-of-the-art technology meet here, with superb acoustics and great lines of sight for more than 1,000, or the James and Margaret Black Performance Hall reduces to create a small-audience configuration that seats 583 close to the stage in the thick of the action.
The Keweenaw Peninsula's most dramatic indoor venue, the Samuel and Grace Horner Lobby, and one of the largest formal spaces in the region was designed with a neutral color scheme tailor-made for customizing.
Choral Rehearsal Room
Our Choral Rehearsal Room—equipped with a Steinway B piano—is acoustically designed to maximize sound quality for recitals, and rehearsals of all kinds.
Not just for vocalizing, it's Power-Point presentation ready, and ideal for meetings of 50–100. The air-conditioned space features multimedia classroom amenities, including VHS/DVD movie projection and stereo sound.