Feasts. Fun. Family. From an Alice In Wonderland tea party to fantastically intricate machines fit for an HG Wells fantasy (or an engineering school), Rozsa Center for the Performing Arts brings the excitement before and after special performances. Masterclasses, meet-and-greets, and pre-show conversations immerse our campus and community in creativity, bringing together artists and craftspeople across disciplines and generations.
More than events – experiences. We're grateful to the local sponsors who make it happen. Let us know if you'd like to help.
2021-2022 Season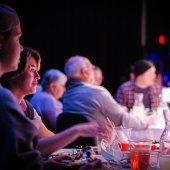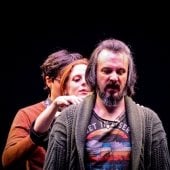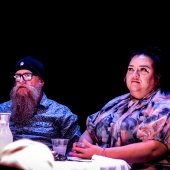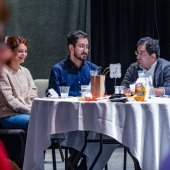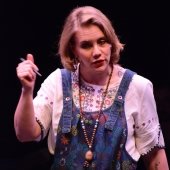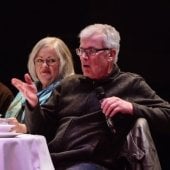 Aftershow Discussion
Performance: The Thanksgiving Play by Larissa Fasthorse
Performed by Wolf's Head Theater Company
A post-play discussion about The Thanksgiving Play with a unique group of panelists for each performance.
---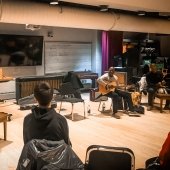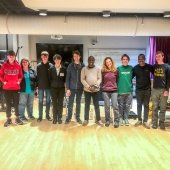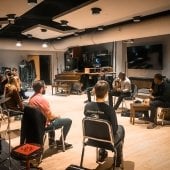 Master Class/Jam Session
Performance: Vieux Farka Touré
Vieux Farka Touré taught students, faculty, and people from the community before having a jam session with them before an evening show.
---
2019-2020 Season
Fiesta Party
Performance: Fiesta! Latin American Music for All Ages
Co-Sponsor: Superior Wind Symphony, Puppet Workshop, and Youth Choir
A pre-concert party with crafts, storytelling, music, and poetry in both Spanish and English.
---
2018-2019 Season
Geppetto's Workshop
Performance: Pinocchio
Co-Sponsor: KC Bonkers and the Portage Lake District Library
An interactive puppet workshop, with an on-stage tour of the Pinocchio set, a shadow puppet theatre, a sock-puppet creation-station in the Rozsa lobby, complete with refreshments and puppetry-themed fun for all ages.
---
Rocky Horror Picture Show Pre-Party
Performance: Rocky Horror Picture Show
Co-Sponsor: Keweenaw Young Professionals and Keweenaw Pride
The Rozsa celebrated the 43rd Anniversary of the Rocky Horror Picture Show with all of our creatures of the night! Cocktails, themed food, costumes, and time warp basics, and were enjoyed at the pre-party. Keweenaw Young Professional provided survival kits to the audience and participants entertained the audience by acting out scenes.
---
2017-2018 Season
The Mountaintop Cast Q and A
Performance: Katori Hall's The Mountaintop
Co-Sponsor: Michigan Tech's National Society of Black Engineers and Center for Diversity and Inclusion
Cast members shared their experiences as actors and their journey in portraying such impactful and pivotal characters Katori Hall brought to life. When cast reflected on their perspective of Hall's vision, they viewed The Mountaintop as humanizing an otherwise iconic and idealized MLK and hope audiences will continue to keep fighting and pushing for inclusivity.
---
Cocktails After Dark
Performance: PUSH Physical Theatre: Dracula
Co-Sponsor: Keweenaw Young Professionals
Audience donned their darkest apparel for the Cocktails After Dark afterparty. After PUSH Physical Theatre's dark and daring production of Dracula, the cast joined guests in the lobby for specialty cocktails, games, and tasty treats.
---
2016-2017 Season
Tea Party
Performance: Alice in Wonderland
Sponsor: KC Bonkers/Portage Lake District Library
KC Bonkers Tea and Toy shop and Portage Lake District Library created a magical Alice in Wonderland post-show tea party complete with cookie decorating, magic tricks, coloring, and, of course, tea!
---
Steam Punk
Performance: Cirque Mechanics: Pedal Punk
Sponsor: Mind Trekkers
Michigan Tech Mind Trekkers brought their nationally renowned STEM road show for a full day of science, technology, engineering, math, and art to get students geared up for the Cirque Mechanics: Pedal Punk performance. Students toured the Cirque Mechanics stage, met the cast, played with robots, and explored the sciences that makes art #smartart