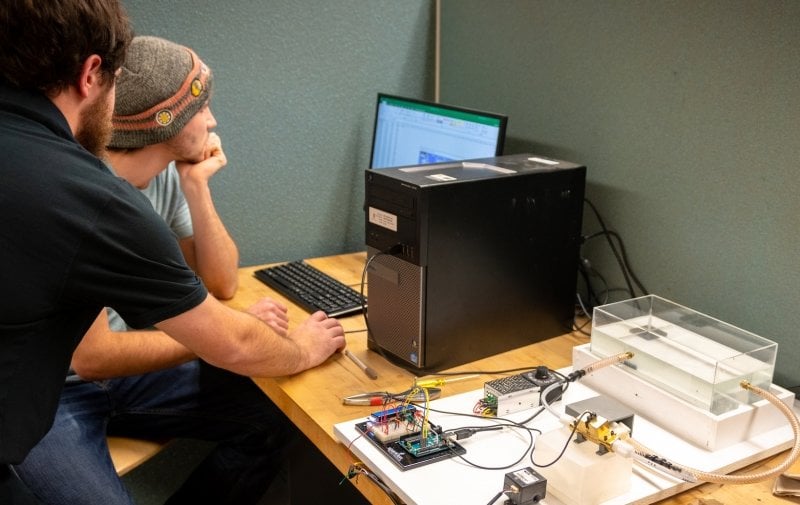 Flow Meter for Power Plant Water Quality Analysis Equipment
Team Members
Michael Pugh, Devon DeVriendt, and Andrew Johnson, Mechanical Engineering Technology
Advisors
John Irwin and Sunil Mehendale, College of Engineering
Sponsor
Sentry Equipment
Project Overview
The flow meter team, comprised of three mechanical engineering technology seniors, has been tasked by Sentry Equipment to develop a small electro-mechanical device to be used in the process of water quality sampling within a steam power plant generation system. The meter will be used to ensure that no minerals or other contaminants have settled or adhered to the piping system while the water is on its way to be analyzed. The lack of commercially available flow meters that meet the requirements set forth by Sentry Equipment have presented an opportunity to formulate potential solutions to this dilemma.
---
Laser Safety Proposal for Minerals and Materials Room 329
Team Members
Margaret Miko and Timothy Ingram, Mechanical Engineering Technology
Advisors
John Irwin, College of Engineering; Russell Stein, Paul Sanders, Materials Science and Engineering
Sponsor
Department of Materials Science and Engineering
Project Overview
Due to the presence of a new laser, there are increased risks and hazards introduced to Michigan Tech, which results in the need for additional safety precautions and equipment in order to isolate the laser beam, protect the operator, and protect bystanders. Upon receiving the laser, there was a lack of information concerning the operation and functionality of components, which will need to be assessed prior to implementation of laser specific safety features.
---
More Senior Design Projects
Mobile Wellness Systems (International Business Ventures Student Enterprise)
R/V Agassiz Forward Cabin Design (Great Lakes Research Center)
Die Casting Machine Installation (Material Sciences Department, Michigan Tech)
Four Season Fun (Student-initiated Project)
CNC Router Table (Calumet High School)
Car Turntable (Laurium Manor Inn)