Services
The Department of Manufacturing and Mechanical Engineering Technology maintains a machine shop with comprehensive facilities available to Michigan Tech students. The shop also offers machining and fabrication services for the university research community.
Capabilities
The shop facility is made up of several distinct areas: the main shop area containing traditional metalworking machines including CNC and manual lathes and mills, bandsaws, drill presses, grinders, sanders, CNC plasma cutter and a welding area; an assembly area, where student groups have designated space; a prototyping and reverse-engineering room which includes a portable laser scanner and industrial quality 3D printers; and a student computing area with six workstations and space for design briefings and team meetings.
What equipment is available?
The shop boasts a wide selection of equipment. View the full technical specs for each of the tools listed below.
Five mills
Five lathes
Two drill presses
Three band saws
Three sanders, including one combination sander
Two grinders
Five different types of welders
A hydraulic press
A hydraulic press brake
A notcher and a bender for working with piping/tubing
A hydraulic metal shear
A plasma cutter
A CNC plasma table
FARO Edge arm for scanning and measuring
Stratasys Fortus 400mc 3D prototyping machine
3D Systems Figure 4 Standalone Industrial 3D Printer plus curing station
3D Systems Material Jetting MJP 3600
Access
Students have the convenience of working through all phases of a project in one location: from design and computer modeling to fabrication to assembly. Additionally, shop hours are extended during the academic year to accommodate students' schedules.
Who uses the MMET Machine Shop?
All Mechanical Technology students
Mechanical Engineering Technology classes
Senior Design teams
Enterprise teams including Supermileage Systems, Blizzard Baja SAE, Clean Snowmobile, BoardSport Technologies, and Velovations
Graduate students
Faculty, staff and researchers
What training is required?
The shop facility is open to all students in technology programs, and a limited number of other Michigan Tech students, who have completed the appropriate safety and machining skills training. Training sessions are offered during the first 2-3 weeks of each semester and enrollment in the sessions is limited due to space and available shop time. Priority is given to students in technology programs and selected students from Michigan Tech Enterprise Teams.
Contact Nick Hendrickson to schedule training.
Policy
The primary focus of the shop facility is safety in all operations and strict guidelines are in place to provide a safe, clean and organized environment for working and learning.
Safety Resources
Machine Shop Manual—safety and shop use guideline
Safety First Alert—sign up for emergency communications
Emergency Guide—information for emergency situations
Public Safety and Police Services—police programs and services
Facility Access—after hour building and room access
Contact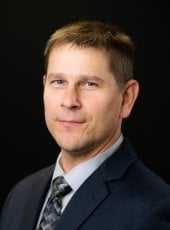 Professor of Practice, Manufacturing and Mechanical Engineering Technology
Director, Machining and Additive Manufacturing Facilities
Faculty Advisor, Advanced Metalworks Enterprise