Miguel Levy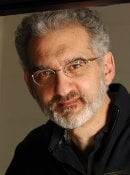 Professor, Physics and Materials Science and Engineering
PhD, Physics, City University of New York
Research Description
Professor Levy's research activities presently center on photonics, with an emphasis on nonreciprocal phenomena, magneto-photonics and nanophotonics.
Links of Interest
Research Interests
Photonics
Nonreciprocal Phenomena
Recent Publications
D.O. Ignatyeva, D. Karki, A.A. Voronov, M.A. Kozhaev, D.M. Krichevsky, A. Chernov, M. Levy, V.I. Belotelov, "All-dielectric magnetic metasurface for advanced light control in dual polarizations combined with high-Q resonances," Nature Communications 11, 5487 (2020).
A. Chernov, M. Kozhaev, D. Ignatyeva, E. Beginin, A. Sadovnikov, A. Voronov, D. Karki, M. Levy, V. I Belotelov, "All-dielectric nanophotonics enables tunable excitation of the exchange spin waves," Nano Letters 20 (7), 5259–5266 (2020). https://doi.org/10.1021/acs.nanolett.0c01528.
Andrey Voronov, Mikhail Kozhaev, Dolendra Karki, Daria Ignatyeva, Miguel Levy, Vladimir Belotelov, "Magneto-optics of subwavelength all-dielectric gratings," Opt. Exp. 28 (12), 17988-17996 (2020). https://doi.org/10.1364/OE.394722.

Dolendra Karki , Vincent Stenger, Andrea Pollick, and Miguel Levy, "Broadband Bias-Magnet-Free On-Chip Optical Isolators With Integrated Thin Film Polarizers," IEEE/OSA Journal of Lightwave Technology, 38 (4), 827-833 (2020). DOI: 10.1109/JLT.2019.2949377
Dolendra Karki, Ramy El-Ganainy, and Miguel Levy, "Toward High-Performing Topological Edge-State Optical Isolators," Phys. Rev. Applied 11, 034045 (2019).
Patents
Thin-Film Magneto-Optic Polarization Rotator, US Patent No. 5,408,565, issued 1995.
Crystal Ion Slicing of Single-Crystal Films, US Patent No. 6,120,597, issued 2000.
Slicing of Single-Crystal Films Using Ion Implantation, US Patent Nos. 6,503,321 and 6,540,827 B1, issued 2003.
Method for Fabricating Ultra-Thin Single-Crystal Metal Oxide Wave Retarder Plates and Waveguide Polarization Mode Converter Using the Same, US Patent No.6,641,662, issued 2003.
Waveguide Mach-Zehnder Optical Isolator Utilizing Transverse Magneto-Optical Phase Shift, US Patent No. 6,943,932, issued 2005.
Magneto-Photonic Crystal Isolators, US Patent No. 6,952,300, issued 2005.
Graduated PhD and MS Students
Haichun Yang, PhD 2005
Process Engineer, Applied Materials, Santa Clara CA
Rong Li, PhD 2006
Xiaoyue Huang, PhD 2007
Senior Staff Engineer, Advance Dielectrics Team Lead, Seagate Technology, Bloomington, MN
Raghav Vanga, PhD 2008
Cosemi Technologies, Inc, Irvine, CA
Ziyou Zhou, PhD 2009
Senior Engineer, Metrology. Seagate Technology, Bloomington, MN
Zhuoyuan Wu, PhD 2010
Seagate Technology, Bloomington, MN
Ding Chu, MS 2011
Characterization Engineer, Veeco Instruments Somerset, NJ
Pradeep Kumar, PhD 2013
Research Associate, University of Wisconsin, Madison WI
Neluka Dissanayake, PhD 2013
Instructor, Madison College, Madison WI
Honorary Felow, University of Wisconsin-Madison
Ashim Chakravarty, PhD 2015
Postdoctoral Scientist, Spectroscopy of Solids and Interfaces (Prof. Theo Rasing), Radboud University, Nijmegen, Netherlands
Dolendra Karki, PhD 2018, Staff Scientist, Photonica, Inc.