Want to promote your research? We call the practice science communication (sci comm) and it's the art of translating STEM into nontechnical terms.
So you have a big paper coming out. It's been years of research and months of review. People DO want to hear about your work, but you only have a matter of days during which journalists will consider your announcement actual news. And you have about three seconds to capture a reader's attention and 10 seconds to keep it. Then you're lucky if they stick around to read or watch for longer than two minutes and 30 seconds.
What can we do?
First, you don't have to navigate this foreign media process alone. You have an entire creative team in University Marketing and Communications (UMC) to help you. Here are some ways that you can help us help you.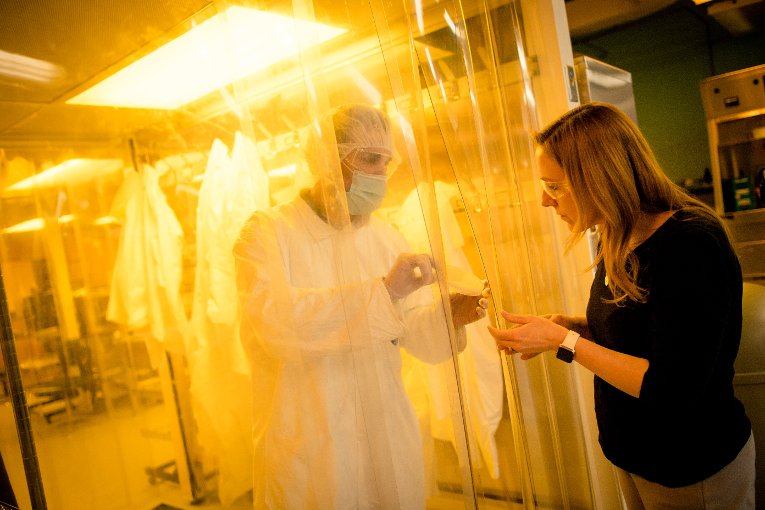 Best Practices
Read this CrossTalk article before talking to anyone from UMC.
Before putting a single word on paper, consider:

WHO you want to reach: This is your target audience(s) and they need to be specific;
WHAT you want to say to them: Realistically, you can only get across a single key message with two to three main points in a news release;
WHERE do you think this story could go: Make a list of news media, industry publications, blogs, and other outlets with editors who may be interested.

Before starting a news release, consider if there is a more appropriate format.
Get ready to let go; you may need to relearn how to write.
"The part we can't stress enough: Tell us when your paper is accepted."
Journalists only care about the online publication date. Embargoes, a set time and date of publication arranged by the journal, are their bread and butter and using them can increase your media coverage by a whopping 40 to 60 percent. It also it takes us two to three weeks to put together a full media package; videos are upwards of six to eight weeks minimum, often longer. To maximize the impact of your research, it's best if we collaborate sooner rather than later because if we miss the sweet spot around a paper's online publication date or when an embargo lifts, then promoting your research as a news story becomes more challenging. If we do miss that cut off, never fear, we have many other options for promoting your work.
We respect all copyright and time constraints with scientific publications and we will not jeopardize your publication by posting materials too early or any graphics that we don't have permissions for. We're used to working with embargoed materials and you are allowed to contact UMC if you have an accepted paper that is under embargo.
Research Media: How to Get Started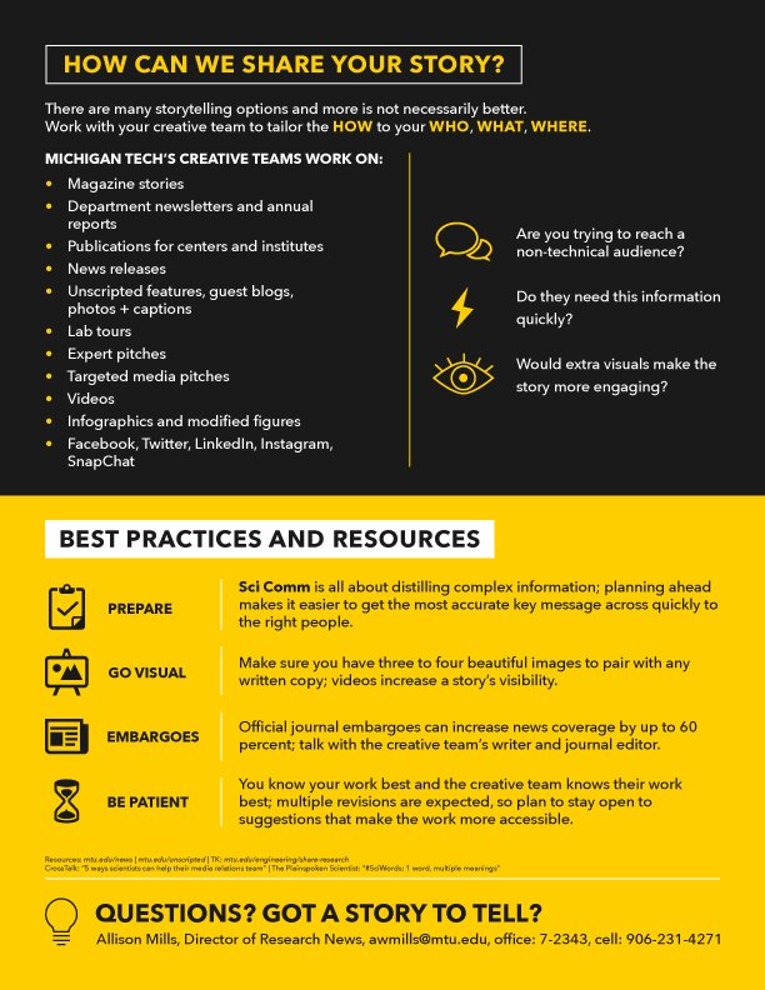 News Writing
Whether you're preparing a news release, speaking into a microphone for an interview, or posting a tweet, all good sci comm grows from the same roots. And each story blossoms in a universal structure: a beginning, a middle, an end. News releases are cultivated in a specific way.
Opening: A journalist calls this a hook, lead, or lede and it catches a reader's attention.
Key Message: Referred to as a "nut graf" where all the most important details are pulled together; if someone reads only this paragraph, they should know what the story is. Think of it as a really, really catchy abstract.
Supporting Details: Go from most relevant to least relevant, the story lays out enough background for new findings to make sense to someone without technical knowledge.
Quotes: News releases are meant to first relay information and second humanize research, so quotes are a good way to bring in researchers and key stakeholder voices.
Visuals: They are essential; they often make or break a news release's success.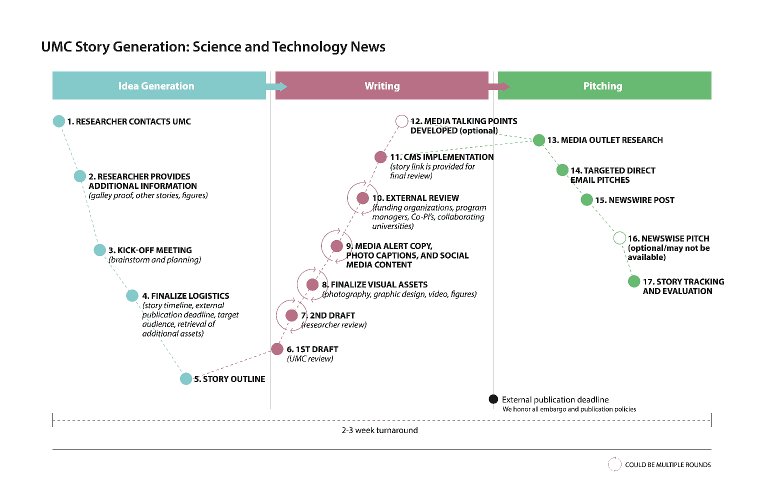 Michigan Technological University is a public research university founded in 1885 in Houghton, Michigan, and is home to more than 7,000 students from 55 countries around the world. Consistently ranked among the best universities in the country for return on investment, the University offers more than 125 undergraduate and graduate degree programs in science and technology, engineering, computing, forestry, business and economics, health professions, humanities, mathematics, social sciences, and the arts. The rural campus is situated just miles from Lake Superior in Michigan's Upper Peninsula, offering year-round opportunities for outdoor adventure.