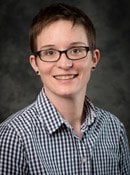 Erin Matas was born into a musical family in Menasha, Wisconsin. Throughout high school, she studied horn with James DeCorsey at Lawrence University. She attended the University of Wisconsin-Madison as one of ten recipients of the annual Summer Music Clinic Scholarship, a full undergraduate tuition waiver for musicians studying non-music degrees. Erin then moved to San Francisco, California where she studied with Alicia Telford and frequently freelanced with the Berkeley Symphony Orchestra, Vallejo Symphony, Symphony Parnassus, and others, and was a regular member of the Pacific Wind Ensemble, a woodwind octet. Erin also recorded with several indie rock bands on their albums.
After completing a Masters degree in Information Science at the University of Michigan, Erin returned to San Francisco and began working as a legal librarian at an international law firm. A once-in-a-lifetime opportunity sent Erin to Brussels, Belgium where she lead the Information Resources team in the firm's Brussels office and studied horn at the Conservatoire royal de Bruxelles under Jean-Pierre Dassonville.
Erin is now a librarian at the Van Pelt and Opie Library and joined the VPA faculty as a horn instructor in 2016. Erin has played with the Keweenaw Symphony Orchestra since 2014 and was featured with the Michigan Tech Concert Choir in 2016 in a piece for harp, organ, and horn. She was also a Clinician for the Keweenaw Music Educators Association Brass Clinic in 2015 and 2018.
When not playing music, you can find Erin vegetable gardening or exploring the Tech Trails and beaches with her spouse, Cécile, their young twins, Juliette and Max, and their dog, Daisy.
---