Top-Notch Degree for a High-Impact Profession
The Master of Science in Kinesiology at Michigan Tech provides an excellent education paired with advanced research opportunities in health and human movement, which add up to a competitive edge for graduates.
Do your interests lie in cardiac rehabilitation, strength and conditioning, fitness training and management, sports administration, or research/teaching in health and kinesiology? If you would like to pursue a career in any of these fields, allow us to prepare you for a high-impact profession.
Because kinesiology is a highly interdisciplinary field, our master's students cross departmental borders and collaborate with faculty and students in areas such as biological sciences, human factors, and biomedical engineering.
Achieving Excellence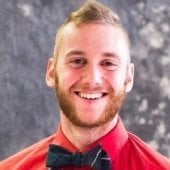 Thomas Bye, Kinesiology (MS '19) was selected as an honorable mention finalist for the 2019 American Kinesiology Association (AKA) National Master's Scholar Award. The AKA is an organization of over 175 kinesiology departments housed in colleges and universities nationwide and promotes and enhances kinesiology as a united field of study. Thomas was selected from a national pool of AKA nominated scholars. He will receive a certificate and be listed in the archive of award recipients on the AKA website.
Degree Options
Our program offers both a thesis option and a course work option. The thesis option includes course work and research in exercise and integrative physiology, biomechanics, or human performance. The course work option includes a more directed course work plan that is capped with an extended internship experience in cardiac rehabilitation, strength and conditioning, or fitness training/management.
This option requires a research thesis prepared under the supervision of the advisor. The thesis describes a research investigation and its results. The scope of the research topic for the thesis should be defined in such a way that a full-time student could complete the requirements for a master's degree in 12 months or three semesters following the completion of coursework by regularly scheduling graduate research credits. The thesis must be prepared following the current procedures.
At least two weeks prior to the oral examination, students must
Schedule the final oral examination by completing a scheduling request on

MyMichiganTech

Submit a draft thesis to the Graduate School
Distribute the thesis to the examining committee
The Degree schedule form must be approved before a defense is scheduled.
Students must also report the results of the oral examination and submit a final thesis to the Graduate School prior to completing their degrees.
The minimum requirements are as follows:
Total Credit Requirements

| Option Parts | Credits |
| --- | --- |
| Coursework (minimum) | 20 Credits |
| Thesis research | 6-10 Credits |
| Total (minimum) | 30 Credits |
Distribution of Coursework Credit

| Distribution | Credits |
| --- | --- |
| 5000-6000 series (minimum) | 12 Credits |
| 3000-4000 (maximum) | 12 Credits |
This option requires a minimum of 30 credits be earned through coursework. Use of limited number research credits in partial fulfillment of the requirements for a coursework degree may be allowed in exceptional cases. Students wishing to apply research credits toward a coursework degree must obtain approval from their advisor and department. The department must then obtain approval from the Graduate School. Approval will only be granted when there is evidence that an appropriate body of work has been completed, sufficient deliverables have been produced, and circumstances beyond the students' control have made it necessary for them to change from a research-based to a coursework-based degree program.
A graduate program may require an oral or written examination before conferring the degree.
Distribution of Coursework Credit

| Distribution | Credits |
| --- | --- |
| 5000-6000 series (minimum) | 18 Credits |
| 3000-4000 (maximum) | 12 Credits |
For more-detailed information, see Degree Requirements and our Graduate Student Handbook.
Research Opportunities
Kinesiology faculty are deeply engaged in teaching, mentoring, and research focusing on health and human performance. The department currently has two faculty externally funded by the prestigious American Heart Association Scientist Development Grant program.
Over the past five years, the department has received external research funding from national health organizations including
National Institutes of Health,
American Heart Association, and
American Physiological Society.
Students conduct research in areas as diverse as
neural control of circulation,
molecular mechanisms involved in hypertension,
human biomechanics,
muscular fatigue and aging, and
human performance in collegiate athletes.
The department's cutting-edge research facilities and equipment include
a microneurography nerve traffic analysis system,
electrocardiogram units and amplifiers,
a lower-body negative-pressure chamber,
six Vicon motion-capture cameras,
a metabolic cart for VO2 max, and
a venous occlusion plethysmograph for limb blood flow measurements (calf and forearm).