80% of the Earth's inhabitants are not considered by designers of infrastructure, goods, and services.
The D80 Conference is a dialog and celebration of our efforts to solve issues that confront the world's poorest 80%. Together we are creating a better future.
The Michigan Tech campus hosts this annual conference every fall to give a platform to the voices of university students serving communities-in-need, both domestically and abroad. Our conferences highlight service and research work done by students from Michigan Tech and elsewhere, and are open to anybody interested in development, design, and discovery for the poorest 80% of humanity. The public is always welcome.
Keynote Speaker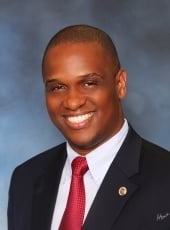 Otha Thornton is the owner and Principal Consultant for the Thornton Consulting Group. Previously he taught at Athens Technical College in Athens, Georgia. He was a former Senior Operations Analyst with General Dynamics Information Technology at Fort Stewart, Georgia and the 53rd President of National PTA. He was the first and only African-American male in the National PTA's 121-year history. He is a retired United States Army Lieutenant Colonel and his last two assignments were with the White House Communications Agency and United States Forces-Iraq in Baghdad. Thornton earned the Bronze Star Medal for exceptional performance in combat operations during Operation Iraqi Freedom 2009-2010. He also earned the Knowlton Award for his distinguished service as an Army Intelligence Officer. He recently was a state party's nominee for Georgia's State School Superintendent where he earned 1.8 million votes in the 2018 general election.
Thornton is active in his community and around the nation. Otha currently serves as a Director on the Michigan Tech University Honors College External Advisory Board and an Advisory Group member for Georgia's Partnership for Excellence in Education. He is also active with his church and Alpha Phi Alpha Fraternity. He is a life member of the National Eagle Scout Association and has more than 25 years of active service in the United States and around the world. He has won numerous awards to include: the 2018 National PTA Lifetime Achievement Award, 2017 National 4-H Luminary Award, Ebony's 2013 Power 100 List, 2010 Morehouse College Alumnus of the Year, 2010 D.C. Morehouse Man of the Year, Michigan Technological University Outstanding Young Alumni Award, Kentucky Colonel award recipient and over a dozen lifetime achievement membership awards from State PTAs across the country.
Previously, Thornton served on National PTA's Board of Directors, Legislative, Membership, Organizational Effectiveness, Communications, and Executive Search Committees. Thornton served as a member of Anne Arundel County's Superintendent High Performing High School Task Force. In addition, he was appointed by the governor of Maryland to serve on a Maryland Education Task Force.
Thornton received his bachelor's degree in urban studies from Morehouse College and a master's degree in communications from Michigan Technological University. He was awarded an honorary doctorate degree from Michigan Technological University.
Sample Schedule
The 2019 theme is "The Intersection of Public Service and Community Engagement," and a schedule will be available soon. Please see the 2018 schedule below for a sample of programming at the D80 Conference. Photos of the 2018 D80 Conference can be viewed and downloaded here.
2018 Schedule
Time
Event
8:30 a.m.
Registration Opens
9 a.m.

Welcome

Dr. Audra Morse

Department Chair, Civil and Environmental Engineering




D80 History

Dr. Dave Watkins

Distinguished Professor, Civil and Environmental Engineering

9:15 a.m.

World Cafe Conversations

Panama Water Systems - iDesign

Ghana Project Presentation - Global Leadership

Tanzania Project Presentation - Global Leadership

The Cultural Experience of International Immersion - Global Leadership

Upper Peninsula Education System - Peace Corps Prep

10:20 a.m.
Break
10:30 a.m.

Breakout Sessions

Working For a Cause, Not Just a Company

Facilitator: Melissa Michaelson, MTU Career Services

A panel of professionals in academia and industry will discuss how they've incorporated "a cause" into their life's work.



Emily Leach: Superior Watershed Partnership
Dr. Alex Mayer: MTU - Geological & Mining Engineering
Emily Gochis: MiSTEM in the Western U.P.
Dr. Melissa F. Baird: MTU - Social Sciences
Jill Fisher: Keweenaw Land Trust


Design Thinking: Putting People First

Facilitators: Amanda Moya & Andrew Miscimarra, Global Leadership Students

In this workshop participants with gain an understanding of the basics of Design Thinking and how it can help to facilitate a human-centered approach to design. Utilizing makerspace resources participants will try their skills at designing an innovative solution to a D80 challenge.

11:20 a.m.
Break
11:30 a.m.

Lunch

Keynote Introduction: Mary Raber, Pavlis Honors College

Keynote Address: Erna Grasz, Asante Africa Foundation
12:45 p.m.

Breakout Sessions




The "Art" of D80

Facilitator: Darnishia Slade, Pavlis Honors College

Panelist will discuss how they utilize their artistic gifts to expose, design, and address the needs of the world's poorest 80%.



Dr.Tomas B. Co - MTU - Chemical Engineering
Dr. Erin Smith - MTU - Humanities Digital Media Zone
Amanda Vermeer - Global Leadership Student (Ghana)




Doing Our Part: Alternative Spring Break (ASB) Service Trips

Facilitator: Laura Schimmel, Global Leadership Student

Panelist will discuss various ASB trips which allowed them to gain awareness to the challenges of the communities they visited as well as the benefits that volunteering provided to both the students and the communities.



Memphis, TN - Center for Diversity and Inclusion
Detroit, MI - National Society of Black Engineers
D.C., N. Carolina & New Mexico - Habitat for Humanity

1:35 p.m.
Break
1:50 p.m.

World Cafe Conversations

PanaMac Bridge Team - iDesign

The Many Faces of Central Appalachian Poverty - Peace Corps Prep

Designing a well in the rural highlands of Guatemala - Engineers Without Borders

2:55 p.m.
Closing Remarks
Sponsors
The D80 Conference and Otha Thornton's visit are partially sponsored/funded by the Pavlis Honors College, the Sustainable Futures Institute, and the Visiting Women & Minority Lecturer/Scholar Series (VWMLSS) which is funded by a grant to the Office of Institutional Equity and Inclusion from the State of Michigan's King-Chavez-Parks Initiative.