Student Testimonial
---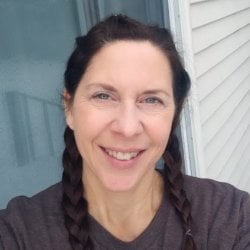 Lisa Day '20
Why did you decide to pursue a Health Informatics MS degree?
To increase my knowledge in the area of health informatics and to expand my career options in Health and/or Nursing Informatics.
What are the advantages of completing a HI master's degree?
To gain an understanding of how health information is shared between many areas including providers, institutions and research entities; how that information is protected and the rules and laws around that process; understanding how technology is benefitting not only how data is handled but how it is being used to improve patient care and patient outcomes; learning about the gaps or struggles that currently exist in regards to data sharing.
What things/people/courses do/did you like about the HI master's program? Why?
I had great instructors (Boyle, Cai, Hembroff) that went out of their way to connect my limited knowledge of technology and my more robust clinical knowledge with whatever subject was being taught. They are not only knowledgeable but passionate about what they are teaching. I gained a large amount of understanding around vocabulary and processes used in the research world that are an asset to the job I do now. I enjoyed the online hybrid format of watching recorded live lectures and having access to the professors and other students for assistance.
How does completion of the HI master's benefit you in your career?
I feel this degree was instrumental in helping me obtain my current role.
What else would you like to add about the Health Informatics MS. program?
It was overall a very positive experience and I have recommended the program to many people. It always amazes me what can be done with AI to improve patient care and how fast this area is moving and changing. I'm especially interested in the areas of NLP and precision medicine.
Lisa Day works as a Clinical Data Specialist for the University of Michigan Medical School Office of Research.
---