Trisha Sain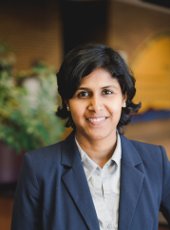 Associate Professor, Mechanical Engineering-Engineering Mechanics
PhD, Civil Engineering, Indian Institute of Science, India (2008)
MSc, Civil Engineering, Indian Institute of Science, India (2003)
BE, Civil Engineering, Jadavpur University, India (2001)
Biography
Dr. Trisha Sain joined the Mechanical Engineering - Engineering Mechanics department at Michigan Tech August 2016 as an Assistant Professor. Prior to joining Michigan Tech she was an Assistant Professor in the Department of Mechanical Engineering, North Carolina A&T State University, Sep 2013 - Aug 2016. She has Post-doctoral experience at University of Michigan, Ann Arbor, 2011-2013, Mechanical Engineering, Aerospace Engineering (Joint Appointment) and Post-doctoral experience at Technical University of Catalunya, Barcelona, Spain, 2009-2011.
Her research focuses on understanding the behavior of advanced engineering materials based on the principle of solid mechanics. The current emphasis is on-
multiscale and coupled physics behavior of polymers and polymer composite materials;
fracture, damage and impact behavior of materials;
degradation of metallic implants in biomedical applications
uncertainty quantification of physics based modeling.
Links of Interest
Research Interests
Multiscale, multiphysics modeling of aging in polymers & polymer composites
Degradation of metallic implants in physiological environment
Fracture, damage and impact behavior on materials
Analysis, design and testing of novel multifunctional lightweight polymer composite materials
Please follow my Google scholar link for the full publications list
Konica, Shabnam, and Trisha Sain. "A reaction-driven evolving network theory coupled with phase-field fracture to model polymer oxidative aging."

Journal of the Mechanics and Physics of Solids

150 (2021): 104347.

Ahmed, Hossain, Susanta Ghosh, Trisha Sain, and Sourav Banerjee. "Hybrid Bessel beam and metamaterial lenses for deep laparoscopic nondestructive evaluation." Journal of Applied Physics 129, no. 16 (2021): 165107.
Konica, Shabnam, and Trisha Sain. "A thermodynamically consistent chemo-mechanically coupled large deformation model for polymer oxidation." Journal of the Mechanics and Physics of Solids 137 (2020): 103858.
Egboiyi, Benedict O., and Trisha Sain. "Effect of Ion-Exchange Chemistry on the Fracture of Chemically Strengthened Sodium Aluminosilicate Glass." In ASME International Mechanical Engineering Congress and Exposition, vol. 59469, p. V009T11A058. American Society of Mechanical Engineers, 2019.
Imam, Muhammed R., Sain, Trisha, "Effects of Cohesive Interfaces and Polymer Viscoelasticity on Improving Mechanical Properties in an Architectured Composite," International Journal of Solids and Structures, Vol. 159, Mar 2019, pp. 289 – 300. DOI:10.1016/j.ijsolstr.2018.10.008
S Haldar, T Sain, S Ghosh, "A Novel High Symmetry Interlocking Micro-architecture Design for Polymer Composites with Improved Mechanical Properties," International Journal of Solids and Structures, Oct 2017, Vol 124, pp. 161-175. doi.org/10.1016/j.ijsolstr.2017.06.030 Read More
B Yeom, T Sain, N Lacevic, D Bukharina, SH Cha, AM Waas, EM Arruda, "Abiotic Tooth Enamel," Nature 543 (7643), pp. 95-98, online March 2017. doi:10.1038/nature21410 Read More