Jill A. Olin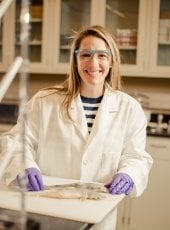 Assistant Professor, Biological Sciences
PhD, Environmental Science, University of Windsor
MS, Marine Biology, Hofstra University
BS, Marine & Freshwater Biology, University of New Hampshire
Biography
I am a community ecologist who studies the processes that affect the structure and stability of ecosystems. I study these issues in coastal marine and freshwater ecosystems due to the diversity and economic importance of species inhabiting these environments and toward the fact that they are under threat from anthropogenic influences. I use food web, community assembly and fisheries theory to explore the following research areas; (1) the intra- and inter-species interactions and trophic structuring of communities within a hierarchical construct; (2) the distribution patterns of organisms and the mechanisms that drive these patterns and; (3) the relative influence of anthropogenic threats and climactic drivers on ecosystem dynamics and resilience. I combine dietary biomarkers techniques with ecological and modeling approaches to explore questions with the overriding aim of providing data for conservation across multiple levels of organization.
Currently I teach courses in Ecology and Evolution, Marine Ecology and Ecogeochemical Tracer Techniques.
Links of Interest
Research Interests
Community Ecology
Trophic Interactions
Marine Ecology
Ecogeochemical Tracer Techniques
(graduate student; *undergraduate student)
Keppeler FW, Junker JR, Shaw MJ, Alford SB, Engel AE, Hooper-Bui LM, Jensen OP, Lamb K, López-Duarte P, Martin CW, McDonald AM, Olin JA, Paterson AT, Polito MJ, Rabalais NN, Roberts BJ, Rossi RE, Swenson EM. (2023). Can created saltmarshes match biodiversity of pre-existing ones across scales? An assessment from microbes to fishes. Ecosphere 14 (3):e4461.
Saavedra NE, Rush SA, Olin JA, Paterson G. (2023). Resolving resource partitioning among sympatric forage fish: Insights from a multi-tracer approach. Freshwater Biology 68 (2): 288‒300.
Bopp J, Olin JA, Sclafani M, Peterson B, Frisk MG, Cerrato RM. (2023). Contrasting trophic niche and resource-use dynamics across multiple American horseshoe crab (Limulus polyphemus) populations and age groups. Estuaries & Coasts 46:227‒245.
Shipley ON, Manlick P, Newsome SD, Newton AH, Camhi M, Matich P, Frisk MG, Henkes GA, LaBelle J, Olin JA. (2022). Energetic consequences of resource use diversity in a marine carnivore. Oecologia 200:65–78.
Shipley ON, Olin JA, Whiteman JP, Bethea D, Newsome S. (2022). Bulk and amino acid nitrogen isotopes suggest shifting nitrogen balance of pregnant sharks across gestation. Oecologia 199:313–328.
Blake RM, Olin JA. (2022). Responses to simultaneous anthropogenic and biological stressors were mixed in an experimental saltmarsh ecosystem. Marine Environmental Research 179:105644.
Keppeler FW, Olin JA, López -Duarte P, Polito M, Hooper-Bui L, Taylor S, Rabalais N, Fodrie J, Roberts B, Turner, RE, Martin CM, Jensen O. (2021). Body size, trophic position, and the coupling of different energy pathways in saltmarshes. Limnology & Oceanography Letters 6:360–368.
Moyo, S, Bennadji H, Laguaite D, Perez-Umphrey AA, Snider AM, Bonisoli Alquati, A, Olin JA, Stouffer PC, Taylor SS, López-Duarte P, Roberts B, Hooper-Bui L, Polito MJ. (2021). Stable isotope analyses identify trophic niche partitioning between sympatric terrestrial vertebrates in coastal saltmarshes with differing oiling histories. PeerJ 9:e11392.
*Roose H, Paterson G, Frisk MJ, Cerrato RM, Nitschke P, Olin JA. (2021). Regional variation in mercury bioaccumulation among NW Atlantic Golden (Lopholatilus chamaeleonticeps) and Blueline (Caulolatilus microps) Tilefish. Environmental Pollution 284:117177.
Shipley ON, Newton AH, Frisk MG, Henkes GA, Walters H, LaBelle J, Hyatt M, Camhi M, Olin JA. (2021). Stable isotope clocks predict migration timing of juvenile sharks into seasonal nursery grounds. Methods in Ecology & Evolution 12:897–908.
Shipley ON, Kelly J, Bizzarro JJ, Olin JA, Cerrato RM, Power M, Frisk MG (2021). Evolution of Eltonian niches across diverse Rajidae populations. Ecosphere 12 (2):e03368.
Olin JA, Shipley ON, Cerrato RM, Nitschke P, Magen C, Frisk MG (2020). Separation of realized ecological niche axes among sympatric tilefishes provides insight into potential drivers of co-occurrence in the NW Atlantic. Ecology & Evolution 10:10886–10898.
Olin JA, Cerrato RM, Nye JA, Sagarese SR, Sclafani M, Zacharias J, Frisk MG (2020). Evidence for ecosystem changes within a temperate lagoon following a hurricane-induced barrier island breach. Estuaries & Coasts 43:1625–1639.
Functional ecological equivalence of natural vs. restored saltmarsh for fisheries production
Landscape drivers of metacommunities
Meta-population dynamics of deep-water fishes
Movement and foraging dynamics of highly migratory sharks
Climate-change influences on amplifier lake ecosystem dynamics