Evan S. Kane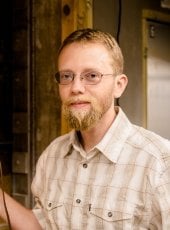 "If trees could run away from their place of establishment, believe me many of them probably would!"
Contact
906-482-6303
Forest Service Building 123
PhD, Interdisciplinary Forest Ecology, University of Alaska Fairbanks
MS, Forestry, Michigan Technological University
BS, Ecology and Environmental Science, Michigan Technological University
Belowground Processes
I am broadly interested in nutrient dynamics in terrestrial and aquatic ecosystems, particularly in "hotspots" of soil carbon storage. As such, research has focused on belowground changes in northern peatlands, boreal ecosystems, and temperate forests, and the corresponding changes in dissolved chemistry. Ecosystem change is a pretty relative concept, but study designs incorporating experimental manipulation or natural disturbances can be particularly persuasive in learning an ecosystem's secrets.
Natural disturbances offer great opportunities to determine how ecosystems reorganize, and wildfires in particular can dramatically alter how long carbon can stay in above and belowground components of an ecosystem. Besides, getting outside and seeing first-hand how disturbances such as flooding or wildfire have altered the functioning of an ecosystem is just really exciting!
Areas of Expertise
Soil carbon
Plant/soil relationships
Decomposition
Dissolved organic carbon
Wildfire
Black carbon
(* asterisk denotes student mentee)

Rober AR, Lankford AJ, Kane ES, Turetsky MR, Wyatt KH. 2023. Structuring Life After Death: Plant Leachates Promote CO2 Uptake by Regulating Microbial Biofilm Interactions in a Northern Peatland Ecosystem. Ecosystems, https://doi.org/10.1007/s10021-023-00820-w.
Watmough S, and 62 other authors including Kane ES. 2022. Variation in carbon and nitrogen concentrations among peatland categories at the global scale, PLoS ONE, 17(11):e0275149. DOI: 10.1371/journal.pone.0275149.
Stuart JEM, Tucker CL, Lilleskov EA, Kolka RK, Chimner RA, Heckman KA, Kane ES. 2022. Evidence for older carbon loss with lowered water tables and changing plant functional groups in peatlands. Global Change Biology, https://doi.org/10.1111/gcb.16508.
*O'Neill A, Tucker C, Kane ES. 2022. Fresh Air for the Mire-Breathing Hypothesis: Sphagnum Moss and Peat Structure Regulate the Response of CO2 Exchange to Altered Hydrology in a Northern Peatland Ecosystem. Water, 14(20) 3239, https://doi.org/10.3390/w14203239.
*Uhelski DM, Kane ES, Chimner RA, Heckman KA, Miesel J, Xie L. 2022. Pyrogenic carbon content of Sphagnum peat soils estimated using diffuse reflectance FTIR spectrometry. Mires and Peat, 28(30), http://mires-and-peat.net/pages/volumes/map28/map2830.php.
*Richard RP, Kane ES, Bronson D, Kolka R. 2022. Whole-tree harvest effects on macronutrients in an oak-dominated system after seven years. Forests, 13, 1532, https://doi.org/10.3390/f13101532.
Kwon MJ, Ballantyne A, Ciais P, Qiu C, Salmon E, Raoult N, Guenet B, Göckede M, Euskirchen ES, Nykänen H, Schuur EAG, Turetsky MR, Dieleman CM, Kane ES, Zona D. 2022. Lowering water table reduces carbon sink strength and carbon stocks in northern peatlands. Global Change Biology, https://doi.org/10.1111/gcb.16394.
Tucker C, *O'Neill A, *Meingast K, Bourgeau-Chavez L, Lilleskov E, Kane ES. 2022. Spectral Indices of Vegetation Condition and Soil Water Content Reflect Controls on CH4 and CO2 Exchange in Sphagnum-Dominated Northern Peatlands. Journal of Geophysical Research- Biogeosciences, DOI10.1029/2021JG006486.
*Uhelski DM, Kane ES, Chimner R. 2022. Plant functional types drive Peat Quality differences. Wetlands, 42(5), 51.
Verbeke BA, Lamit LJ, Lilleskov EA, Hodgkins SB, Basiliko N, Kane ES, et al. 2022. Latitude, elevation, and mean annual temperature predict peat organic matter chemistry at a global scale. Global Biogeochemical Cycles, 36, e2021GB007057. https://doi.org/10.1029/2021GB007057.