Evan S. Kane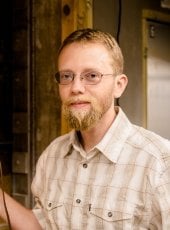 "If trees could run away from their place of establishment, believe me many of them probably would!"
Contact
906-482-6303
Forest Service Building 123
PhD, Interdisciplinary Forest Ecology, University of Alaska Fairbanks
MS, Forestry, Michigan Technological University
BS, Ecology and Environmental Science, Michigan Technological University
Belowground Processes
I am broadly interested in nutrient dynamics in terrestrial and aquatic ecosystems, particularly in "hotspots" of soil carbon storage. As such, research has focused on belowground changes in northern peatlands, boreal ecosystems, and temperate forests, and the corresponding changes in dissolved chemistry. Ecosystem change is a pretty relative concept, but study designs incorporating experimental manipulation or natural disturbances can be particularly persuasive in learning an ecosystem's secrets.
Natural disturbances offer great opportunities to determine how ecosystems reorganize, and wildfires in particular can dramatically alter how long carbon can stay in above and belowground components of an ecosystem. Besides, getting outside and seeing first-hand how disturbances such as flooding or wildfire have altered the functioning of an ecosystem is just really exciting!
Areas of Expertise
Soil carbon
Plant/soil relationships
Decomposition
Dissolved organic carbon
Wildfire
Black carbon
Recent Publications
Herndon EM, Kinsman‐Costello L, Duroe KA, Mills J, Kane ES, Sebestyen SD, Thompson AA, Wullschleger SD. 2019. Iron (oxyhydr)oxides serve as phosphate traps in tundra and boreal peat soils. Journal of Geophysical Research- Biogeosciences. doi.org/10.1029/2018JG004776.

*McPartland MY, Kane ES, Falkowski MJ, Kolka R, Turetsky MR, Palik B, Montgomery RA. 2019. The response of boreal peatland community composition and NDVI to hydrologic change, warming, and elevated carbon dioxide. Global Change Biology, DOI: 10.1111/gcb.14465.

Marcarelli AM, *Coble AS, *Meingast KM, Kane ES, Brooks C, Buffam I, Green S, Huckins C, Toczydlowski D, Stottlemyer R. 2018. Of small streams and Great Lakes: integrating tributaries to understand the ecology and biogeochemistry of Lake Superior. Journal of the American Water Resources Association, 1-17, DOI: 10.1111/1752-1688.12695.

*Richard R, Potvin LR, Kane ES, Handler S, Smith P, Peterson D. 2018. Biochar and wood ash amendments for forestry in the Lake States: field report and initial results. Journal of Forestry, 116(3):222–227.

*Houle GP, Kane ES, Kasischke ES, *Gibson CM, Turetsky MR. 2018. Recovery of carbon pools a decade after wildfire in black spruce forests of interior Alaska: effects of soil texture and landscape position. Canadian Journal of Forest Research, 48(1): 1-10.

*Mosier SL, Kane ES, Richter DL, Lilleskov EA, Jurgensen MF, Burton AJ, Resh SC. 2017. Interactive effects of climate change and fungal communities on wood-derived carbon in forest soils. Soil Biology and Biochemistry, 115: 297-309.

*Hribljan JA, Kane ES, Chimner RA. 2017. Implications of Altered Hydrology for Substrate Quality and Trace Gas Production in a Poor Fen Peatland. Soil Science Society of America Journal, 81(3): 633-646.

Haynes KM, Kane ES, Potvin L, Lilleskov E, Kolka RK, Mitchell CPJ. 2017. Mobility and transport of mercury and methylmercury in peat as a function of changes in water table regime and plant functional groups, Global Biogeochem. Cycles, 31, doi:10.1002/2016GB005471.

*Wiedermann M, Kane ES, Potvin LR, Lilleskov E. 2017. Interactive plant functional group and water table effects on decomposition and extracellular enzyme activity in Sphagnum peatlands. Soil Biology and Biochemistry, 108: 1-8.

Olefeltd D, Euskirchen SE, Harden J, Kane ES, McGuire AD, Waldrop M, Turetsky MR. 2017. Greenhouse gas fluxes and their cumulative response to inter-annual variability and experimental manipulation of the water table position in a boreal fen. Global Change Biology, DOI: 10.1111/gcb.13612.