Evan S. Kane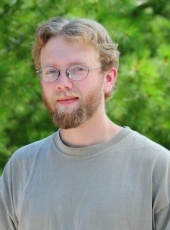 "If trees could run away from their place of establishment, believe me many of them probably would!"
Contact
906-482-6303
Forest Service Building 123
Associate Professor, SFRES
PhD, Interdisciplinary Forest Ecology, University of Alaska Fairbanks
MS, Forestry, Michigan Technological University
BS, Ecology and Environmental Science, Michigan Technological University
Belowground Processes
I am broadly interested in nutrient dynamics in terrestrial and aquatic ecosystems, particularly in "hotspots" of soil carbon storage. As such, research has focused on belowground changes in northern peatlands, boreal ecosystems, and temperate forests, and the corresponding changes in dissolved chemistry. Ecosystem change is a pretty relative concept, but study designs incorporating experimental manipulation or natural disturbances can be particularly persuasive in learning an ecosystem's secrets.
Natural disturbances offer great opportunities to determine how ecosystems reorganize, and wildfires in particular can dramatically alter how long carbon can stay in above and belowground components of an ecosystem. Besides, getting outside and seeing first-hand how disturbances such as flooding or wildfire have altered the functioning of an ecosystem is just really exciting!
Areas of Expertise
Soil carbon
Plant/soil relationships
Decomposition
Dissolved organic carbon
Wildfire
Black carbon
Recent Publications
Turetsky MR, Kane ES, Harden JW, Ottmar KL, Manies KL, Kasischke ES. 2010. A Changing fire regime intensifies boreal burning. Nature- Geoscience. DOI: 10.1038/NGEO1027.
Kane ES, Turetsky MR, Harden JW, McGuire AD, Waddington JM. 2010. Seasonal ice and hydrologic controls on dissolved organic carbon and nitrogen concentrations in a boreal rich fen. Journal of Geophysical Research - Biogeosciences, doi:10.1029/2010JG001366.
Kane ES, Hockaday WC, Turetsky MR, Masiello CA, Valentine DW, Finney BP. 2010. Topographic controls on black carbon accumulation in Alaskan black spruce forest soils: implications for organic matter dynamics. Biogeochemistry. DOI 10.1007/s10533-009-9403-z.
Ball BA, Kominoski JS, Adams HE, Jones SE, Kane ES, Loecke TD, Mahaney WM, Martina JP, Prather CM, Robinson TMP, Solomon CT. 2010. Direct and Terrestrial Vegetation-mediated Effects of Environmental Change on Aquatic Ecosystem Processes. BioScience, 60(8): 590-601.
O'Donnell JA, Aiken GR, Kane ES, Jones JB. 2010. Source water controls on the character and origin of dissolved organic matter in streams of the Yukon River basin, Alaska. Journal of Geophysical Research - Biogeosciences, doi:10.1029/2009JG001153.
van Verseveld WJ, Kane ES, Sobota DJ, Myers-Smith IH, Fellman JB. 2010. Reply to comment on 'Kane et al. 2008. Precipitation control over inorganic nitrogen import-export budgets across watersheds: a synthesis of long-term ecological research. Ecohydrology 1: 105–117'. Ecohydrology, DOI: 10.1002/eco.107.
Ping CL, Michaelson GJ, Kane ES, Packee EC, Stiles CA, Swanson DK, Zaman ND. 2010. Carbon Stores and Biogeochemical Properties of Soils under Black Spruce Forest, Alaska. Soil Science Society of America Journal. doi:10.2136/sssaj2009.0152.