Casey J Huckins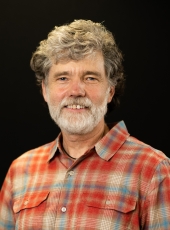 Contact
906-487-2475
Dow 741, GLRC 206
Interim Department Chair, Biological Sciences
Professor, Biological Sciences
PhD, Michigan State University, 1996
Research Description
Research conducted by my lab group is focused on ecology and restoration in aquatic systems including lakes, streams, coastal wetlands and the riparian ecosystems that connect them. The research that my graduate students, our collaborators and I conduct tends to focus on ecological patterns and processes in systems influenced by human actions. In many cases we apply the learned scientific understanding to inform the restoration or rehabilitation of the system or population. Our projects are often motivated by this reciprocal interplay and exchange between restoration and the advancement of scientific understanding. Major projects have/are conducting examine 1) the ecology and restoration of coaster brook trout (Salvelinus fontinalis) and Arctic Grayling, 2) the ecology, restoration, and monitoring of aquatic ecosystems degraded by disturbances (e.g., fine sediment aggradation resulting from logging and roads, historical stamp sand deposition, introduced species); 3) Fish habitat use and interactions, 4) biomonitoring and abiotic assessment of ecosystems such as streams, lakes, and watersheds, 5) understanding the invasion of Eurasian Watermilfoil and assessing its control and predicted establishment. This work is founded on the goal to increase our understanding of the biology, ecology, and natural history of the organisms and systems of interest for their continued restoration and sustainability.
Links of Interest
Research Expertise
Ecology of lakes, streams, and their riparian interface with terrestrial systems
Fish ecology, biology, functional morphology
effects of land use on ecological systems
Biomonitoring for research and restoration
Effects of Invasive Species
Brian M. Danhoff, Casey J Huckins. 2022. Associations between large wood and streambed complexity in headwater streams in the western Upper Peninsula, Michigan, Geomorphology, Volume 406. Read more

Bouma-Gregson, K.; Power, M.E.; Furey, P.C.; Huckins, C.J.; Vadeboncoeur, Y. 2021. Taxon-specific photosynthetic responses of attached algal assemblages to experimental translocation between river habitats.

Freshw. Sci.

40

, 175–190. Read more
Brooks, C., Marcarelli, A., Huckins, C., & Grimm, A. 2021. Water chemistry and aquatic vegetation data from Les Cheneaux Islands, Northern Lake Huron, Michigan, USA, 2016-2018.
Van Goethem*, RR; Huckins, CJ; Marcarelli, AM. 2020. "Effects of Invasive Watermilfoil on Primary Production in Littoral Zones of North-Temperate Lakes." Diversity 12, no. 2: 82.
Danhoff*, BM., and Huckins CJ. 2020. Modelling submerged fluvial substrates with structure-from-motion photogrammetry. River Research and Applications 36:128-137.
Ortiz* JE, Marcarelli AM, Juneau KJ, Huckins CJ. 2019. Invasive Myriophyllum spicatum and nutrients interact to influence algal assemblages. Aquatic Botany 156:1-9. Read more (Great Lakes Research Center Contribution no. 52).
Marcarelli AM, Coble AA, Meingast KM, Kane ES, Brooks CN, Buffam I, Green SA, Huckins CJ, Toczydlowski D, Stottlemyer R. Early View (2019). Of small streams and Great Lakes: Integrating tributaries to understand the ecology and biogeochemistry of Lake Superior. Journal of the American Water Resources Association. Read more.
Goble*, CW., Auer, NA., Huckins, CJ, Danhoff*, BM., Holtgren, JM. and Ogren, SA. 2018. Fish Distributions and Habitat Associations in Manistee River, Michigan, Tributaries: Implications for Arctic Grayling Restoration. North Am J Fish Manage, 38: 469-486. doi:10.1002/nafm.10049.
Danhoff*, BM., CJ Huckins, NA. Auer, CW. Goble, SA. Ogren, and JM. Holtgren. 2017. Abiotic Habitat Assessment for Arctic Grayling in a Portion of the Big Manistee River, Michigan. Transactions of the American Fisheries Society 146:645-662.
Coble AA*, Marcarelli AM, Kane ES, Huckins CJ. 2016. Uptake of ammonium and soluble reactive phosphorus in forested streams: influence of dissolved organic matter composition. Biogeochemistry 131:355-372.
Feringa, M., C. Huckins, W. Mattes, E. Baker, T. Zorn, J. Littlefield, K. Scribner. 2016. "Genetic and phenotypic evidence for splake presence in brook trout and lake trout spawning habitats." Journal of Great Lakes Research 42(3): 738-742. Read more
Marcarelli AM, Huckins CJ & Eggert SL. 2015. Sand aggradation alters biofilm standing crop and metabolism in a low-gradient Lake Superior tributary. Journal of Great Lakes Research 41: 1052-1059. doi:10.1016/j.jglr.2015.09.004.
Ogren, S. A. and C. J. Huckins 2015 Culvert replacements: improvement of stream biotic integrity? Restoration Ecology 23(6): 821-828.
Ogren, S.A., and C.J Huckins. 2015. Awareness of bias in fish indices of biotic integrity improves interpretation of bioassessment. North American Journal of Fisheries Management. (in Press)
Ogren*, S. and C.J Huckins. 2014. Evaluation of suitability and comparability of stream assessment indices using macroinvertebrate data sets from the Northern Lakes and Forests Ecoregion. Ecological Indicators. Volume 40, May 2014, Pages 117–126
Mirchi*, A., D.W. Watkins, Jr., C. J Huckins, K. Madani and P. Hjorth. 2014. Water resources management in a homogenizing world: Averting the growth and underinvestment trajectory. Water Resources Research (in press) Read more
Scribner, K., Huckins, C. J., Baker, E., Kanefsky, J. 2012. Genetic relationships and gene flow between resident and migratory brook trout in the Salmon Trout River. Journal of Great Lakes Research.
Barkdoll, B.D. and C.J Huckins, 2012. The role of bridge scour in relation to stream restoration, Proceedings of the World Environmental and Water Resources Congress 2012 American Society of Civil Engineers, Reston, VA, (pp. 2546-2555).
Harless, M. L., Huckins, C. J., Grant, J. B., Pypker, T. G. (2011). "Effects of six chemical deicers on larval wood frogs", Environmental Toxicity and Chemistry, Environmental Toxicology and Chemistry 30(7):1637–1641.
Van Grinsven, M., Mayer, A. and Huckins, C. (2011), Estimation of Streambed Groundwater Fluxes Associated with Coaster Brook Trout Spawning Habitat. Ground Water. doi: 10.1111/j.1745-6584.2011.00856.x
Huckins, C. J, .E. A. Baker, K. D. Fausch and J. B. K. Leonard. 2008. Ecology and Life History of Coaster Brook Trout Salvelinus fontinalis and Potential Bottlenecks in Their Rehabilitation. North American Journal of Fish Management. 28:1321–1342.
Huckins, C. J., and E. A. Baker. 2008. Migrations and Biological Characteristics of Adfluvial Coaster Brook Trout in a South Shore Lake Superior Tributary. Transactions of the American Fisheries Society. 137:1229-1243.
Webster, C. W., C. J F. Huckins, J. M. Shields. 2008. Spatial Distribution of Riparian Zone Coarse Woody Debris in a Managed Northern Temperate Watershed. American Midland Naturalist. in press.
VanDusen, P. J., C. J Huckins, D. J. Flaspohler. 2005. Associations among selection logging history, brook trout, macroinvertebrates and habitat in Northern Michigan headwater streams. Transactions of the American Fisheries Society. 134:762-774.
Osenberg, C. W., C. J F. Huckins, A. Kaltenberg, and A. Martinez. 2004. Resolving within and between population variation in feeding ecology with a biomechanical model of crushing force. Oecologia. 141:57-65
Flaspohler, D. J., C. J F. Huckins, B. R. Bub, and P. J. VanDusen. 2002. Temporal patterns in aquatic and avian communities following selective logging. Forest Science 48:339-350.
Klinger, R.C., R.F. Floyd, V.S. Blazer, and C.J Huckins. 2001. Nutritional disease of a Lake Victorian cichlid, haplochromis (Prognathrochromis perrieri); a clinical assessment. Journal of Aquariculture and Aquatic Sciences 9:228-236.
Huckins, C. J F., C. W. Osenberg, and G. G. Mittelbach. 2000. Species introductions and ecological consequences: an example with congeneric sunfish. Ecological Applications 10:612:625.
Huckins, C.JF. 1997. Linkages between morphology, feeding performance, diet, and competitive ability of molluscivorous sunfish. Ecology 78:2401-2414.
BL1040 Principles of Biology
BL3400 Principles of Ecology
BL4090 Tropical Island Biology
BL5451 Advanced Aquatic Ecology
BL5455/4455 Research Methods in Aquatic Ecology
BL5447/4447 Stream Ecology and Fish Biology
BL5501 Graduate Research Seminar in Ecology and Environmental Biology
FW5115 Restoration Ecology
FW5500 Distinguished Ecologist Lecture Series