John S. Gierke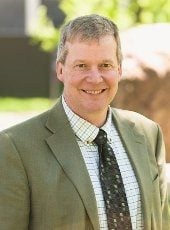 Professor, Geological and Mining Engineering and Sciences
Affiliated Professor, Civil and Environmental Engineering
PhD, Michigan Technological University
MS, Michigan Technological University
BS, Michigan Technological University
Biography
My approach to learning is not to rely only on the transfer of knowledge through lectures, reading, and rote practice. I place greater importance on providing opportunities for students in both classroom and research settings to develop their own problem-solving skills by attempting to solve problems independently. The best opportunities are those where the problem is new, requires synthesizing many technical aspects, and may also require the student to learn a brand new technical skill for some aspects.
Links of Interest
Teaching Interests
Hydrogeology
Ground water Engineering
Contaminant Transport
Subsurface Remediation
Research Interests
Field performance of air sparging for removing volatile organic chemicals from ground water
Volatile organic vapor transport in unsaturated soils
Sulfur dioxide interactions with volcanic ash
*Fuchs, V.J., J.R. Mihelcic, and J.S. Gierke, "Life cycle assessment of vertical and horizontal flow constructed wetlands for wastewater treatment considering greenhouse gas emissions," Water Research, Accepted Pending Revisions, revisions submitted 17 December 2010.
*Fuchs, V.J., J.S. Gierke, and J.R. Mihelcic, "Laboratory investigation of ammonium and nitrate removal in vertical flow regimes in planted and unplanted wetland columns," Journal of Environmental Engineering, in review, submitted 20 September 2010.
*Bruning, J.N., J.S. Gierke, and A.L. Maclean, "Identifying Lineaments for Groundwater Exploration using Remotely Sensed Imagery," Photogrammetric Engineering & Remote Sensing, accepted for publication 22 December 2010.
McCray, J.E., G.R. Tick, J.W. Jawitz, M.L. Brusseau, J.S. Gierke, R.W. Falta, R.C. Knox, D.A. Sabatini, J. Harwell, M.D. Annable, A.L. Wood, C.G. Enfield, "Remediation of NAPL Source-Zones: Lessons Learned from Legacy Field Studies," Ground Water, in press.
*Bachmann LeFevre, N-J., D.J. Watkins, Jr., J.S. Gierke, and J. Brophy-Price "Hydrologic Performance Monitoring of an Underdrained Low-Impact-Development Stormwater Management System," Journal of Irrigation and Drainage Engineering, 136(5), 289-353, 2010.
*Hutchins, M. J., J. S. Gierke, and J. W. Sutherland, "Decision Making for Social Sustainability: A Life-Cycle Assessment Approach," (Refereed) Proceedings of the 2009 IEEE International Symposium on Sustainable Systems & Technology (ISSST) and 2009 IEEE International Symposium on Technology and Society (ISTAS), May 18 – 20, 2009, Tempe, AZ, on CD-ROM.
*Huntzinger, D.N., J.S. Gierke, L.L. Sutter, S.K. Kawatra, and T.C. Eisele, "Mineral Carbonation for Carbon Sequestration in Cement Kiln Dust from Waste Piles," Journal of Hazardous Materials, in press. doi:10.1016/j.jhazmat.2009.01.122
Dr. Gierke teaches groundwater engineering, data science for earth resource applications, and scientific communication.