Rodney A. Chimner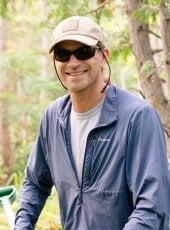 "We are what we imagine ourselves to be."
—Kurt Vonnegut, Jr
Contact
906-487-1464
Noblet Building 114
PhD, Ecology, Colorado State University
MS, Forest Hydrology, Michigan State University
BS, Earth Science, Northern Michigan University
AA, Philosophy, Kellogg Community College
Wetlands
Michigan Tech is superbly located in an area of high wetland abundance and diversity, facilitating both research and instruction. The proximity and diversity of wetlands is what allows the Wetlands class (FW4220) to spend three hours a week in the lab portion of the class getting dirty, wet and obtaining hands on experience. As an applied ecologist, I feel that the experiential learning is crucial to supplement traditional classroom learning.
My research areas focus on wetland ecosystem science, ecohydrology and wetland restoration. My main goal is to develop ecosystem knowledge of wetlands and use that knowledge to: 1) understand how they will be affected by climate change and other perturbations, 2) improve management and conservation of wetlands and 3) restore degraded wetlands.
Links of Interest
Areas of Expertise
Peatland and wetland restoration
Peatland and wetland carbon cycling
Mountain wetlands
Tropical peatlands
Ecosystem carbon cycling
Wetland ecohydrology
Line Rochefort, Maria Strack, Rodney Chimner. Regional Assessment for North America. UNEP Global Peatlands Assessment – The State of the World's Peatlands: Evidence for action toward the conservation, restoration, and sustainable management of peatlands. Main Report. 2022. Global Peatlands Initiative. United Nations Environment Programme, Nairobi.
Chimner, R.A.Sidebar 7.2: Cedar Swamp Restoration in Storm, L., and L.S. Kenefic. Northern White-Cedar: The Tree of Life. Michigan State University Press, 2022. https://doi.org/10.14321/j.ctv2m2fv73.
Chimner, R. S. Resh, J. A. Hribljan, M. Battaglia, L. Bourgeau-Chavez, G. Bowser, E. A. Lilleskov. Mountain Wetland Soil Carbon Stocks of Huascarán National Park, Peru. Submitted to Frontiers in Plant Science.
Rahay, S. Tata H.L., H.S. Nuroniah, D.A. Ahsania, H. Anggunira, S.N. Hidayati, M. Pratama, Istomo, A. Chimner, M. van Noordwijk, R. Kolka. Tree species distribution in naturally regenerated peatland canal blocking sites of the Sebangau River, Sebangau National Park, Central Kalimantan. In revision at Mires and Peat.
Uhelshiki D. *, E. Kane, R.A. Chimner, K. Heckman, J. Miesel, L. Xie. 2022. Infrared Spectroscopy Estimates Pyrogenic Carbon Content of Peat Soils. Mires and Peat. 28, Article 30, 22 pp
Stuart, J.E.M, C.L. Tucker, E.A. Lilleskov, R. K. Kolka, A. Chimner, K. A. Heckman, and E. S. Kane. 2022. Evidence for older carbon loss and changing decomposition regimes with low water tables in peatlands. Global Change Biology.
Chimner, R.A. Developing a Mountain Peatland Restoration Manual: Combining Lessons from the UK and the USA. 2023. Fellowship award from the Co-operative Research Programme (OECD). $19,895.
Kurzwell, J, Hough, M, and Chimner, R.A. Restoration Feasibility Study for Little Green Valley Fen, Arizona. National Forest Foundation. $58,915.
Chimner, R.A. 2022-2027. Peatland Ecology and Restoration Education in South America. USFS-International Programs. $465,000.
Chimner, R.A., Lilleskov E.A., and L. Bourgeau-Chavez. 2022. Developing a mountain peatland mapping program in the Rocky Mountains. Ecosystem Science Center, $6,000.
Chimner, R.A., Kenefic, C. Webster, L. Bourgeau-Chavez, C. Kern, R. Clark. 2021-2024. Northern White Cedar Regeneration Project. Michigan Department of Natural Resources. $488,222.
Kane, E. Lilleskov E.A, and Chimner R.A. 2021-2024. Collaborative Research: Does tree encroachment in peatlands accelerate or suppress decomposition with altered hydrology? NSF-DEB (#2031076). $647,251.