Jenny Apriesnig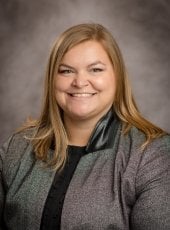 Contact
906-487-2223
Academic Office Building 123
Assistant Professor of Economics, College of Business
PhD, Agricultural and Resource Economics, Colorado State University
MS, Economics and Environmental and Natural Resources, University of Wyoming
BS, Economics, University of Wisconsin - Superior
Biography
In her research, Dr. Apriesnig primarily focuses on coupling economic and ecological systems to evaluate fisheries management issues. While interested in many natural resources, part of her work focuses on the Great Lakes fisheries and evaluating the economic and ecological implications of aquatic invasive species to the region. She enjoys working with students and engaging students of all backgrounds and interests. She is originally from Duluth, Minnesota, and attributes her passion for natural resource economics to growing up in a Great Lakes state. In her free time, she enjoys gardening, golfing, and cheering on the Vikings.
Teaching Interests
Principles of Economics
Microeconomics
Environmental and Natural Resource Economics
Research Interests
Coupled human and environmental systems
Fishery economics and management
Computable General Equilibrium Modeling
Regional Natural Resource Economic Modeling
Apriesnig, J. L., Manning, D. T., Suter, J. F., Magzamen, S., & Cross, J. E. (2020). Academic Stars and Energy Stars, an Assessment of Student Academic Achievement and School Building Energy Efficiency. Energy Policy, 147. Published. https://doi.org/https://doi.org/10.1016/j.enpol.2020.111859
Vongsikeo, V., Breffle, W. S., Apriesnig, J. L., & Barkdoll, B. D. (2020). The Economic Value of Carbon Sequestration Through Tree Planting in Laos. Asian Development Policy Review, 8(2), 102–111. https://doi.org/10.18488/journal.107.2020.82.102.111
Warziniack, T., Finnoff, D., & Apriesnig, J. L. (2017). Description of the General Equilibrium Model of Ecosystem Services (GEMES). In General Technical Report Rocky Mountain Research Station (p. 14). Retrieved from www.fs.usda.gov/treesearch/pubs/53836v
Lodge, D.M. et al. 2016. "Risk Analysis and Bioeconomics of Invasive Species to Inform Policy and Management." Annual Review of Environment and Resources, 41:453-488.