The Great Lakes Research Center offers state-of-the art classrooms for education and outreach. Student learning is enhanced by multimedia, including 3-D underwater tours of Lake Superior, and visual aids, including murals of the Great Lakes.
The GLRC's primary outreach facility, the Environmental Education Lab hosts a variety of educational programs for K–12 students, Michigan Tech students, teachers, and community members. Students are introduced to the multi-disciplinary science behind the Great Lakes in grade-appropriate lessons, while teachers learn how to best teach their students about the waters. A map of the Great Lakes watershed and a Great Lakes depth profile are painted right on the walls of the lab.
Have you ever wondered what Lake Superior looks like below the water surface? Now visitors to the GLRC can satisfy their curiosity in the Science Cave—without ever having to put on a wet suit or scuba gear. The Science Cave's Geo-wall offers a 3-D underwater tour of the Big Lake, allowing young people to explore the geographic features of the lake bed. The Geo-wall is typically used during youth events, such as the Lake Superior Water Festival.
Watch Lake Superior Floor Map, Stream Erosion, and Mural video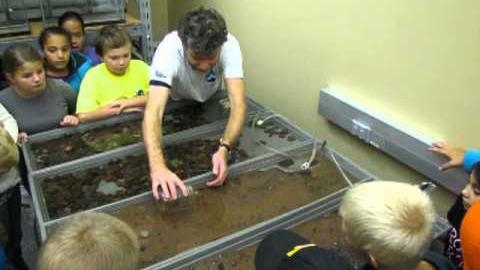 Lake Superior Floor Map, Stream Erosion, and Mural