Earn Your Graduate Certificate at One of the Best Universities for Manufacturing Engineering in the Nation.
Manufacturing engineers are natural problem solvers. At Michigan Tech, we challenge students to identify cost-efficient ways to produce high-quality goods and improve methods of production across multiple sectors.
Our online curriculum encompasses the building blocks of advanced manufacturing:
Manufacturing Systems and Operations
Advanced Materials and Manufacturing Processes
Product Tooling and Assembly Engineering.
By learning to communicate clearly and effectively in the universal language of the manufacturing sector, Geometric Dimensioning and Tolerancing (GD and T), you will gain a competitive career advantage. You'll also explore manufacturing fundamentals, such as lean six sigma, production planning, and systems modeling. Additionally, you'll take a key course in leadership skills.
Our professors, who have extensive industry experience, will share the practical theories, relevant tools, and leadership styles necessary to effectively manage teams who can meet the demands of Industry 4.0.
"While I am working in an industry that strives for high-quality products, having a better understanding of the manufacturing industry and best practices will further my personal and company growth."
Lay the Foundation for Your Future Graduate Degree with a Manufacturing Engineering Certificate.
Engineers have a reputation for being lifelong learners. Our online manufacturing engineering courses allow qualified professionals like you to get a jumpstart on your graduate studies. Whether you plan to pursue an advanced degree sometime soon or later down the road, each of your courses satisfies certain requirements toward your future master's program. Learn more at the manufacturing engineering program website.
Why Get Your Manufacturing Engineering Certificate at MTU?
At Michigan Tech, we educate some of the sharpest engineers in the nation. It's why Forbes ranks MTU among the top 25 STEM colleges, placing our university on a prestigious list. Employers know that our academic standards are high; they recognize our students' drive to do great work and accomplish even greater things.
There's a reason MTU is ranked the #3 best accredited college in Michigan. Your manufacturing engineering certificate, which goes beyond the classroom, offers you these advantages.
Access to institutional resources and alumni networks. Tap into a robust global network of MTU alumni that is over 70,000 Huskies strong.
Guest lecturers representing various sectors. Learn from experts at the top of their game, from leading experts to tech industry CEOs.
Industry connections and career development. Meet the engineers and professionals behind Industry 4.0. Access new career opportunities with your manufacturing certificate.
Take Essential Online Manufacturing Engineering Courses.
Learn by doing at one of the best colleges for manufacturing engineering. At Michigan Tech, you will complete application-based course activities at your place of employment, when possible. If you are not currently in a manufacturing setting, we will pair you up with another student in your class to access the tools you need to get relevant hands-on experience.
Every student will take two required courses: Organization Leadership; and Tolerance Analysis with Geometric Dimensioning and Tolerancing. Then you'll choose between two elective courses:
Industry 4.0 Concepts: This course explores relevant topics such as smart factories, computer simulation, cyber-physical systems, proactive maintenance, horizontal and vertical integration, and barriers to implementation.
Design for Additive Manufacturing: This course examines the pros and cons of the seven American Society for Testing and Materials (ASTM) Additive Manufacturing categories through a production lens. Students will also analyze how part integrity is influenced by the effects of build orientation, layer height, particle size, and slicing software.
Complete your 9-credit certificate in as few as two semesters. We will help you.
What Can You Do with a Manufacturing Engineering Certificate?
The work of manufacturing engineers directly impacts the quality and costs of the goods, products, and services we use. Whether you work in manufacturing, the automotive industry, government, or another professional setting, a manufacturing certificate will help you advance your career.
And manufacturing, which is at the core of American society, is definitely here to stay. In fact, there are 18 manufacturing industries in the United States, which include textiles, metal products, chemical products, plastics, computer and electronic products, and transportation equipment. These industries all need the expertise of well-trained manufacturing engineers.
Read this informative article that discusses the growth of and opportunities in manufacturing engineering as well as the differences between manufacturing and industrial engineering.
So whatever your professional interests, an online manufacturing engineering certificate from Michigan Tech will provide you with the relevant skills not only to succeed in your field but also to make a global impact.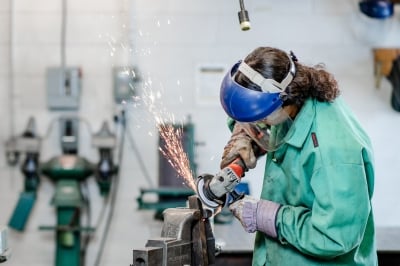 Popular Jobs in Manufacturing Engineering
Automation Supervisor
CAD/CAM Specialist
Design Engineer
Material Planner
Simulation Engineer
Get Started on Your Online Certificate.
Take the next step on your educational journey at Michigan Tech. We are here to answer your questions and to help you succeed in your online program.