MISSION: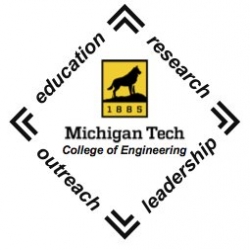 Michigan Tech's College of Engineering exists to serve the State of Michigan, the nation, and the world by providing:
Inclusive and accessible undergraduate and graduate education for a diverse workforce in engineering and applied science
Research leading to the dissemination of original knowledge and the creation of new economic opportunities
Outreach that encourages all citizens to consider education and careers in engineering and applied science
Technical leadership, guidance, and support to industry and government
VISION:
The College of Engineering will inspire students, advance knowledge, and innovate technological solutions to create a sustainable, just, and prosperous world. COE will provide exceptional research and education that is broadly accessible.
SCOPE:
Guided by the University's Strategic Plan and Portrait 2045, this plan provides a 5 year vision that positions the College of Engineering to coordinate closely with our faculty/department/college level efforts to strategically grow our enrollments and impact the communities we serve. Through a strategic process that encourages and thrives upon regular re-engagement, COE and department leadership will develop top annual priorities, being cognizant to sustain ongoing initiatives as appropriate.
Engineering Goals for 2022
GOAL 1: An exceptional and diverse commUNITY of students, faculty, and staff.
1.1 Exceptional academic commUNITY.
Internationally-recognized faculty will manage vibrant research groups of student and staff researchers who cross traditional disciplinary boundaries, to cultivate a commUNITY environment, which supports a practical and adaptable education for our graduates to engineer a future that is sustainable, just, and prosperous.
Metrics: Goal 1.1. will be demonstrated by:
Evidence that college faculty and staff are fostering multidisciplinary relationships to develop competitive and funded proposals (e.g. annual participation in on-campus multidisciplinary research events, proposal submission and success).
Innovation and continuous improvement in teaching will grow with a majority of college faculty and staff participating in campus wide teaching seminars and workshops (e.g. CTL Lunch and Learns).
A majority of faculty, students, and staff will participate in academic and research events (e.g. Undergrad Expo, GSG Symposia).
1.2 Diverse, inclusive, and collegial environment
Faculty and staff will proactively cultivate inviting classes and department climates to steadily increase the enrollment, engagement, and graduation of women and people from underserved populations at both the undergraduate and graduate levels. Best practices can be envisioned or adopted from peer institutions. Departments will foster collegiality and inclusion of all faculty, staff, and students to increase retention and growth of our talent. The commUNITY experiences will foster a culture of appreciation and pride for quality.
Metrics: Goal 1.2. will be demonstrated by:
A graduating class that has one of the 10 highest percentages of women for a public university (2015: 25.5%, we are at 19.7% [ASEE data]).
An increase in the number of women faculty that meets or exceeds the percentage of women students (2015: 16.9% female faculty).
An increase in the number of freshman and graduating URM students in by 1 percentage point or more per year (6% in 2015 [ASEE]).
An increase in the mobility index for our graduates (2016: 47% move from the bottom 20% of household income to the top 20% of household income).
An increase in the 10 year retention rate of high quality faculty to 75% (exclude those denied tenure).
An increase in the 5 year retention rate of staff.
GOAL 2: A distinctive and rigorous action-based learning experience in engineering and applied sciences for undergraduate and graduate students.
2.1 Excellence in undergraduate education
Continue our longstanding tradition in unparalleled undergraduate education through growth enrollments in Enterprise, Grand Challenge Scholars Program, entrepreneurial and undergraduate research programs, and related trans-disciplinary experiential learning opportunities. Recruit, support, recognize, and graduate exceptional students. Accomplish departmental growth through student led recruitment, initiatives, and other visibility-enhancing activities. Cultivate services that enhance our student's communication skills alongside their technical development. Proactively engage faculty, staff, and departments in pedagogical innovations and professional development opportunities to support and embrace state-of-the-art technologies, software, and techniques that continuously innovate teaching and learning of evolving engineering practices.
Metrics: Goal 2.1. will be demonstrated by:
>1% annual growth in enrollments in all experiential learning programs.
>1% annual growth in study abroad programs and experiences.
>50% of our students engaging in design/makerspaces, community pitch sessions, seminars, or community projects.
Upgrading/adding 5% (presently 4100 sq. ft.) of instructional space annually.
Proactive transitions to students owning their own appropriate portable technologies for learning.
>50% of courses utilizing technology as an integral component of the learning
>25% of faculty recognized with teaching accolades.
Increasing undergraduate enrollments to 3780 by 2020 with an average high school GPA greater than 3.75 (Fall 2016 = 3.72) (SAT > 1290, ACT >27).
Increasing the first year effective retention rate* of first time, full time students to >87% (84.3% in 2015).
Increasing the 6 yr graduation rate within the College of Engineering of first time/full time students above 63% by 2022 (2015: 58.6% w/in CoE, 41.8% w/in dept., 68.9% w/in the University).
>25% students engage with alumni within department/college events annually.
* first year effective retention = (the number of first-year, first-time students who entered the university last fall who are enrolled in a unit this fall) / (the number of first year, first time students enrolled in the unit last fall). Found in the Compendium.
2.2 Excellence in graduate education
Continue rigor and grow enrollments in PhD programs, as well as, thesis and coursework MS programs. Appropriately utilize experiential learning and mentorship to build student skills and earn credentials commensurate with advanced degrees. Enhance peer discussions, concept exploration, technical communication skills, collaboration, productivity, and public relatability via student led symposia, literature survey forums, writing venues, and other professional development activities. Incentivize centers, institutes and other research groups to develop innovative educational opportunities within their areas of expertise. Develop new and adapt existing programs and growth plans to appeal to sought-after MS and PhD topic areas. Review, assess, and improve curricula and degree programs in ways that strive to maintain program relevance to industry needs and alumni stakeholders while leveraging the skills and expertise of the faculty and staff.
Metrics: Goal 2.2. will be demonstrated by:
Increase the number of PhD graduates to 365 by 2020 with a >95% placement of PhD graduates within 3 months after graduation. (2015 Tech avg. 91.7% [Career Services]).
Increase the number of MS graduates to 885 by 2020 with a >95% placement of MS graduates within 3 months after graduation.
Increase the number of undergraduates from US institutions in our graduate program.
3 or more journal publications per PhD graduate.
1 or more journal publications per MS thesis graduate.
A majority of students participating in professional development events.
More than 50% of PhD and MS thesis projects shared via public symposia or media.
10% of PhD alumni in high-impact positions.
30% of PhD graduates earning external awards/recognition.
GOAL 3: Research, scholarship, entrepreneurship, innovation, and creative work that promotes a sustainable, just, and prosperous world.
3.1 Growth in research, scholarship, innovation, and entrepreneurial activities
Streamline faculty demands to encourage time, space, and inspiration for creative research and scholarship. Cultivate, retain, and attract the best scholars by reducing barriers to meaningful collaborations and supporting nimble, innovative research initiatives. The college - via departments - will align resources and services to seek and attract funding and earn accolades. Reward diverse forms of entrepreneurship that engage both the research and the educational facets of COE goals. Team departments and centers/institutes to cooperatively and strategically add equipment, upgrade space, and adopt technology efficiencies. Increasing equipment and infrastructure in shared user facilities will be prioritized to support research and education. Departments will engage faculty, staff, and students in a culture of safety via continuous improvement of annual safety self-inspections and researcher/student-led programs.
Metrics: Goal 3.1. will be demonstrated by:
Securing an average of 2 or more new large collaborative initiatives each year (5+ researchers, >$1M/yr).
5% annual increase in research expenditures in equipment each year.
5% (presently 5400 sq. ft.) increase of high quality research space, whether through new construction or refurbishing existing space each year.
Implementing/sustaining active annual safety self-inspection programs in each department to demonstrate continual improvement in trainings and subsequent safety metrics.
3 or more early career awards per year.
3 or more journal publications per year per faculty (median).
Each year 20% of faculty will be in high-visibility positions (officers, editors, etc.).
Each year 25% of faculty will be at the grade of fellow in prominent societies.
Each year 10% of faculty will have been awarded prominent medals or awards.
Increasing visibility of research staff accomplishments each year.
10% of faculty, research staff, and PhD students submitting/earning patent.
3.2 Conduct outreach complementary to all research, education, and innovation efforts in previous goals to influence economic and societal understanding of engineering and science.
Develop new strategies and continue existing ones that engage our community in meaningful, accessible conversations of the work that we do. Share via accessible media faculty, student, and staff accolades that promote a sustainable, just, and prosperous world. Lead by example via partnerships with industry, government, and others. Demonstrate how data-driven, creative, rigorous problem solving can address diverse mobility, sustainability, health, and infrastructure challenges.
Metrics: Goal 3.2. will be demonstrated by:
>20% of funded projects earning media recognition during the project lifetime.
>20% of funded projects are partnerships with industry and government.
>50% of faculty and staff conduct annual student or community outreach in their discipline.