Sean J. Kirkpatrick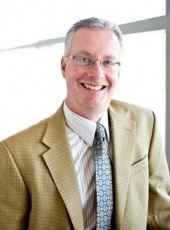 Contact

Department Chair, Biomedical Engineering
Professor, Biomedical Engineering
Affiliated Professor, Electrical and Computer Engineering
PhD, Biomechanics, University of Miami
Biography
Sean Kirkpatrick's primary area of research is biomedical optics, specializing in the biophysical applications of light scattering for assessing the mechanical, structural and biochemical nature of biological tissues and fluids, and synthetic biomaterials. Of particular interest to him is the theory and application of the laser speckle phenomenon, as well as other aspects of coherent imaging. Other research interests include optical nondestructive evaluation of materials and structures.
He is the author of over seventy professional publications and book chapters and has edited several books and other professional volumes. He regularly serves as a reviewer for the National Institutes of Health, the National Science Foundation and other agencies, as well as for numerous professional journals.
He is active in SPIE, the Optical Engineering Society and serves as the conference chair for the Conference on Optics in Tissue Engineering and Regenerative Medicine as part of the yearly SPIE International Symposium on Biomedical Optics.
Prior to joining Michigan Tech, Sean Kirkpatrick was as associate professor of biomedical engineering at the Oregon Health & Science University in Portland, Oregon.
Kirkpatrick received his bachelor's degree in biology from Gannon University and his PhD in biomechanics from the University of Miami. He was a postdoctoral fellow at The Johns Hopkins University.
Links of Interest
Research Interests
Biomedical optics
Lasers and other light sources for biology and medicine
Non-contact measurement of tissue mechanics and fluid flows
Coherent imaging
Teaching Statement
Dr. Kirkpatrick specializes in medical imaging, biomedical signals and systems, biomedical design fundamentals, and biomedical engineering.