For 33 years, Michigan Tech has honored and celebrated the life and legacy of Dr. Martin Luther King Jr., a man who refused to sit idly by while he and others were treated less than; a man who brought people together, to fight for justice and equality. Dr. King. is most recognized for his role in the advancement of civil rights using nonviolent civil disobedience and as a national icon in the history of American progressivism.
Annually, the Center for Diversity and Inclusion and the Michigan Tech chapter of the National Society of Black Engineers (NSBE) host a celebratory banquet featuring a keynote speaker, student performances, and community fellowship. Students also participate in a Day of Service project by reading to local elementary students about Dr. King's life and work.
This year's celebration included a keynote address by Michigan Tech Alumna Dr. Tsitsi Hungwe. Watch a recap of the celebration by clicking the link below!
Bayard Rustin Award
In 2019, NSBE began the tradition of awarding the Bayard Rustin Award to a servant leader on campus during the annual MLK reception. Rustin acted as an influential adviser "behind the scenes" to civil-rights leaders. He worked along Dr. King and helped organize Freedom Rides and the Southern Christian Leadership Conference. Rustin also served as an organizer for the March on Washington for Jobs and Freedom. On November 20, 2013, President Barack Obama posthumously awarded Rustin the Presidential Medal of Freedom. This award features a servant leader who is often behind the scenes making significant strides and we would like to recognize them publicly for their commitment.
Recipients of The Bayard Rustin Award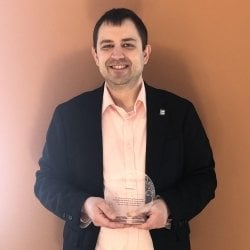 "It's such an honor to have been awarded the Bayard Rustin Award by the National Society of Black Engineers at Michigan Tech, especially during the 2020-2021 year which brought continued challenges for our campus community. Much of Rustin's work with Dr. King and other civil rights leaders took place behind the scenes, and his impact was invaluable. As a white cisgender man at Michigan Tech, I recognize my privilege and my responsibility to continue to remove barriers and advance the campus climate so that all members of our community feel safe, valued, and a strong sense of belonging. I want to thank NSBE and all BIPOC members of our campus community for all the work and labor they continue to put in to make our college a better place. We all need to do our part so that this labor is not falling only on BIPOC folks."
---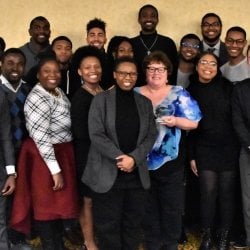 "I am deeply grateful to be a part of the diversity and inclusion efforts at Michigan Tech. I work in an amazing environment and get to see our awesome students every day. I learn so much from them and I enjoy having them in my life. It is a pleasure to help our students succeed and to be a part of creating a welcoming, inclusive and safe environment. This award means the world to me and I feel very honored to have been chosen. "
---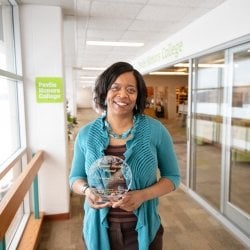 "I'm still floored about winning the Bayard Rustin award. Ya know that phrase, do what you would do when no one's looking? For me to get the award from the students was the highest compliment and really powerful for me.
I currently work in Pavlis Honors College, and it's a lot of fun. In my 13-plus years at Michigan Tech, I can't remember the last time I worked. There are long days, hard days, and difficult days, but I can't remember the last time I worked. It never feels like work for me. I get all of my energy from students. I feel like I secretly get more than I give (laughs). I learn so much, and I'm always challenged in new and different ways. Higher ed is my calling in life; I love being on a college campus. There's always something going on, something to do, something to think about, something to dialogue about. I'm also one of the advisors for the Society of Intellectual Sisters (SIS) and I was a member when I was a student here. I'm very passionate about it, so I continue to serve in that capacity with the young ladies.
I'm working on a degree, studying mental toughness and persistence. I'm living it and studying it (laughs). A lot of mental toughness and persistence has been studied in top performing athletes or the military. Bringing it into an academic context is pretty cool. The big juicy question is how can we get away from 'oh, they have the right GPA or the right SAT score.' There's just so much more to people that causes them to be successful and I think we just need to look at that a little more. The reason why I am getting the PhD is to be at the table, to be a voice for people who don't have a voice at the table; so it's bigger than me. I do believe there's a level of influence that happens from being at the right table.
I always say 'you don't go through Michigan Tech, Michigan Tech goes through you,' and it is truly an experience. I want to pay it forward every day. The experiences and the support I had as a Michigan Tech student transformed my life."
For more about Darnishia and her award, visit mtu.news/slade-award.
---