Chemical engineers are critical thinkers, prepared to take on global and societal challenges in order to create a safer and more sustainable world and improve our quality of life.
We are ready to help you tailor your Michigan Tech experience to match your interests and aspirations. Our three-story Chemical Engineering Unit Operations Laboratory provides a unique hands-on learning experience with real world equipment. You'll find the educational environment and facilities here to be among the best in the nation. Student-led organizations in the chemical engineering program help you hone your professional skills. Our Undergraduate Learning Commons provides coaching and peer-tutoring services to all ChE undergraduates.
Tomorrow needs chemical engineers who are prepared to solve some of the world's most pressing problems. We're ready. Are you?
Bachelor's Degree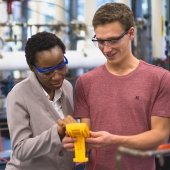 With a bachelor's degree in chemical engineering, you might design or streamline equipment and processes for chemical and biological transformation in large-scale manufacturing plants, ensuring these operations are safe, sustainable, and economical; or you could devote your career to protecting the environment, inventing cleaner technologies, or modeling the environmental impacts of chemical processes. Perhaps your interests lie in pioneering new developments in medicine, energy, nanotechnology, advanced materials, manufacturing, microelectronics, or biotechnology. The state-of-the-art Unit Operations Lab supports the undergraduate curriculum.
Unit Operations Laboratory (UO Lab)
This multistory learning complex is one of the best in the nation.
two pilot-plant set-ups
numerous bench-scale processes
state-of-the-art process simulation and control facility
Add to your degree at a flagship technological university with a chemical engineering minor. A minor allows you to specialize in a discipline outside of or complementary to your major. We recommend that you begin your minor studies as early as possible in your academic career.
Polymer Science and Engineering
Mineral Processing
Bioprocess Engineering
Alternative Energy Technology (Interdisciplinary Minor)