Sarah Fayen Scarlett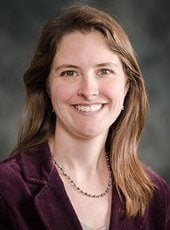 Contact
906-487-2110
Academic Office Building 221

Associate Professor of History
PhD, Art History, Building-Landscapes-Cultures Program, University of Wisconsin–Madison
MA, American Material Culture, Winterthur Program, University of Delaware
BA, American Studies, Yale University
Biography
I am a social historian who privileges architecture, landscapes, objects, and artworks in my research, public interpretation, and teaching strategies. My work relies on the idea that the built environment and the objects within it reflect and also shape human beliefs and attitudes. I locate myself at the intersection of three interdisciplinary subfields: vernacular architecture, material culture, and cultural landscape studies. I interface with scholars and methodologies from fields including history, archaeology, geography, American studies, architecture, and art history.
My forthcoming book Company Suburbs: Architecture, Power, and The Transformation of Michigan's Mining Fronter (Univ of Tennessee Press 2021) investigates space, materiality, and mobility in domestic landscapes to explore complex social identities in America between 1875 and 1920. I focus on Michigan's Copper Country as a case study for using overlapping social landscapes as a framework for place-based examinations of class and gender identities. By documenting well-preserved late nineteenth-century patternbook houses, and contextualizing their suburban neighborhoods in a modernizing industrial community, my work implicates buildings and landscapes in the development of relational class identities and acts of resistance. This research is grounded in object-driven modes of inquiry that engage interdisciplinary trends in the spatial humanities. I have published related research about communities in Milwaukee and the Lead Region of southwestern Wisconsin.
Another area of my research explores the roles of digital spatial tools in community-engaged heritage projects. I co-direct the NEH-sponsored historical GIS of the Copper Country called the Keweenaw Time Traveler, which asks "Citizen Historians" to contribute their own knowledge about landscape change over time and to help process additional historical data. In my undergrad courses, students add their research with primary documents and material evidence to this growing "deep map" to learn place-based digital storytelling. These projects are demonstrating the value – both pedagogical and scholarly – of combining mobile-enabled HGIS projects with techniques in community-engaged scholarship to create active learning opportunities.
Links of Interest
Research Interests
Spatial, material, and experiential aspects of social power in industrial communities
Historical GIS for Community-Engaged Scholarship
American Vernacular Architecture and Material Culture Studies
Public History, Historic Preservation, and Museums
History of Design, Craft, and Production in the United States
Cultural Landscapes and Historic Architecture of the Keweenaw
Don Lafreniere, Luke Weidner, Dan Trepal *, Sarah Fayen Scarlett, John D. M. Arnold*, Robert Pastel, and Ryan Williams, "Public Participatory Historical GIS." Historical Methods: A Journal of Quantitative and Interdisciplinary History 52, no. 3 (2019): 132–149. DOI: 10.1080/01615440.2019.1567418

Sarah Fayen Scarlett, Don Lafreniere, Dan Trepal*, John Arnold*, Yichun Xie, "Out of the Classroom and Into History: Mobile Historical GIS and Community-Engaged Teaching," The History Teacher 53, no. 1 (November 2019): 11–35. http://www.societyforhistoryeducation.org/pdfs/N19_Scarlett_et_al.pdf

Dan Trepal*, Sarah Fayen Scarlett, Don Lafreniere, "Heritage Making through Community Archaeology and the Spatial Humanities," Journal of Community Archaeology and Heritage 6, no. 4 (August 2019): 238–256. DOI: 10.1080/2051896.2019.1653516

Laura Rouleau, Sarah Fayen Scarlett, Steven A. Walton, and Timothy Scarlett, "Historic Resource Study of Pullman National Monument, Illinois," Midwest Regional Office of the National Park Service (2019).

Sarah Fayen Scarlett, Don Lafreniere, John D. M. Arnold*, Daniel J. Trepal*, Robert Pastel "Engaging Community and Spatial Humanities for Post-Industrial Heritage: The Keweenaw Time Traveler," American Quarterly, Special Issue: Toward a Critically Engaged Digital Practice: American Studies and Digital Humanities 70, 3 (September 2018): 619–23. DOI: 10.1353/aq.2018.0043

"Crossing the Milwaukee River: A Case Study in Mapping Mobility and Class Geographies," in Landscapes of Mobility: Culture, Politics, and Placemaking, edited by Arijit Sen and Jennifer Johung (Farnham, Surrey: Ashgate, 2013).

"The Cultural Landscapes of Mining in Southwestern Wisconsin," in From Mining to Farm Fields to Ethnic Communities: Buildings and Landscapes of Southwestern Wisconsin, edited by Anna Vemer Andrzejewski, Arnold R. Alanen, and Sarah Fayen Scarlett, 8–33 (Vernacular Architecture Forum Annual Conference 2012. Madison: Department of Art History and Department of Landscape Architecture, University of Wisconsin–Madison, 2012). Online at: https://uwmadison.app.box.com/s/4iwpf95kwx8rf0wtzywt

"The Craft of Industrial Patternmaking," The Journal of Modern Craft 4, 1 (March 2011): 27–48.

DOI:

10.2752/174967811X12949160069018

"The Chinese Scholar Pattern: Style, Merchant Identity, and the English Imagination," Ceramics in America 2011, edited by Robert Hunter (Milwaukee, Wisconsin: Chipstone Foundation, 2011), 1–45. Online at: http://www.chipstone.org/article.php/478/Ceramics-in-America-2011/The-Chinese-Scholar-Pattern:-Style,-Merchant-Identity,-and-the-English-Imagination

"Tilt-Top Tables and Eighteenth-Century Consumerism," American Furniture 2003, edited by Luke Beckerdite (Milwaukee, Wisconsin: Chipstone Foundation; Hanover, New Hampshire: University Press of New England, 2003), 95–137. Online at:

http://www.chipstone.org/article.php/275/American-Furniture-2003/Tilt-Top-Tables-and-Eighteenth-Century-Consumerism
Recent External Funding (selected)
Council on Library and Information Resources, Digitizing Hidden and Special Collections and Archives, Michigan Miners at Home and Work: Digitizing, Mapping, and Sharing Employment Records (2020–2022). $240,014

Advisory Commission of the Keweenaw National Historical Park, Digital Accessibility Upgrades for Archival Records in the Keweenaw Time Traveler (2020–21). Great Lakes Research Center. $12,000

National Endowment for the Humanities, Digital Humanities Advancement grant, Advancing Deep Mapping Infrastructure for Community-Driven Spatial Humanities: The Keweenaw Time Traveler (2020–2023). $324,985

Social Sciences and Humanities Research Council of Canada, Partnership Grant, Trois Siècles de Migrations Franco-Phones en Amérique du Nord, (1640–1940) (2019–26). Yves Frenette, Université de St. Boniface, PI. Sarah Fayen Scarlett (Collaborator, one of 42 international researchers). $2,495,100 total project value. $6000

National Endowment for the Humanities, Humanities Collections and Reference Resources grant, Keweenaw Time Traveler (Copper Country Historical Spatial Data Infrastructure) (2016–19). $259,882

National Park Service, Midwest Archaeology Center, Cooperative Agreement for Work with Pullman National Monument (2016–19). $160,513

NSF-ITEST, GIS Resources and Applications for Career Education (GRACE), pass through Eastern Michigan University (2016–18). $16,772
Advisory Commission of the Keweenaw National Historical Park, Citizen Historian Kiosks (2016). $10,000