Many of our alumni have been honored with induction into the College of Sciences and Arts Academy.
2019
Ziyong Cai – PhD, 1990, Physics
MS, 1988, Physics
VP, Analytics Head, QBE North America
2013
Debasis Datta – PhD, 1994, Physics
Senior Enterprise Architect, General Motors
2010
Werner R. Vogt – BS, 1966 Physics
President, Amikles AG, Switzerland
2008
Steven L. Tomsovic – BS 1980, Physics
Professor and Chair, Department of Physics and Astronomy, Washington State University
2006
Walter E. Kauppila - BS 1964, Physics
Professor of Physics, Wayne State University
2000
Joseph Roti Roti - BS 1965, Physics
Professor of Radiology, Washington University School of Medicine
1998
Carl R. Adams - BS 1962, Applied Physics
Chairman, Information and Decision Sciences Department, University of Minnesota
Paul D. Pietila - BS 1962, Applied Physics
Chief Operating Officer, Toledo Molding & Die (Retired)
1995
Leonard C. Buckman - BS 1960, Engineering Physics
President and General Manager, Rockwell WABCO Vehicle Control Systems
Awarded for significant contributions to the success of the Alumni Association and/or University.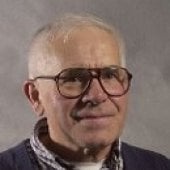 Associate Professor
2005 Recipient
Michigan Technological University Presidential Council of Alumnae (PCA) members are recognized for personal and professional achievements in all facets of life, including education and career excellence and community involvement and volunteerism as a Michigan Tech student or alumna. Members meet annually on campus for activities that support the University's strategic plan and specifically focus on engaging the campus community to educate, influence, and inspire the Women of Michigan Tech.
Awarded annually by the American Physical Society to recognize and honor outstanding achievement in teaching, sustaining, and enhancing an advanced undergraduate laboratory course or courses at U.S. institutions.