Michigan Tech Research Institute actively addresses the needs of government and industry to:
Understand the impact of new technologies on energy efficiency
Maximize current technologies to provide greater mobility
Provide transportation asset managers better inventories of roads and infrastructure
Develop solutions for troops to better navigate in uncertain terrain
Projects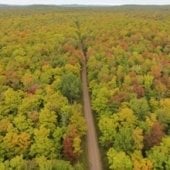 The purpose of this cooperative project between the US Department of Agriculture Forest Service and the Michigan Tech Research Institute (MTRI) was to develop an updated and improved roads data layer for use in ecological analysis and planning.
Find out more about the project.
---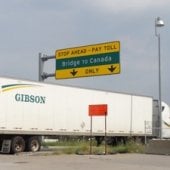 The number of truck crossings at the Ambassador Bridge spanning Detroit, Michigan and Windsor, Ontario is greater in volume than the crossings at the Blue Water Bridge, spanning Port Huron, Michigan, and Sarnia, Ontario. Generally, the Ambassador Bridge experienced four to five times more truck traffic traveling into Canada, and three to four times more truck traffic traveling into the United States.
Learn more about the findings.
---