Richard C. Witte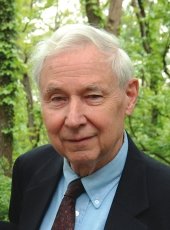 BS Metallurgical and Materials Engineering 1950
Richard Witte received a B.S. in Metallurgical Engineering from Michigan College of Mining and Technology (now Michigan Technological University) in 1950. He later received his Juris Doctorate from the Indiana University School of Law in 1956. He was admitted to practice by the bars of Indiana, Ohio, Court of Appeals, Federal Circuit, and the United States Supreme Court. He was employed as a patent attorney with the Procter and Gamble Company in Cincinnati from 1956 to 1992, retiring as Vice President - Chief Patent Counsel, Procter & Gamble Worldwide. Following his retirement from P&G, Mr. Witte briefly served of counsel to a major intellectual property law firm in New York City. Mr. Witte is a veteran of the United States Navy, serving in the reserves from 1948 to 1968. After being commissioned as an Ensign in 1951 he served three years active duty as a gunnery officer aboard a Fletcher-class destroyer in the Mediterranean (Sixth Fleet), U.S.S. Mullany, DD528. He retired from the Naval Reserves in 1968 with the rank of Lieutenant Commander.
As a patent attorney for Proctor and Gamble, Witte filed almost 1400 patents during his career and served on numerous commissions, delegations, and boards, including: U.S. Secretary of Commerce Advisory Commission on Patent Law Reform; Advisory Group on Civil Justice Reform - Southern District of Ohio; U.S. Delegation to Diplomatic Conference on Treaty Harmonization of World Patent Laws at The Hague; U.S. Delegation to Diplomatic Conferences on Revision of Paris Convention - Nairobi and Geneva; Council, American Bar Association, Patent Trademark & Copyright Section; American Intellectual Property Law Association; Association of Corporate Patent Counsel; Intellectual Property Owners (Vice President & Director); International Intellectual Property Association (Executive Committee); and Cincinnati Bar Association. He was a member of the Board of Editors for the Indiana Law Journal.
Mr. Witte has been a generous benefactor to his almae matres; in appreciation, he has been inducted into the Indiana University President's Circle for lifetime generosity, and Michigan Tech's McNair, Hotchkiss, and Hubbell Societies. He recently endowed a professorship in the Materials Science and Engineering Department at Michigan Tech. Mr. Witte was actively involved in leadership roles for several community organizations in his hometown of Cincinnati, Ohio.
Richard Witte was inducted into the Academy of Metallurgical and Materials Engineering at Michigan Tech in 2000. He passed away in 2015.
Exceptional naval and polar awards from the collection of RC Witte