Several Michigan Tech researchers have won awards.
Air Force Young Investigator Research Program (YIP) Award: Jeremy Bos
Jeremy Bos, an assistant professor of electrical engineering at Michigan Tech has won an Air Force YIP Award for his work in atmospheric turbulence—distortion that comes from the way light interacts with shifting air.
In some situations, the interference is so bad an image's pixels become blurred. This severe turbulence is called anisoplanatism.
"In my work, I'm looking at an extreme case where every single pixel in an image potentially has a different blurring function associated with it," Bos says.
With his YIP award—a highly competitive program for early career scientists and engineers through the US Air Force—Bos is piecing together images affected by anisoplanatism over long distances of at least 300 meters.
"Relative to the Air Force, and to this problem in general, the objective is to see better and farther," Bos says, adding that enhancing optical communications is another potential application, "and to defend against threats using light." Laser weapons and shields are simply concentrated light. Whether as a shield around a jet or a Star Wars-style laser beam, the technology comes down to manipulating light waves.
"But in order to do that, you have to account for the atmosphere," Bos says. "And, because you're operating horizontally, you have to account for the volume of atmosphere—and that's a wicked, hard problem."
---
Office of Naval Research Young Investigator Research Program (YIP) Award: Bruce Lee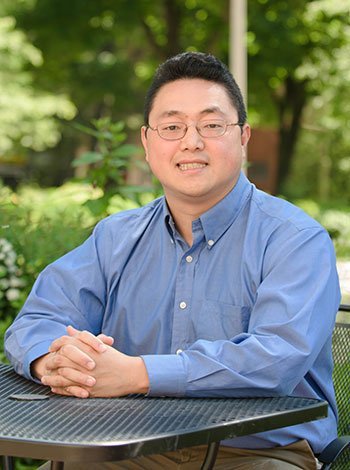 For his work on reversible underwater adhesives, the Office of Naval Research recognized Assistant Professor of Biomedical Engineering, Bruce Lee from Michigan Tech with a Young Investigator Program award.
Lee focuses on adhesives inspired by nature. More specifically, the natural glues made by mussels that anchor them to rocks, boats, and docks. Lee's past work on hydrogels and tissue adhesives led him to look more closely at what makes these adhesives work underwater—and how people could use them. Read the Smart Adhesives story from this magazine.
As a participant in the Office of Naval Research Young Investigator Program, Lee continues to delve into not only what makes mussels sticky but also how to reverse that adhesion.
"This work is novel in the sense that there is no smart adhesive out there that can perform underwater," he says. "The chemistry that we can incorporate into the adhesive, causing it to reversibly bond and de-bond, is quite new."
---
2016 Bhakta Rath Award: Melanie Talaga and Tarun Dam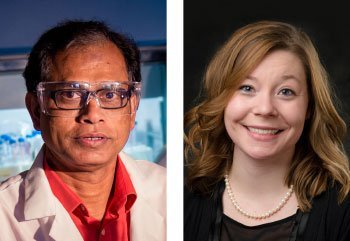 Two Michigan Tech researchers were honored with the annual Bhakta Rath Research Award, established in 2010 by an endowment from Bhakta T. Rath and his wife Sushama Rath. Bhakta Rath '58 dedicated his career to promoting science, engineering, and research. Each year, a Michigan Tech PhD graduate student and his or her advisor are recognized for "exceptional scientific and technological research in anticipation of the future needs of the nation while supporting potential advances in emerging technology."
Melanie Talaga, who completed her PhD in Chemistry in spring 2016, and Associate Professor of Chemistry Tarun Dam won the 2016 award for their work in Glycobiology.
"My dissertation research focused on using sophisticated biophysical techniques to understand how molecules behave," Talaga says, explaining the behavior is difficult to detect. "This research lays the foundation for future improvements for cancer detection and drug design."
---
2016 Research Award: Raymond Shaw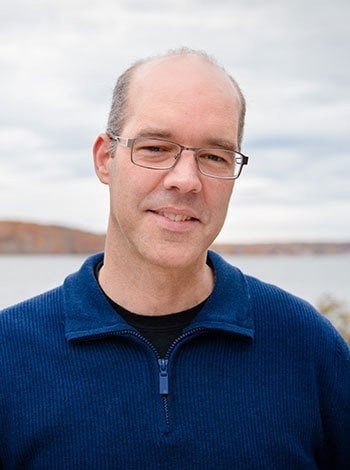 The expression "head in the clouds" generally means someone lacks focus and is not being realistic. For Michigan Tech researcher Raymond Shaw, winner of the University's 2016 Research Award, the expression means it's just another day at the office.
Shaw's dedication to cloud research is so strong that when he can't get to the clouds and can't get the clouds to come to him, he has a third option. Michigan Tech has a cloud chamber, where Shaw and his team can study made-to-order clouds. Unlike other chambers that exist in laboratories around the world, the one at Michigan Tech creates clouds that are turbulent and that can persist for hours or even days, rather than the more typical time of a half hour or less.
Shaw, a professor of physics and director of Tech's atmospheric sciences PhD program, says that while he is appreciative of the award, the research itself and the collaborations with researchers at Michigan Tech and throughout the world, is the ultimate reward.
Michigan Technological University is a public research university founded in 1885 in Houghton, Michigan, and is home to more than 7,000 students from 55 countries around the world. Consistently ranked among the best universities in the country for return on investment, Michigan's flagship technological university offers more than 120 undergraduate and graduate degree programs in science and technology, engineering, computing, forestry, business and economics, health professions, humanities, mathematics, social sciences, and the arts. The rural campus is situated just miles from Lake Superior in Michigan's Upper Peninsula, offering year-round opportunities for outdoor adventure.