Don't judge a mineral by its cover. Because that fine, hair-like coating might turn out to be a new mineral. At least that was the case with the newly named merelaniite, a cylindrite-group mineral discovered by a team of researchers led by John Jaszczak, a professor of physics at Michigan Tech. The tiny gray whiskers of merelaniite had been around a while, but had probably been regularly cleaned off larger, better-known crystals like the gemstone tanzanite. The name of the new mineral was chosen by Jaszczak and his colleagues after the township of Mererani, known more commonly in the mineral and gemological communities as "Merelani," in honor of the local miners working in the nearby tanzanite gem mines in northern Tanzania where the new mineral occurs.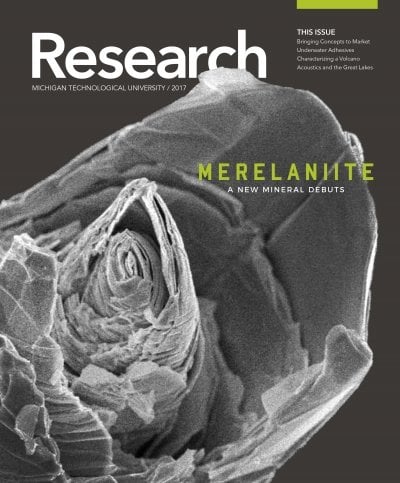 On the cover: Merelaniite a New Mineral Debuts
---
Research is published by University Marketing and Communications and the Vice President for Research Office at Michigan Technological University, 1400 Townsend Drive, Houghton, Michigan 49931-1295.
David Reed—Vice President for Research
Cathy Jenich—Assistant to Vice President for Research
John Lehman—Associate Vice President for Enrollment, Marketing, and Communications
Ian Repp—Director of University Marketing and Communications
Crystal Verran—Director of Operations
Scott Balyo—Editorial Director
Jackie Johnson—Art Director
Jennifer Donovan, Marcia Goodrich, Kaye LaFond, Allison Mills, Stefanie Sidortsova—Writers
Jordan Blahnik, Vassilissa Semouchkina—Designers
Sarah Bird—University Photographer
Eric Bronson—Freelance Photographer
Ben Jaszczak—Multimedia Specialist
Megan Ross—Digital Services Coordinator
Comments to the editor
magazine@mtu.edu
Address changes
gccolaro@mtu.edu
Learn more about research at Michigan Tech online.