Sweet, savory, and simply delicious—the Parade of Nations and Multicultural Festival has been adding spice to life in Michigan's Upper Peninsula for 30 years.
In Michigan Tech's Wadsworth Dining Hall kitchen, the scent of cilantro mingles with the aroma of chicken breasts pulled golden and bubbling from the ovens. The staccato chop of knives and rhythmic ting of giant metal spoons scraping against industrial-size vats of fragrant sticky rice punctuate the din, as plastic-gloved and capped students from India, Bangladesh, and Nepal prepare giant batches of their favorite foods for the thousands who attend the gastronomic event of the fall season.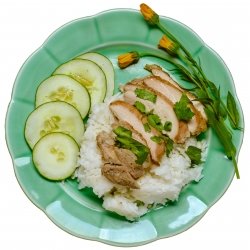 Thai-style Grilled Chicken Rice
Country of Origin: Thailand
Served with a spicy sauce (tamarind for tang, ground-roasted chili pepper for heat).
Months in advance, all festival recipes are submitted to Michigan Tech Dining Services Executive Chef Eric Karvonen, who oversees student training through the Western Upper Peninsula Health Department to ensure dishes are safely prepared, as well as delicious.
More than 20 booths serve dishes from around the globe. There are too many gustatory delights to consume in one sitting; diners in the know bring carry-out containers to stretch out their feasting.
Exotic as it may seem, the festival menu is nothing more and nothing less than comfort food cooked from the heart, satisfying both maker and consumer through sharing time-honored recipes (albeit scaled up to feed a crowd).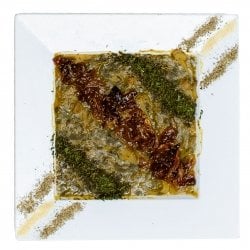 Ash
Country of Origin: Iran
A soup-stew hybrid thickened with pinto beans and chickpeas, onion, cilantro, and spinach.
Full-course meals in the $5-8 price range make the festival an affordable family adventure.
Every country has a meatball, a dumpling, a kebab, and a stew. A soup your mom makes for you when you're sick. A casserole of odds and ends when you're ravenous but don't have time to shop, and yes, even some version of Cornish pasties—the portable pocket food encased in a golden crust—an Upper Peninsula delicacy that, alongside pickled eggs, is considered the tastiest of Husky traditions.
The Multicultural Festival, which originated three decades ago at Michigan Tech and morphed into a community-wide celebration, remains true to its roots: don't just wonder about other cultures, break bread together.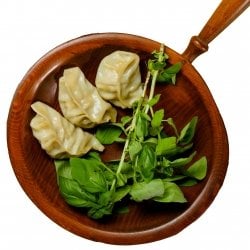 Momo
Country of Origin: Nepal
Veggie or chicken dumplings mildly spiced with ginger, garlic, black pepper—and steamed 'til tender.
Parade of Nations co-founder Betty Chavis opened the cabinets of her antique and collectibles shop to furnish accoutrements for this spread.
The pressure-cooker pace in the kitchens (students are also steaming, baking, and frying up a storm in the Memorial Union Building) eases as initial prep is completed and assembly begins. Shruti Ganjoo, a data and business systems analyst who normally digs into statistics, intelligence, and insights, is wrist-deep in spices and vegetables, shaping patties of Hara Bhara Kebab, a traditional cutlet served as a snack or starter in India.
"When I think about a festival, the first thing that comes in my mind is family and friends," says Ganjoo, who graduated with her master's in data science in spring 2019. "We here at Tech, far away from our families, try to bring the same feeling of being with our loved ones. The community here is our family away from family."
Watch 12 in 12: The Husky Bucket List—Jack's Vlog video
12 in 12: The Husky Bucket List—Jack's Vlog
Michigan Technological University is a public research university founded in 1885 in Houghton, Michigan, and is home to more than 7,000 students from 55 countries around the world. Consistently ranked among the best universities in the country for return on investment, Michigan's flagship technological university offers more than 120 undergraduate and graduate degree programs in science and technology, engineering, computing, forestry, business and economics, health professions, humanities, mathematics, social sciences, and the arts. The rural campus is situated just miles from Lake Superior in Michigan's Upper Peninsula, offering year-round opportunities for outdoor adventure.