A degree from Michigan Tech can land you the career of your dreams. Just ask these alumni.
Corvette Racing
Michigan Tech engineers and the automotive industry have a long and storied history. In fact, a number of alumni have been involved in racing. Fewer get to compete in one of the world's top series.
Ben Johnson '07 has worked in motorsports for the last 10 years, moving his way up to program director for Corvette Racing. He directs drivers and crew members for Corvette's entries into the International Motor Sports Association (IMSA) WeatherTech SportsCar Championship Series. Races take place in the US and Canada, January through October. Events include the Rolex 24-Hour at Daytona, Florida; the Chevrolet Detroit Grand Prix; Sahlen's Six Hours of the Glen in Watkins Glen, New York; and Motul Petit Le Mans, a 10-hour race in Atlanta.
"My dream job has always been working in a fast-paced environment where the contributions of effort and talent can truly be measured," says Johnson, a mechanical engineering alumnus. "Motorsports, and specifically endurance racing, is one of the best examples of this environment. There are objective measures—lap time and finishing position—and a field full of skilled competitors with exactly the same motivation."
Highlights of Johnson's young career include championships in IMSA's GT Le Mans division the last three years in a row. His Corvette Racing team competes against entries from Porsche, Ford, Ferrari, and BMW.
His personal highlights reflect more of a focus on the day-to-day of his position: "I believe the biggest highlight is working with a dedicated team of individuals who constantly strive to get the most out of the car, tools, and equipment we bring to the track each weekend."
The key to Johnson's quick rise to racing team director is in his preparation. "I approach every project and season with the goal of doing the absolute best that I can and leaving nothing to chance. I find the closer I get to this goal, the better the outcome tends to be and the more opportunities are presented."
National Defense
If you're not sure how driving a Russian missile truck during the aftermath of the Cold War might be a dream job, you'll have to ask Steve Pribish '64.
From 1965 to 1998, Pribish worked with the US Air Force's Foreign Technology Center (now called the National Air and Space Intelligence Center). "I was fortunate to be in the data integration center, using all source intelligence data to determine the capabilities and limitations of foreign missile, space, and aerodynamic systems," he says.
Torn between choosing an electrical engineering or a mechanical engineering degree at Michigan Tech, Pribish opted instead for an applied mathematics degree, which he figured would get his foot in the door to any career. It did just that, leading to a 33-year career in the Air Force, which included work to reduce foreign nuclear capability.
"I joined the Air Force to escape the draft and ended up being assigned to the Foreign Technology Division. From that humble beginning I ended up doing more than I could ever have dreamed."
Pribish, who spoke of his struggles in a mechanical drawing class at Tech, was surprised to see his engineering drawings of missiles being used in treaty briefings.
He later spent time in Russia as an inspector following nuclear reduction treaties, overseeing the destruction and disposal of Russian missiles. "My Tech experience came in handy during those Russian winters," he jokes.
Bestselling Author
Writer. Professor. Podcaster. Critic. Any one of those may be a career goal. For Roxane Gay '10, they're all a reality.
After earning her PhD in Rhetoric and Technical Communication from Michigan Tech in 2010, Gay served as assistant professor of English at Eastern Illinois University. She moved on to an associate professor role at Purdue University in 2014, and served as visiting professor at Yale in 2018.
Her writing plaudits are numerous and include two New York Times bestsellers: Bad Feminist (2014) and Hunger (2017). Bad Feminist is a collection of essays covering politics, criticism, and feminism. In Hunger, subtitled "A Memoir of (My) Body," Gay wrote about her struggles with weight, health, anxiety, and societal pressure.
Gay has been published dozens of times, from short stories to novels, fiction to nonfiction, poetry to comics. Other major titles include Ayiti (2018), The Best American Short Stories (2018), Not That Bad (2018), Difficult Women (2017), Black Panther: World of Wakanda (2016), and An Untamed State (2014).
For Marvel Comics' Black Panther: World of Wakanda, Gay and fellow writer Yona Harvey became the first black women to be lead writers for Marvel.
Born in Omaha, Nebraska, Gay has traveled the world for speaking engagements and appearances. She has served as a columnist for the New York Times and founded a small publishing company named Tiny Hardcore Press. Gay has several books forthcoming as well as television and film projects in the works.
"It's my dream job because I get to be creative every day," she says. "I get to tell interesting stories and travel around the world and meet fascinating people. I get to contribute to change in a small way."
A 21st Century Career
The workplace is changing dramatically. The average tenure of an employee at their current job is 4.6 years, and for workers between the ages of 25 and 34, it's 2.8 years. Roughly 40 to 50 percent of the American population is expected to work as independent contractors or freelancers by 2020. Artificial intelligence and robots are displacing jobs while simultaneously creating new ones that few people are trained for.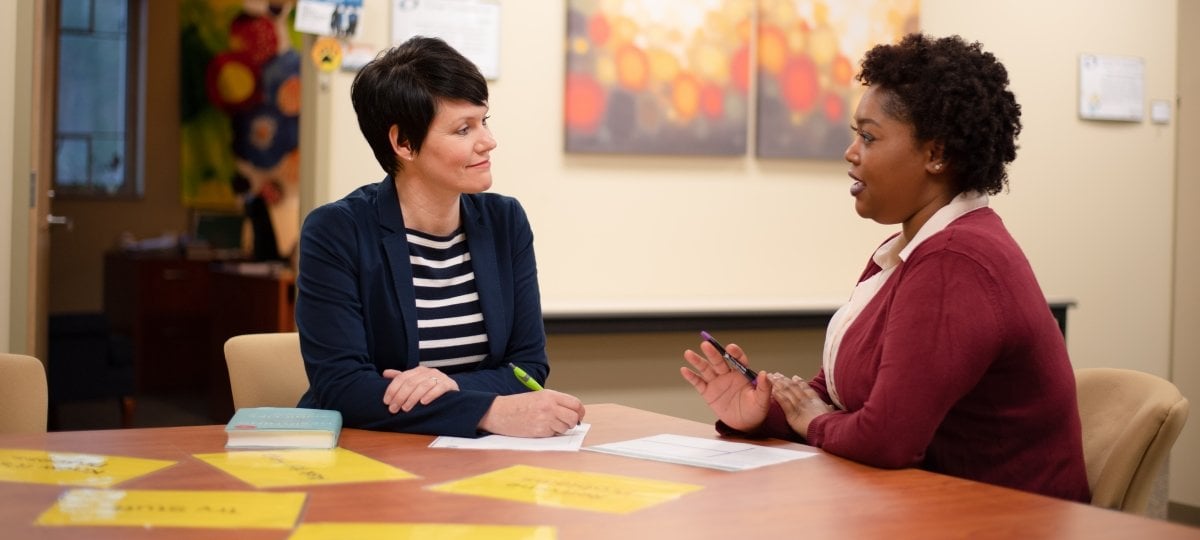 Gone are the days of attending college to secure a job in a career that will last a lifetime, solely due to deep expertise.
To be prepared for the kind of change they will experience in the 21st century, students must develop a skill set that empowers them to handle uncertainty. In Michigan Tech's Career Services office, people like Melissa Michaelson—pictured far left with student DeJah Hall—offer Design Your Career courses to help students prepare for the unexpected. Participants apply design thinking to map out possible career options unique to them. They come up with different versions of their five-year plan and address potential roadblocks and setbacks. The tools, strategies, and skills they learn can be applied throughout their professional working career.
Students who complete the course say they gained insight about themselves and developed concrete actions for moving forward in their careers. Says one participant, "It's a relaxed, non-judgmental environment that allows students to explore possible futures."
Michigan Technological University is a public research university founded in 1885 in Houghton, Michigan, and is home to more than 7,000 students from 55 countries around the world. Consistently ranked among the best universities in the country for return on investment, Michigan's flagship technological university offers more than 120 undergraduate and graduate degree programs in science and technology, engineering, computing, forestry, business and economics, health professions, humanities, mathematics, social sciences, and the arts. The rural campus is situated just miles from Lake Superior in Michigan's Upper Peninsula, offering year-round opportunities for outdoor adventure.