Campus life has never been more exciting. New technologies, centers, graduate programs, and student scholars. Dive into the excitement at 1400 Townsend Drive.
The Anatomy of . . . a Scanning Transmission Electron Microscope
The FEI 200KV Titan Themis Scanning Transmission Electron Microscope (STEM) is a window into the nanoscale. The microscope is one of two in Michigan. Its electron beam is smaller than a single atom and creates a digital image of the atomic structure of materials and chemicals including batteries, minerals, and alloys. It can also monitor atom-level interactions within samples. The microscope has six specialized specimen holders. To perform high-resolution STEM imaging, the University built a stand-alone facility to minimize temperature variations and mechanical vibrations generated both externally and internally that would adversely affect the resolution of the microscope. Analyzing STEM outputs means zooming in on the tiniest details to understand the big picture.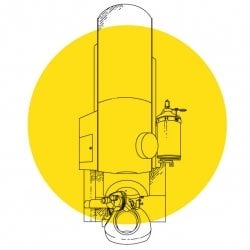 Michigan Tech Sustainability Demonstration House
21680 Woodland Road,
Houghton, Michigan 49931
It's not your ordinary rental. A 5,000-square-foot, three-floor home built in 1953, with five bedrooms and six bathrooms, and an 8.6 watt solar array system bringing 10 kilowatts of renewable energy into the house. Aquaponics garden and composting system in the backyard; WiFi-controlled LED bulbs and induction cooktops in the kitchen. The first five tenants moved in last fall and were obliged to work on the home 20 hours per month in addition to paying rent. Tenants compost, mow, and clean solar panels as needed. They host two open houses per semester and contribute to the house's Facebook page and blog. Being environmental stewards: just another way our students show they're crazy smart.
Impress-ive Huskies
Engineering Technology scholars improving retention and student success.
The School of Technology was awarded nearly $1 million from the National Science Foundation (NSF) for a five-year program, "Engineering Technology Scholars- IMProving Retention and Student Success" or ETS-IMPRESS.
The project aims to expand the number and diversity of people entering the engineering technology STEM pipeline, including underrepresented groups. "Impress-ive" Huskies—first-time undergraduate engineering technology students and students transferring from community colleges in Michigan and neighboring states—receive either four- or two-year scholarships (depending on their academic standing at time of enrollment).
School of Technology Professor and Program Chair Nasser Alaraje leads the project, helping choose and mentor nine students for the 2018–19 school year: five first-year undergraduates and four transfer students. Applications for the second year of the program opened in September 2018, and the application deadline is February 15, 2019. Impress-ive Huskies encouraged to apply!
Meet the 2018 Inductees
Seven new members of the Michigan Tech Sports Hall of Fame were inducted on October 12. Honorees included former hockey players Steve Coates '73 and Kip Noble '93, former men's basketball player Mike Kissman '98, former Nordic skier Kristina Owen '07, former football players Jim Peters '58 and Joe Berger '04, and former sports information director Dennis Hanks.

Berger, a former Husky All-American who retired earlier this year after a 13-year career in the National Football League, said, "It's a tremendous honor to be selected with this group. I think it says a lot about the coaches and players that I had the chance to play with over the years. Michigan Tech and the people I met there helped give me an opportunity to do things I never could have dreamed of. It will always be a special place for me."
Master Minds: A Finger on the Pulse
Master of Science in Biological Sciences
Master Minds spotlights one of Michigan Tech's 43 Master's Degree programs.
Meditation, nitrogen in streams, aspen biofuel, protein misfolding, sugar-cancer interactions, and binge drinking: a few areas of study our interdisciplinary master's program in biological sciences offers.
In the recently opened Michigan Tech Sleep Research Laboratory, studies hinge on research into the effects of sleep on cardiovascular health, contributing to the broader field of sleep research—a field that is growing rapidly.
John Durocher '96 '04 '08, an assistant professor of biological science, measures alcohol's effects on sleep, blood pressure, and brain activity. His team recruited 80 participants aged 21 to 40 who will have their sleep assessed in the new two-bed research lab.
With a team of graduate student researchers, Amy Marcarelli, an associate professor in biological sciences, studies nitrogen cycles in streams. In the nitrogen cycle, the balance of nitrogen fixation and denitrification is not a perfect yin-yang.
Unbalanced systems can lead to more than just August pond scum; excess nitrogen is the main driver of the world's dead zones at major river deltas. Marcarelli's research, funded by an NSF CAREER grant, dives into the unexplored side of nitrogen fixation in streams.
"We are tackling cutting-edge, biological problems and contributing to the knowledge base as a group activity— as a community of scholars," says Chandrashekhar P. Joshi, department chair and professor of biological sciences.
With state-of-the-art equipment, and in updated labs, Huskies have their finger on the pulse of learning and research that counts. Want to get involved? Apply for free.
Husky Tales
I'm a fourth-year environmental engineering major with a minor in theatre arts. After I graduate in December, I will stay to get my master's in environmental engineering. I did theatre in high school, and when I was looking at colleges, it was the second-most important thing to me, just behind the degree program. I auditioned and was cast in a play the first week of classes.
I'm a huge advocate of science, technology, engineering, arts, and mathematics (STEAM). The theatre arts have a completely different mindset, but that's what I like about them. It's therapeutic for me to do engineering and art—and to switch from one to the other.
I'm also a tour guide on campus. My favorite part about the job is showing off Dow and all its interesting spaces and labs. The Rozsa Center is also a sweet spot for me; I could talk about it for hours.
I love the camaraderie here—everyone looks out for one another. So to future students interested in pursuing the arts at Michigan Tech: take the chance. It won't be easy, but it will be worthwhile.
State of Lake Superior 2018 Conference
Michigan Tech was the site of the 2018 State of Lake Superior Conference from October 9 to 12. Hosted by the International Association for Great Lakes Research, the conference was the second in an annual series of State of Lake conferences aimed at bringing together lake-specific research, policy development, management, education, and nonprofit organizations to broaden the discussion and provide diverse interaction among stakeholders. Nancy Langston, environmental history professor in the Department of Social Sciences and affiliated professor in Michigan Tech's School of Forest Resources and Environmental Science, was a plenary speaker.
At Home on MARS
Michigan Tech unveiled the Marine Autonomy Research Site (MARS), the first freshwater testbed of its kind, in August 2018.
The MARS testbed allows collaborations between technology developers, university researchers, resource managers, and industry to meet the future challenges in marine technology development, application, and workforce creation. At the August unveiling, US Representative Jack Bergman said, "This center puts us on the cutting edge. And if you're not on the cutting edge, you're behind."
Michigan Technological University is a public research university founded in 1885 in Houghton, Michigan, and is home to more than 7,000 students from 55 countries around the world. Consistently ranked among the best universities in the country for return on investment, Michigan's flagship technological university offers more than 120 undergraduate and graduate degree programs in science and technology, engineering, computing, forestry, business and economics, health professions, humanities, mathematics, social sciences, and the arts. The rural campus is situated just miles from Lake Superior in Michigan's Upper Peninsula, offering year-round opportunities for outdoor adventure.