The reasons to come back are obvious. But as you can imagine, getting back isn't always easy. Learn why and how nine Huskies chose the Keweenaw and what they're doing now to help others make a life here, too.
Ryan '07 and Katie (Richards) Gray '07
Moved Back: Fall 2015 From Houston
After graduation, Ryan and Katie moved to Wyoming for jobs in the oilfield service sector. In 2010, Katie found out she was expecting and transferred positions within her company, which entailed moving to Houston. Ryan was also able to transfer within his company. They made the move in 2011. In 2012, Ryan decided to get into the 'family business' of beer making (his dad owns Keweenaw Brewing Company) by starting the online Electric Brewing Supply company; shortly thereafter, Katie found out she was expecting again.
"Don't get me wrong, I loved the conveniences of Houston, but Houghton is home; this is where I want my kids to grow up."
Fast-forward to 2015 when Katie got laid off from her job and couldn't find work in Houston. During a road trip to visit both their parents in the Upper Peninsula (Katie's in Escanaba; Ryan's in Houghton), they made the decision to stay. The couple closed on their Chassell property in November, moving their family upstairs and their E-Brew Supply business downstairs. Katie works at Little Huskies and helps out with the family business; Ryan works full-time growing his company that now employs five people.
'When we were students up here,' Ryan says, 'the biggest complaint we had was that we had to graduate and leave. We were pretty set on coming back.'
Whitney Warstler '06 '11

Moved Back: June 2016 From Cape Town, South Africa
Originally from Escanaba, Whitney studied business administration (BS '06) and marketing, as well as rhetoric, theory, and culture (MS '11) at Michigan Tech. She worked in Vietnam for a year in 2007; after receiving her master's, she jumped at the chance go to back to Southeast Asia and moved to Singapore. After a stint in Tanzania in 2012, Whitney moved to South Africa in 2013.
'I was there for three years. I was a head buyer at a big e-commerce site and I had a bar and a brewery,' she says, 'but I had to renew my visa and it was becoming difficult to do so. I thought, 'I'm going to be in a difficult position now or five or ten years from now, so I might as well rip off the band-aid and sell everything and go.' And so I did.'
"My gut instinct is to say I'm from here even though it's not where I grew up; Houghton has always felt like home. And so, I really wanted to be able to come back. I didn't know if I was going to be given an opportunity or if I would have to make one."
In June 2016, Warstler made the trek back to the Keweenaw. She is now director of the Keweenaw Peninsula Chamber of Commerce, a role she says she loves. 'One of my goals at the Chamber is to create more opportunities for people to come back—more jobs that can support families.' Mom to Hazel, Warstler helps young families thrive in the Keweenaw.
Lynn (Czarnecki) '07 and Jason Makela '04 '10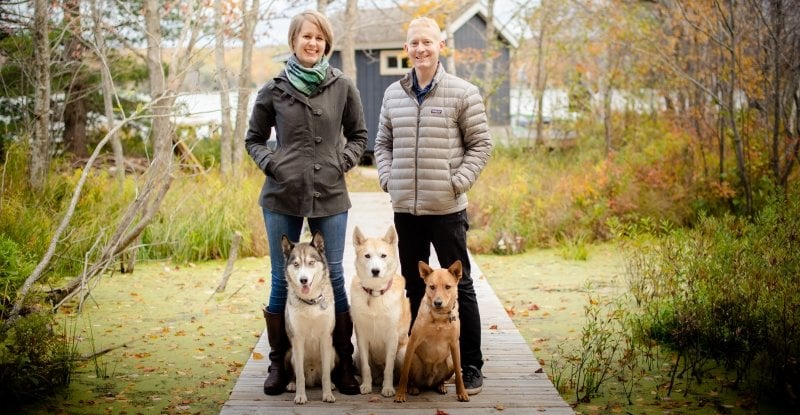 Moved Back: August 2017 From Seattle
'We realized we were not city people. We were spending two to three hours a day in traffic, and it was not a lifestyle we were ready to commit to long-term. So when the opportunity came to move back to the Keweenaw, we took it,' says Lynn Makela, who holds West Coast business hours as a digital marketing business development director from 101 Quincy Coworking, a business she cofounded in Hancock.
"What brought me back? The variety of things at your fingertips that are less than five miles away."
Lynn had moved from Hancock to Oregon in 2013, but in 2017, she was fortunate enough to take her career across the country so that she could join her husband, Jason, who was given an opportunity only the 906 could offer. He explains, 'There is a space propulsion technology that I am passionate about and an emerging market that I couldn't tap into out west, so when I had the opportunity to be on the ground floor of a startup company in the Copper Country that focused on those specific things, I was really stoked about making the move.'
"But the community was a big part of it, too."
So the Makelas packed up their life and Jason took a position as vice president of engineering at Orbion Space Technology. He builds rockets for satellites during the day; after work, he, Lynn, and their dogs play fetch on their lakefront property. Lynn says, 'We worked really hard to get here and we work really hard to stay here, but we feel really lucky to live here, too.'
Jake Timmer '16

Moved Back: Summer 2017 From Grand Rapids, Michigan
After graduating with a BS in computer science, Jake and a fellow Michigan Tech graduate started a software consulting company. They were living in Michigan's Grand Rapids area, but working with companies and partners online. 'Based on the type of work we were doing,' Timmer says, 'we thought it would be best to move everything up to Houghton.'
"If I were to go to Silicon Valley and be a programmer, I couldn't do all the stuff I really like."
Which they did, last summer. Their company, Superior Technologies, works in blockchain. They did a stint in the Michigan Tech Enterprise Corporation (MTEC) SmartZone Technology Business Incubator, and now rents an office in the MTEC SmartZone. Timmer insists moving back was best for business: 'Basically, we do work in a specific subset of software and it requires a lot of low-level programmers with the types of skills Michigan Tech teaches students. I graduated from here, the other two business partners graduated from here, and now we hire Tech students as interns and employees.'
Heather (Wright) '06 '07 and Caleb Wendel '07
Moved Back: May 2018 From Duluth, Minnesota
The Wendels have roots in the Keweenaw. Caleb's began in the 90s when his family built their cabin and continued to grow when he co-founded The Bike Shop in downtown Houghton in 2006, which later became Rhythm Bike and Board Co. Even after Caleb and Heather moved away for work, they were drawn back various times each year for bike events, family, and friends, which is why Heather says, 'We never really left.' But they did.
"We value living in an area that supports a more active and outdoor lifestyle so that we can make the most of our working years."
In fact, they lived four hours away in Duluth, Minnesota, for seven years. Just recently, the couple found their ideal spot to build a homestead, and Heather was able to convince her employer to let her work remotely (Caleb had been working remotely since 2017). During business hours, Heather is an environmental engineer, working for Barr Engineering. Caleb is a Midwest sales representative for Rocky Mountain Bicycles.
'We were spending a lot of our vacation time coming back to the area and we knew eventually we wanted to move back here,' Heather says.
Marilyn Clark '73 '76 Michigan Tech SmartZone CEO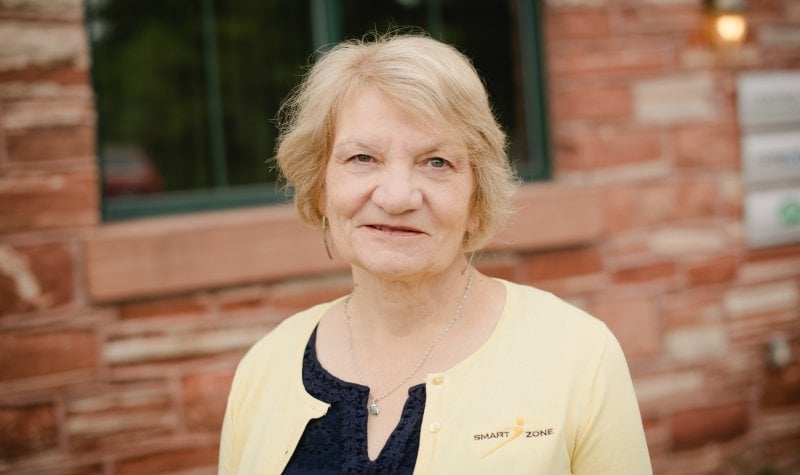 Moved Back: 2005 From the United Kingdom
At the end of the year, Marilyn Clark will retire as CEO of the Michigan Tech SmartZone, a position she has held since 2011. She'll leave the work, but not the area. A native of the Copper Country, Clark graduated from Chassell High School before receiving a bachelor's degree in math and a master's degree in business from Michigan Tech. When she left, she was gone for 30 years, working for Cummins Engine Company in New York, Indiana, and the United Kingdom. She moved back to help a fellow Husky start a business. 'It's been an exciting career,' she says.
"This is a great environment to live and work . . ."
"Knowing your neighbors, deep friendships. Those are the kinds of things this area offers. When you move away, you realize what you left."
As CEO, she's had the opportunity to help many Tech alumni start or grow high-tech businesses on Innovation Shore. 'This is a great environment to live and work; there's an opportunity for highly skilled people to get the resources to start a high-tech business, to get a high-tech job in the community, and enjoy our outdoor playground. It's so welcoming. We're very people focused here. It is a great place to live and work for that reason.'
Michigan Technological University is a public research university founded in 1885 in Houghton, Michigan, and is home to more than 7,000 students from 55 countries around the world. Consistently ranked among the best universities in the country for return on investment, Michigan's flagship technological university offers more than 120 undergraduate and graduate degree programs in science and technology, engineering, computing, forestry, business and economics, health professions, humanities, mathematics, social sciences, and the arts. The rural campus is situated just miles from Lake Superior in Michigan's Upper Peninsula, offering year-round opportunities for outdoor adventure.