Historic flash floods ripped through the Keweenaw in June. Nature's show of strength was met by another force to be reckoned with. Finns call it Sisu. Huskies call it tenacity. Our community calls it Copper Country Strong.
It felt like the lightning strike at 5 a.m. hit the house. Huge crack. Explosion. The structure shook. It was still dark out, the power was out, and rain came down in sheets. "My wife and I hopped up and ran into the kitchen," Michigan Tech Career Services Director Steve Patchin '88 says. They stood in four inches of mud. By the light of their cell phones they saw 40-foot poplars protruding through the dining room walls of their Lower Point Mills Road home.
"We looked out into the road and the face of our house was looking back up at us."
Three feet of mud and water blocked the inward-opening doors leading to the walk-out basement in the garage. They grabbed necessities: insulin from the fridge, two dogs, and one cat (another named Jersey was missing). The family escaped out the side window; Patchin tossed a chair out first to help counter the steep drop. When they made their way to the front yard, they saw the opposite side of the house in the road. Colette Patchin '87 called 911, but the two-to- three-foot deep and 20-foot-wide torrent of water coming off the hill blocked the fire department. "We weren't sure what else was going to let go. We had to get out," says Patchin. They made their way across the flooded street and down the steps to their dock. They fired up the pontoon.
"It was surreal," says Patchin. "The lake was this apocalyptic scene." Houghton's Nara Nature Trail had blown out on the opposite shore. Four feet tall plots of grass drifted by like floating islands. "You saw boat seats, decks, all this debris, floating in the water. The water wasn't clear, and I'm just praying the motor doesn't suck it in."
They made it to the Dollar Bay boat launch. A fireman brought his wife's car for the family to use. At his in-laws' house, Patchin logged into Facebook to let folks know they were safe. "Facebook was lit up. That's when we realized the magnitude," he says.
The National Weather Service reports as much as seven inches of rain fell in the Copper Country between 11 p.m. Saturday, June 16, and 8 a.m. Sunday, June 17, with the majority of rainfall occurring from 2 a.m. to 5 a.m. Sunday. Roadways throughout the area washed out; homes and businesses were severely damaged or destroyed by mudslides, flooding, and cave-ins. One of the hardest hit areas was highway M-26, in the community of Ripley. Airport Road and Coal Dock Road were washed out.
Local firefighters were frustrated, Patchin says. "We were on this little island, and nobody could help anybody."
But those close to the Patchins could, when the family returned in daylight. A neighbor brought his backhoe and end-loader to move the house out of the road. Another used his backhoe to empty out the clogged drainage ditch. Other neighbors helped them move their cars out, and their possessions. Water. Food. Pickups. A local storage unit owner gave them the key to the place. "Use as much space as you need," Patchin recalls.
Their home's foundation was shattered. "That's when the thankfulness came in," says Patchin. "Thank God we're all right. We were safe. We felt so lucky because we saw everything going on around us."
Across the Keweenaw, Huskies and their community rolled up their sleeves, grabbed boots, buckets, and shovels, and got to work.
Nobody wants to be called a hero. But actions speak louder than a word.
Rising to the Challenge
Alumni, faculty, and staff used their skills to dispatch help and coordinate communications.
"The Yooper way is to jump right in, and of course a lot of people did that. My first question was who's coordinating these amazing volunteer efforts?" says Erin Smith, director of Michigan Tech's Humanities Digital Media Zone. She found the answer in the Volunteer Resource Center (VRC) that had been set up at Evangel Baptist Church on College Avenue. Smith offered to help with communications. The state volunteer response staff, who stayed in the area for a week, gratefully accepted; they'd been up until 2 a.m. responding to Facebook messages on the Houghton County Flood Volunteer Page.
"I can't say enough about how great Evangel was," Smith says.
Jill Johnson, Evangel administrative coordinator, helped develop, find resources, and operate the VRC. The quality that made the biggest impression on her post-flood was how quickly the Copper Country mobilized, from local residents to alumni across the nation.
"I was blown away at the rapid, tangible response. The energy in those early-response days was palpable," she says. "The way that so many people could come together with different experiences, different occupations, different places in life, and immediately work so excellently together without the benefit of training orientations, manuals, and mentoring was just magical. The VRC was a well-oiled machine and, in my opinion, this was God's miraculous blessing."
Other valuable community advocates gathered to build the Copper Country Strong website. The collaboration features photography from Adam Johnson '98, senior staff in the advancement office at Michigan Tech, who owns photography studio Brockit, Inc. Lynn Makela '07 and Jake Northey '04 offered their 101 Quincy Coworking space in Hancock to the group. VRC Coordinator Jon Stone and another Michigan Tech alumnus, Matt Monte of Monte Consulting '93, worked with Smith and STC grad Michael Babcock '08, director of marketing and communications at Finlandia University in Hancock, to provide reliable, comprehensive messaging.
"Erin and I were able to utilize the Copper Country Strong website to get messaging out to the community in a way that they could depend on. It was all-consuming for more than three weeks, but it was meaningful work—our community was able to count on an official source of information instead of going by rumors or guesses," says Babcock. "I was overwhelmed by the sense of community."
More Huskies and Friends to the Rescue
With our own collections safe, staff of the Michigan Tech Archives at J. R. Van Pelt and Opie Library provided consultation and clean-up assistance at Houghton County Courthouse and Houghton County Historical Society, the latter located in one of the hardest hit communities, Lake Linden.
And this year, Michigan Tech Alumni didn't wait until early August to visit. They came up before Reunion to help with flood recovery efforts, collecting donations and sharing rides along the way. Those who couldn't come donated equipment, supplies, and money.
The companies that support Michigan Tech events like Career Fair and hire Michigan Tech graduates didn't ask if the area needed help. They just sent truckloads of it. 3M, Oshkosh, and many others delivered what was needed— including a semi-tractor of paper towels from Kimberly-Clark and many pallets worth thousands of dollars in supplies from Fleet Farm with help from the Appleton Beer Factory, Kick Ash Basket, and Fox Valley Chapter-Michigan Tech Alumni and Friends. A raffle at the Ford Pasty Picnic for Michigan Tech Alumni on July 19 included prizes donated by parents of current Michigan Tech students and raised $1,600 for flood relief efforts.
While there's no hard data at this time, a plethora of anecdotal evidence from regional and state rescue-assistance agencies indicates a faster-than-usual recovery time for natural disasters. The needs of the community rapidly changed, as the Keweenaw and campus returned to business. By June 26, no further supplies were needed, aside from dehumidifiers, box fans, and heavy equipment.
"Every organized relief group that came up was amazed at what our community did to help repair itself after the flood. Team Rubicon, a disaster relief group, even left early, because they said we had everything under control. It was inspiring."
The Power of Sisu
Just 12 days after the flood, the Keweenaw received its first rain—it was not, as local weatherman John Dee reported, a "baby step." Cobalt altostratus clouds glided swiftly from the west, powered by 50- 60 mph winds that whipped the stately trees along College Avenue, bringing waterlogged branches down. On the east side of campus, staff and students lined the highway-facing windows of Wadsworth Hall as day became dark as night. Looking out at the streetlights quivering over US- 41, you could sense a collective shiver.
"I know it really had some folks on edge as it was approaching, but thankfully, it not only raced in, but through and out of our area," Dee wrote.
A couple days later, the cat Jersey once again meowed at the Patchins when they came to leave her food and water. She'd been meowing at them from the bushes every few days, and eating and drinking— but would not come close. The couple sat down in the mud. She crawled into their laps, purring. "I guess we'd finally earned her graces," says Patchin.
Grace—it's part of Living on Sisu author Deborah Frontiera's personal definition of sisu, a Finnish word with no direct English translation. It's a term many in the Keweenaw mark with honor, respect, and humor. "Sisu is true grit with grace," Frontiera says.
In the Keweenaw, our neighbors, friends, and community are the sisu that infuses Copper Country Strong.
A Jersey for Thatcher
There are no words adequate to express the sadness. But there are words to express the love.
Thatcher Markham loved life. He loved to be on the water— hanging out on the family dock or boat, a fishing pole in his hand. He also loved to be on the ice. The 12-year-old started playing with Copper Country Junior Hockey Association when he was five. He was a goalie, and a referee. In the Michigan Amateur Hockey Association (MAHA) remembrance of this promising young man, who died June 18, MAHA Vice President of Officials Judy Niemi, described him as a "gifted athlete with a forever smile."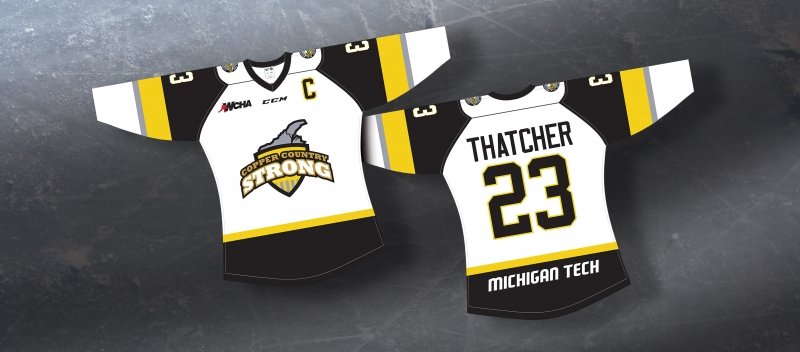 Thatcher loved his family, and was joyfully carrying on a family tradition. The Markham name is as synonymous to Copper Country hockey as pasties are to the Upper Peninsula. The tradition has deep roots in Michigan Tech, where cousin Devin Kero is a goalie, one of many family members who's played for the Hockey Huskies.
On November 23, the Michigan Tech hockey team played a game especially for Thatcher—the team wore Copper Country Strong jerseys with his name on the back. The jerseys were auctioned off after the game, with proceeds going to the Portage Health Foundation's Flood with Love initiative.
"No words can ease the hearts of the many area residents who lost so much," says Head Hockey Coach Joe Shawhan. "The jersey auction helped raise funds for people in need, and being able to invite members of the community to the game who were on the front lines of the relief was also special. We're fortunate to be members of such an incredible community. We hope our efforts support the continued healing."
"Many of the people impacted by the flooding come to our games and support us. They are our biggest fans and now it is our turn to be theirs."
Michigan Tech Athletic Director Suzanne Sanregret says the idea for Athletics to be involved with the Copper Country Strong initiative came from student-athletes. "They recognize that we have a unique platform that allows us to be part of rebuilding and healing our community," she says. The Student-Athlete Advisory Council led event planning. Soccer, volleyball, football, and basketball teams wore and auctioned off Copper Country Strong T-shirts to contribute to flood relief.
Michigan Technological University is a public research university founded in 1885 in Houghton, Michigan, and is home to more than 7,000 students from 55 countries around the world. Consistently ranked among the best universities in the country for return on investment, Michigan's flagship technological university offers more than 120 undergraduate and graduate degree programs in science and technology, engineering, computing, forestry, business and economics, health professions, humanities, mathematics, social sciences, and the arts. The rural campus is situated just miles from Lake Superior in Michigan's Upper Peninsula, offering year-round opportunities for outdoor adventure.